Sonos Sub Gen 3: Your Top 5 Questions Answered
We love the Sonos Sub Gen 3, so here are 5 things you need to know if considering a purchase!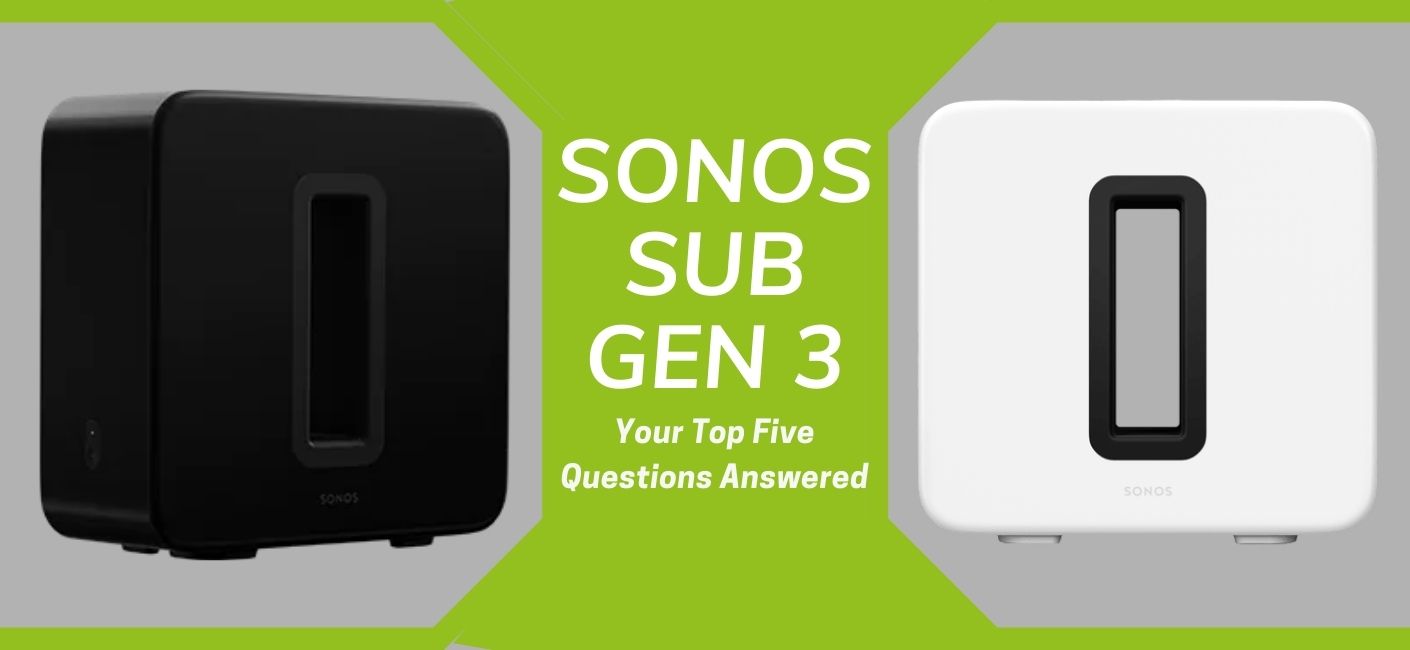 Why add the Sonos Sub to your Sonos System?
A popular addition to any Sonos system, the trusty Sonos Sub Gen 3 will add substantial bass and drama to both your favourite films and beloved tunes. At £749 RRP, it is a big investment. We explore whether or not the Sonos Sub might be right for your system, and also answer set up and day-to-day use questions for those who already have a Sub at home.
Article Breakdown: 
Sonos Sub Gen 3: Key Specifications
If you're considering the Sonos Sub, we've composed a handy table below to go over the key specification of this product, along with any other information you might need before choosing to go ahead:
| | |
| --- | --- |
| | Sonos Sub Gen 3: |
| Weight: | 18kg |
| Dimensions: | 402mm x 489mm x 158mm |
| Current Generation: | Gen 3 |
| Set-Up: | A wireless Subwoofer to be used as part of the Sonos System. One button set up |
| Look: | Gloss Finish - Black or White |
| Price:  | £749 |
| Compatibility: | For use with the S2 Sonos App |
| Customisation: | Sub EQ customisable in App |
| Woofer Design: | Non-directional, force cancelling dual woofer drivers |
| Dual Sub: | Yes |
1. Do you need the Sonos Sub?
The ultimate question. We usually advise that customers think about how they're planning to use the system before deciding whether the Sub is for them. If you're into powerful bass and watch a lot of action or blockbuster movies you'll likely find merit in the addition of the Sub to really boost the wow factor of those big on-screen moments. Similarly, if your music tastes are on the heavier side, lower frequencies like bass guitars, pipe organs and kick drums will be elevated and shape the music you're listening to into a more impactful experience. 
The beauty of the Sonos Sub is that it's fully wireless, meaning it doesn't need any wire or cable to connect with the rest of your Sonos system. For this reason, it's entirely possible to integrate the Sub into an already established Sonos system. You can see how you get on with the Sonos Beam, Sonos Arc or other Sonos speakers first and decide whether to add the Sub at a later date. 
Saying this, if you did want to take the plunge and opt for the Sonos Sub along with your other Sonos equipment, we do have a range of discounted Sonos Bundles including the Sonos Sub that you might want to check out:
2. How do I adjust the Sonos Sub's volume?
This is something we get asked quite often, and it might please you to know that settings for the Sonos Sub are customisable within the app. You'll just need to follow these steps
1. Open the Sonos App on your phone or tablet
2. From the Settings Tab, Select System
3. Select the Room that the Sub is in
4. Select EQ, then move the slider up or down to make adjustments
You'll be able to both increase and decrease the level of bass you experience from the Sub. For example, if you have a big party you'll be able to ramp up the bass in anticipation of your guests arriving. If you want to enjoy the latest blockbuster but the kids have gone to bed, just suppress the bass response slightly. You can also use Night Mode with your Sonos soundbar and Sub to suppress bass temporarily when enabled.
3. Can you lay the Sonos Sub flat?
The Sonos Sub has non-directional, force cancelling drivers, meaning it doesn't matter where in the room you place the Sub, it'll still sound great. The dual woofers in the Sub face each other within the rectangular void in the centre of the unit meaning it doesn't matter if you have the product placed right up against a wall or even lying flat. 
This non-directional design makes sure you don't impede the bass performance no matter how the Sub is positioned, with it even being possible to slot the Sub underneath a Sofa or table. This design also eliminates vibration and cabinet rattle - a win-win!
| | |
| --- | --- |
| | |
4. Can I add two Subs to my Sonos System?
As of December 2020, the Sonos system will now allow for two Subs to be paired to the same Sonos product, either the Sonos Beam Gen 2, Sonos Arc, one of Sonos' older soundbars or the Sonos Amp when set up with a TV. This will double up the low-frequency response of your system to offer a more immersive overall experience. 
This set-up definitely isn't for everyone, but if you're looking at adding more dramatic bass and a separated bass soundstage for blockbuster movies and bass-driven music, this could be for you.
If you were interested in looking at a soundbar to pair with the Sub (or a pair of Subs!) Please check out our bundles below:
5. Is the Sonos Sub worth it?
We appreciate that £749 is a big investment, and as previously covered, the Sonos Sub definitely isn't for every person. It's hard to quantify the importance of bass and sub-tones to our listening experience, but if you're the sort of person that gets goosebumps with every explosion on-screen or feels something whenever the bass drops the Sub is probably well worth your time.  
You'll likely also be impressed by the premium finish of the Sonos Sub too, with its high gloss all-black or all-white design looking the part in any modern home. Its quick pairing and versatility, easily pairing up with most speakers in the Sonos range, makes it a must-have for any large Sonos set-ups.
If you do decide to go ahead with a purchase from us, we currently have a Paypal offer running on this product giving you £40 off when bought using this payment method.
Limited time only, not valid in conjunction with other offers.
If you did have any unanswered questions about the Sonos Sub or any of the other products we sell, please feel free to reach out to one of our friendly customer service advisors via any of the below channels:
| | |
| --- | --- |
| |  08006771100 |
| |  info@smarthomesounds.co.uk |
| |  Live Chat on our website |