Sonos One vs Amazon Echo Studio - Which speaker is right for you?
A comparison between the new Echo Studio and Sonos One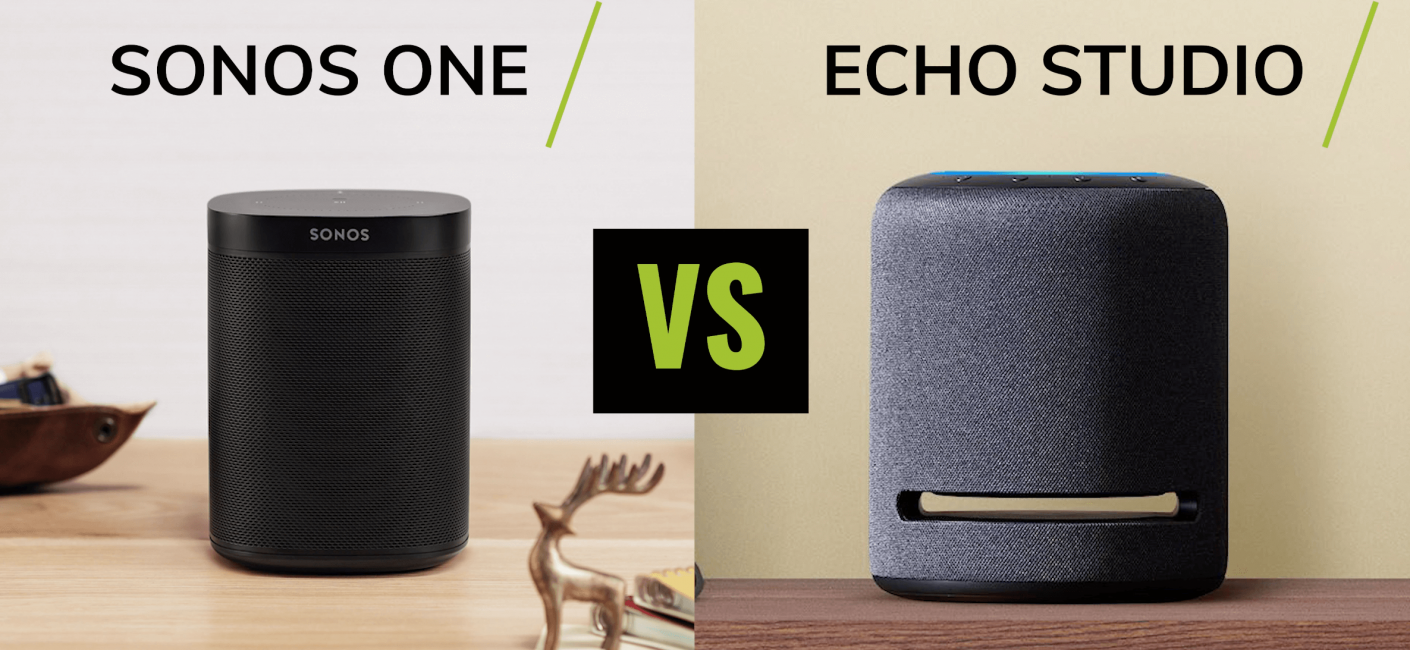 Sonos One vs Amazon Echo Studio - an in-depth comparison
When Amazon released its first voice-controlled Echo speakers back in 2014, users instantly fell in love with the convenience voice control brings. 
However, many were disappointed Amazon didn't have a speaker in its Echo range that offered the acoustic performance to match its internal smarts.
When Sonos launched the Sonos One smart speaker with Amazon Alexa integration in 2017, it immediately offered Echo users a way to upgrade their audio performance whilst maintaining Alexa voice control. 
Fast forward to today and Amazon launch the Echo Studio, what they like to call their first performance smart speaker and hopefully a way to stop their customers upgrading into the Sonos ecosystem. 
As always, we will offer an honest opinion on whether the Echo Studio or Sonos One is the right smart speaker for you.
So let's get started.
Design
Straight out of the box, we were instantly surprised by the Echo Studio's physical size. Weighing in at 3.5kg, the Studio is a lot larger than the Sonos One which weighs in at 1.85kg. 
Both speakers have very different finishes with the Studio in a familiar (Amazon) grey cloth. If you have owned the previous generation Echo Dot or Echo speaker, this follows that trend.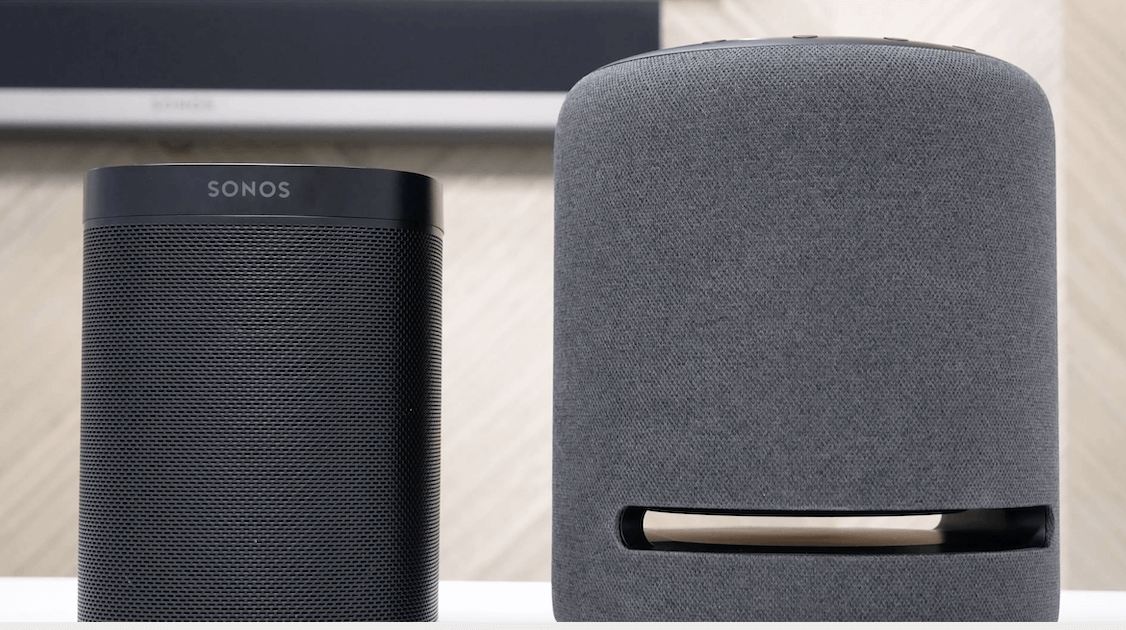 It also has a slit in the middle to allow more airflow from the subwoofer, so you can feel the bass. 
The Studio currently only ships in one colour which is a dark grey. 
One thing we particularly love about the Echo Studio is the light ring which illuminates when Alexa has heard you.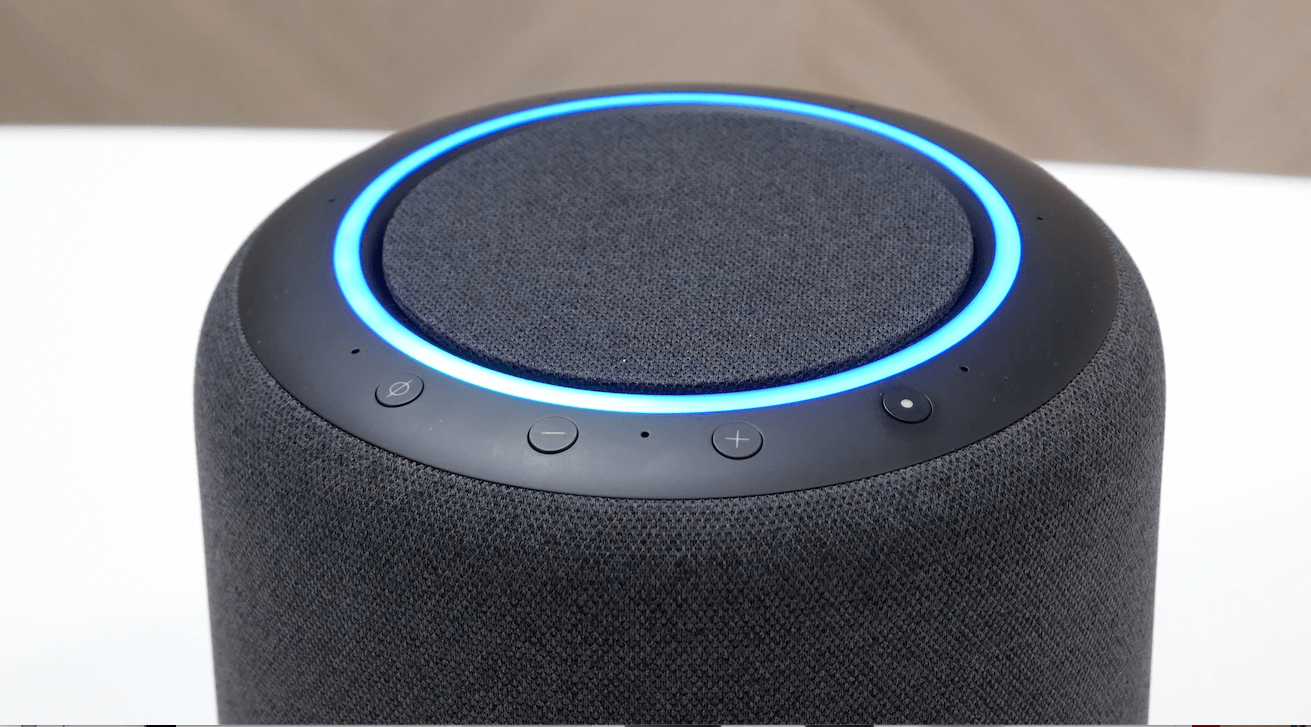 With the Sonos One, you only get an audible chime when Alexa has heard you, which doesn't give quite as much feedback.
The smaller Sonos One has a metal finish and ships in matte black or matte white and combined with the smaller size, makes it easier than the Echo Studio to find the perfect place in your home. 
For us, we think the Sonos uses more higher grade materials resulting in a more premium finish but we appreciate the appearance of both speakers and will leave this up to you.
Dimensions
Amazon Echo Studio Dimensions
206 x 175mm (Height x Diameter)
Sonos One Dimensions
161.45 x 119.7 x 119.7 mm (Height x Width x Depth) 
Control
Here is where the differences between the speakers really start to show.
In terms of physical controls on the speaker itself, the Sonos One have gone for touch capacitive controls to keep the speaker looking sleek and up to date. This was a much-demanded feature on the older Sonos Play:1 speaker.
On the touch control pad, there are volume controls, skip track / previous track, play / pause and a microphone privacy button which will electronically cut the power to the microphone temporarily.
The Echo Studio comes with physical buttons but only for volume control and a microphone privacy button. There are no play / pause or skip / previous buttons. 
Bose goes one step further and has preset buttons so you can assign your favourite playlists, radio stations or tracks to a numbered button.
If there are physical buttons for volume control on the Echo Studio, we were left scratching our heads as to why there were no buttons for playing and pausing.
This will not bother some people and are perfectly happy to use either the Alexa app or your voice, to which this won't be an issue for you.
But for us, we feel Sonos strike a good balance because the appearance is maintained without removing functionality, due to its touch control system.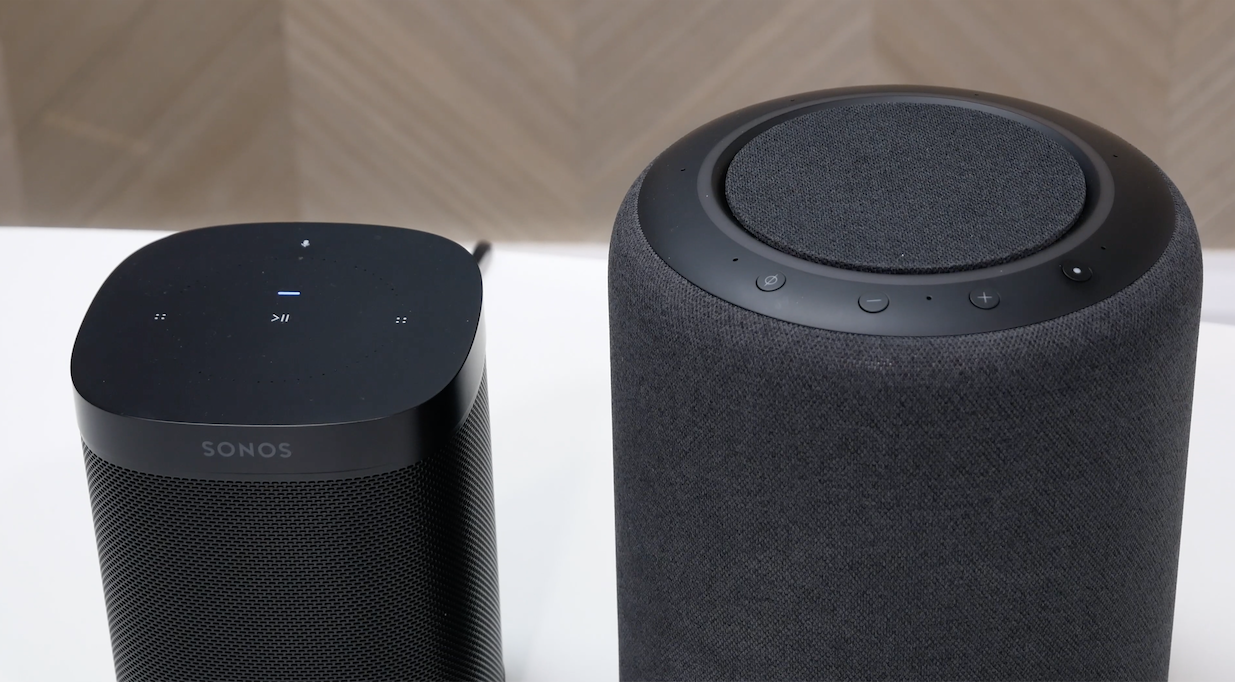 Moving on from physical buttons, let's compare the main methods of control.
For the Echo Studio, voice control through Amazon Alexa is the main way of controlling this speaker. 
Alexa understands most of the popular streaming services like Spotify, Apple Music, Amazon Music and TuneIn Radio.
Alexa works notoriously well on Amazon products, the best on the market even, and it can hear you very well over background noise, responding quickly and accurately. 
The Echo Studio also has Bluetooth, enabled in the Alexa app, if you would like to listen from any source on the Echo Studio. It's always a great feature to have as a fall-back but the thing to know about Bluetooth is that it will play all sounds from your device, including the ones you don't want, such as your ringtones, messages and notifications.
On the Sonos One, you get the choice of using Amazon Alexa or Google Assistant as your voice assistant so if you have smart home devices from both companies, Sonos can be used with either.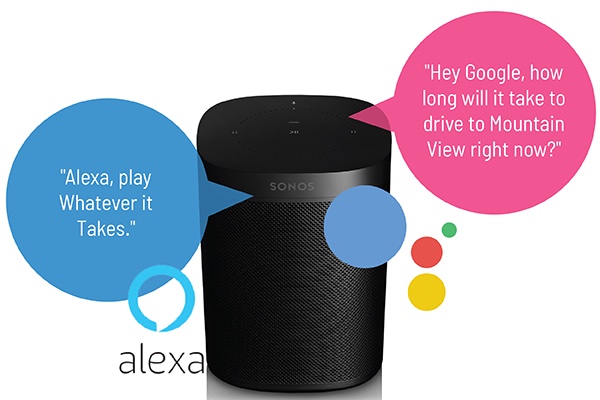 While the voice assistants work well on Sonos, you don't get the full list of Alexa features. We recommend if there is a particular Alexa skill you like the look of, to check whether the Sonos integration supports it.
If it was a case of comparing the Echo Studio with the Sonos One just in terms of voice control, the Echo Studio would take the win every time.
If we move on and look at the Sonos ecosystem, it is controlled directly through the Sonos app. Every Sonos speaker you have would be set up as its own room and if you have multiple speakers, you can group music to multiple rooms at once or have each room playing different streams of music.
You can import your music streaming service accounts to Sonos and the chances are if you have a music service subscription, it'll be on Sonos as it supports over 100 music streaming services.
Some services have an integration with Sonos such as Spotify, Google Play Music and Tidal which all allow you to use those apps themselves and simply cast to the Sonos, which is a great feature.
More recently, you can now even use Spotify Free on Sonos, meaning you can take advantage of streaming without the £9.99 a month subscription.
Read more about using Spotify Free on Sonos
Some Sonos speakers also let you use Apple AirPlay 2 so if you have any iPhones, iPads or Macs, you can cast any audio from your device straight to the speaker, bypassing the Sonos app.
You'll have the choice of any of those methods of control as your primary method. We feel the Sonos app is a very cleverly designed app but if you'd prefer not to use it, the options are open.
However, the Sonos One does not support Bluetooth at all, instead you have more WiFi options available.
In terms of control, if you love using voice control day-in day-out and are happy to use this as your central method of control, the Echo Studio is a great option.
On the other hand, if you are interested in building a home full of music and want the options left open for you, whether that's the voice assistant, the streaming service or method of control, the Sonos ecosystem is much more agnostic.
Not interested in voice control? Try the Sonos One SL for £179, benefitting from the same Sonos sound at a slightly cheaper price point.
Sound Quality
The Sonos One takes the simplistic approach of having one tweeter and one woofer built in and that's it.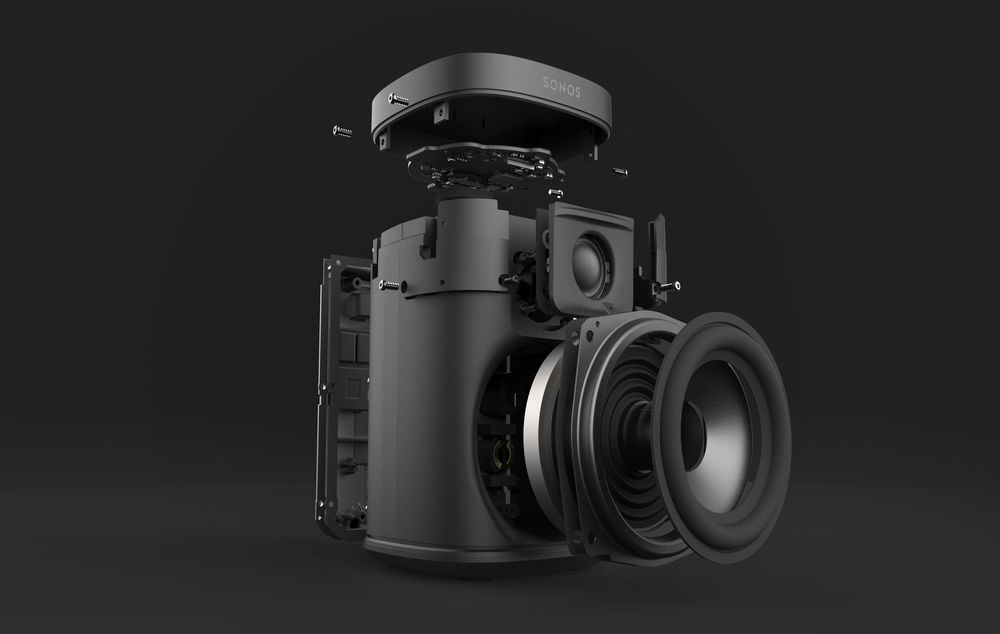 The Echo Studio has three mid-range drivers, pointing in multiple directions (for 3D audio), a tweeter and 5.25 inch subwoofer. This sounded like a recipe for success and we were excited.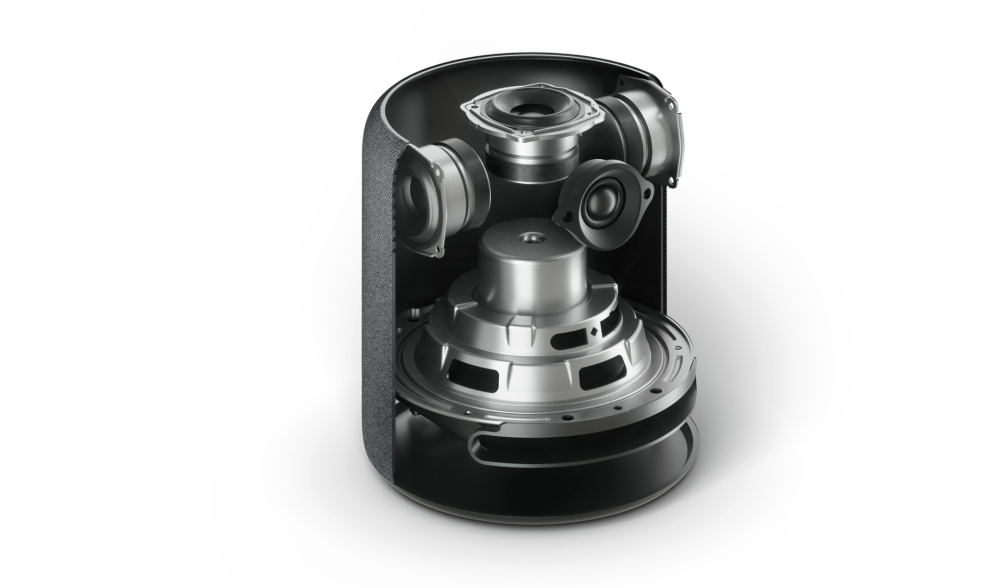 Let's start off by saying both speakers offer great sound but each in their own ways.
What was initially striking about the Echo Studio was its lower end. The amount of bass shook the desk we were testing it on. It also went extremely loud, filling the room easily. 
You felt like the sound was coming from a speaker twice or even three times the size of the Echo Studio.
We also tested 3D audio on the Studio, which is a new concept coined by Amazon. It is designed to throw parts of the audio to specific places in the soundfield, creating a live band atmosphere.
We were impressed and definitely increased the height and width of the sound output, however the number of songs that support 3D audio currently is a small playlist created by Amazon. 
We will have to wait and see whether artists in the future will get on board with this type of recording.
What was slightly disappointing in the Echo Studio were the vocals, mids and highs which is such a shame. They felt a bit muddy and distorted and after listening to the same segment of track, you could instantly feel on the Sonos One that the vocals were much clearer.
It is true that the Echo Studio went exceptionally loud, quite a lot louder than the Sonos One, and so we can visualise the Echo Studio being a great party speaker. 
When we sat down and listened to the Sonos One, the bass was tighter, the vocals were crisper and the midrange was much more accurate.
In essence, the Echo Studio had the "Wow" factor when you first turned it on, but after a while, the lesser amount of audio engineering experience unfortunately soon became apparent.
Both speakers can be stereo paired and both speakers let you adjust the EQ for bass and treble, with the Echo Studio also letting you tweak the midrange.
Overall, again, sound is subjective and feel these speakers will appeal to different people. Echo Studio is for people who love bass and listening at high volumes and is more impactful, whereas the Sonos One is for people who appreciate clarity and how songs are intended to be listened to by the artist.
Line-In 
The Echo Studio is the clear winner here as the Sonos One has no dedicated 3.5mm / optical line-in option. This means it's a breeze to connect sources such as turntables, CD players and your TV to the Echo Studio. 
If you own a Fire TV Cube (2nd generation) or Fire TV Stick 4K, you can wirelessly connect the Echo Studio to these devices to bring your TV and movies to life in Dolby Atmos (if the content supports it).
If you would like to add any external devices such as a Turntable or CD player to the Sonos One and even listen to them on other Sonos speakers at the same time, this is possible albeit with some extra Sonos equipment. 
Find out more about how to use Line-in with Sonos
Price
The Echo Studio at £189 slightly undercuts the Sonos One by £10 at £199. 
For a difference of £10, it's probably wiser to base your decision around the points outlined above. 
Summary
We love both of these speakers in different ways.
The Echo Studio is undoubtedly the best sounding Echo speaker to date and if you're already invested in Echo products, used to voice control and looking for an acoustic upgrade, the Echo Studio makes perfect sense.
On the other hand, there's no denying the robustness of the Sonos ecosystem. Its app is simply more intuitive and complete and their speakers are designed timelessly.
The sound was more true to life and painted a clearer picture of the music.
The Sonos One, despite being released in 2017 and going by their previous speaker's life cycle will almost certainly last longer than the Echo Studio before being replaced. 
The sound is great on both speakers for different reasons, but we highly recommend giving both a listen so you can be sure which sound you prefer.