How to Reconnect your Sonos system to a New Router or WiFi Network
We take you through the steps needed to get your Sonos system up and running again after a router or WiFi network change
If you've had enough of long buffering times when streaming movies, slow download rates and frequent interruptions to your WiFi network, you may have decided to upgrade your WiFi network. Great! However, with this, you may have noticed your Sonos system is a little confused.
In this blog, we take you through the steps so you can get the music back on as quickly as possible. You will need to follow the same steps if you have changed your WiFi password.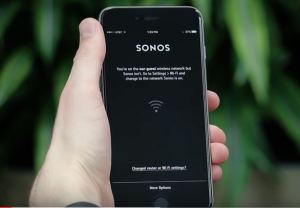 There are two different ways to get your Sonos system reconnected after a router or WiFi change. Which method you choose depends on how your current Sonos system is set up. Please see below for which option applies, and follow the simple steps. Alternatively, view the video above.
Option 1 - Wireless Mode
This is when you do not have any Sonos products wired to your router with an Ethernet cable.
Step 1
Ensure your Sonos controller (e.g. iPhone, iPad, smartphone, PC) is running on your new network.
Step 2
Connect your Sonos player to your WiFi router via ethernet cable. Open the Sonos app and select Settings > System > Network > Wireless Set Up. This will guide you through the necessary steps.
Step 3
After entering your new WiFi password, you should then see a message saying your Sonos player is now set up on the new WiFi network. You can now unplug the ethernet cable and use your Sonos exactly how you used it before.
Option 2 - Wired Option
This is when you have a Sonos BOOST or Sonos player wired to your router with an Ethernet cable.
Step 1
Connect the Boost to your new WiFi router via ethernet.
Step 2
Make sure the player is unplugged from the power and reconnect the power cord. Do this for every player you have in your home. Once you have a solid white light on each speaker, they will reappear in your Sonos app and you're ready to continue using the system as normal.
Need more help?
If you are still having problems and have purchased from Smart Home Sounds, please don't hesitate to get in touch with us or alternatively you can call Sonos support helpline on 0800 026 1526 who can also assist with matters such as these.
ABOUT SMART HOME SOUNDS
Smart Home Sounds is a UK Sonos specialist dedicated to filling homes with the joy of music, one room at a time!
We provide expert advice on the full Sonos range, from the voice-controlled Sonos One to a Sonos wireless home cinema system with PLAYBAR, SUB, and 2 x PLAY:1s all with free next day delivery and a 6 year extended warranty.