Sony SRS-XB33 Portable speaker In-Depth review: One To Consider! 
We took a look at the Sony SRS-XB33 portable Bluetooth speaker, which we've been using for a few weeks now, in an in-depth review. We are extremely lucky to add Sony as one of our brands in our catalogue and we were so impressed by this little speaker, that it deserves its own review so without further ado let's get into it.
So, the Sony SRS-XB33 is part of the 'Extra Bass' range and is sold for £150 and it's an update on last years XB32. If you forgive it for its rather unmemorable name, I would say it's a dark horse in the portable speaker category. When we mention Sony, we think of TVs, Playstations, headphones and lots more, but we wouldn't necessarily think of Sonos for portable speakers but the SRS-XB33 actually has a lot going for it with a sound quality that is perhaps a little better than how it looks. 
Design
On the box, you'll notice the main message is extra bass which we'll come to a bit later on. Our first reaction upon unboxing the speaker was that it was larger than the packaging gives the impression of but it's also weighty enough that it gives you confidence it's built well. It uses a fabric grill and when you feel it, you'll notice there's virtually no movement from it, so it's quite rugged. On the edges, you have the Sony logo on the top of these bass drivers that fire outwards which is surrounded with this leather effect edging around the sides.
On the bottom, you've got these handy rubber feet for keeping nice and stable on a surface or you can stand it upright like this if you're a bit more limited for space. Then if we look at the top panel controls, you've got the power button, Bluetooth pairing button, play/pause, volume up and down and this Live mode which is for bringing your music to life to give you a 3-dimensional experience and works well. What's also cool is you can use this as a speaker for your phone calls too as it has a microphone built-in.
Durable, Weatherproof design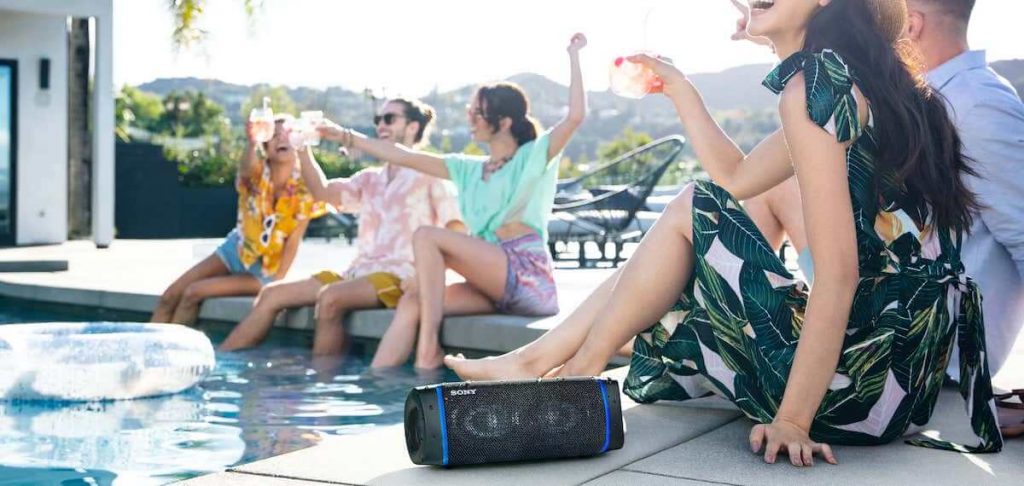 Let's move onto some of the key features of the XB33. It's IP67 weather-rated so it's fully waterproof and salt water-resistant so you can use it by the pool, the sea, in the desert, in the forest or pretty much anywhere on Earth. It shouldn't attract dust either as it is dustproof and it should survive bumps, scrapes and knocks so those are great for peace of mind. It's even safe to wash it, should you want to bring it back to "as new" condition. It also means it's great for parties, if you spill a drink over it you're not going to damage the speaker and you can give it a quick wash! Of course, we tested this properly and had no issues whatsoever and even better, it floats! 
A nice little addition to this speaker is if you're having a party at home (and if you're still watching this during COVID-19, no parties of more than 6 people remember), if the drinks are flowing and people want a little dance, you can activate party mode and the lights inside of the speaker and on these edges which flash different colours in time to the music for full-on party mode. You can even customise the colour of the light on the side. Now of course not everyone is going to be a fan of that, myself included. I perhaps would have loved that in my early days of Uni rather than now and I'm already losing my hair so thankfully you can turn the lights off by pressing this button for 3 seconds. 
Bluetooth Connectivity
Obviously, this is a Bluetooth speaker and this model offers Bluetooth 5.0 which works seamlessly as you'd expect. It's simple to connect and I've not experienced any issues at all while testing this speaker this week. It also offers party mode so you can easily connect multiple speakers. 
When I read this next feature, I had to read it twice to believe it but you can actually sync up 100 of these speakers so if you're lucky enough to have 100 friends who all own a Sony portable speaker, they can all be playing the same track and flashing the same lights in the same random pattern or the lights can blink in one big circle. Unbelievable feature! Perhaps more realistically if you had a couple you could group them all in party mode to fill a larger space or if you have two you can actually connect them up and use them as a stereo pair. 
Battery Life
So let's talk about battery life. It's actually quite impressive at a claimed 24-hour battery. In the real world, it doesn't last quite as long as that and certainly, if you're listening in party mode, it takes it down to around 14 hours. The voice assistant inside the speaker can also alert you when you're at different levels of battery life. It takes around 5 hours to recharge the speaker from dead to full battery. You'll use this USB-C on the back to charge the speaker and amazingly, it has a USB out for charging your phone if your phone's running low which is a feature that is quite rare for a portable speaker and for me that's a huge plus to be highlighted! 
Sound performance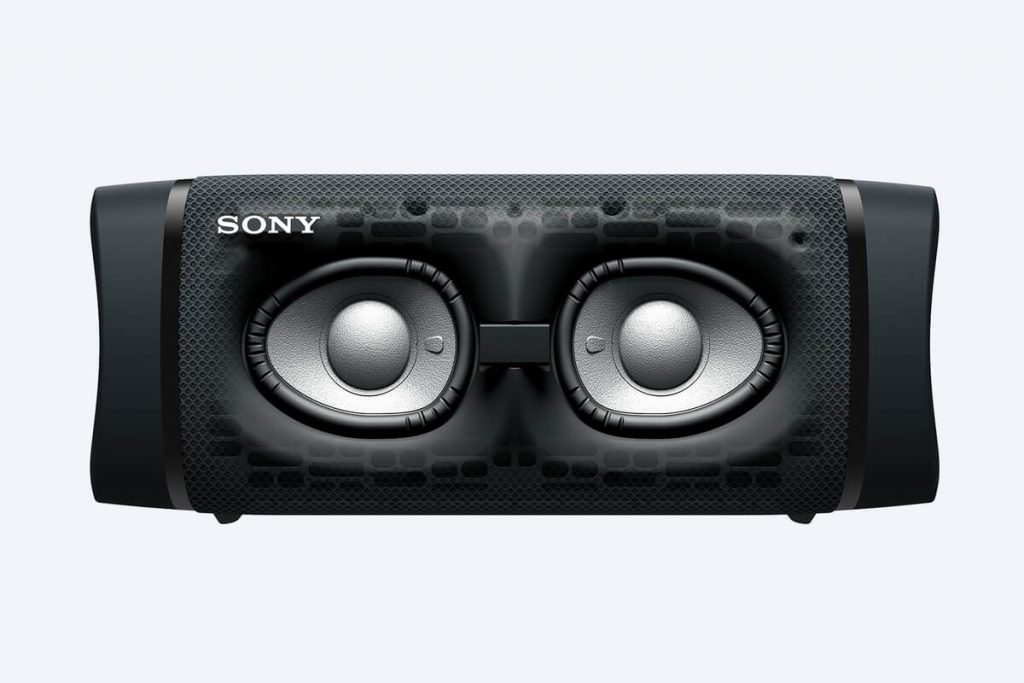 And finally, we need to talk about how it sounds. When we first started playing some dance music on it, we were instantly impressed as a team. The slightly strange shaped drivers inside which we're going to call egg-shaped take the advantages from oval and circular shaped drivers to squeeze the best possible sound from this little speaker.
Sony call this an X-Balanced speaker unit, the non-circular shape maximises the area of the speaker diaphragm as opposed to the usual circular diaphragm. Sound-wise, this increases sound pressure helping to add that extra punchy bass which was notable alongside very low levels of distortion. This design also offers better clarity and a wider soundstage and this definitely translated into sound performance when we tested it both in the larger office space and outside.
Now on the box, it highlights that this speaker is part of the Extra Bass series. The dual side passive radiators are optimised to reproduce clear bass sound and Sony has stated that this model offers an increased sound pressure of around 30% and reduced distortion rate of approx 25% to the predecessor the XB32. At 100% volume, I would say you do start to get a small amount of distortion but only the level I would expect when you're pushing a speaker to it's max volume limit. 
We really enjoyed the Live mode too, and while it's not as if you're listening live, it does do a great job of replicating that 3D sound experience and it uses angled speakers with DSP tech to fire out the audio to a wider area to fill your space better. We weren't sure exactly how the EQ was tweaked but it did feel more full of life when we put on enter Sandman by Metallica. Now there is also the Sony app which can be used to tweak a few of the settings. I'd recommend just having a little play around with these settings to find the best sound performance for your type of listening. 
Strengths & weaknesses
So let's cover the strengths and weaknesses of this speaker. First of all the strengths are that it really does sound great. We never like to use sound quality as a strength because everyone's ears are different but this speaker deserves an exception to that rule. It's also got a great weatherproof rating, impressive battery life and it's good value for the sound you get.
The negatives are that the size might make it slightly too large to carry around everywhere you go. It's more for taking on one-off journeys or around your home and garden. Also, the lights won't appeal to everyone but at least you can turn them off if they're not for you.
Summary
To wrap up then, is the Sony SRS-XB33 portable speaker worth it's £150 price tag? The portable speaker category has a lot of competition such as those from Ultimate Ears, Marshall, Bose and a long list more but we think the Sony deserves pride of place on our website due to the number of features you get for the money and its powerful sound quality for an honest price tag. You do have the option to step up or down from the XB33, the XB43 model is an extra £50 with an RRP of £200 and is a step up in size and sound performance while the XB23 is £50 cheaper than the XB33 with an RRP of £100 and is a smaller and slightly less powerful option. 
Design-wise I'll say it's maybe not as premium looking as something like the B&O A1 etc. There's nothing wrong with how it looks, it's just lacking that high-end aesthetic some other speakers offer but for the money, you are getting maximum bang for your buck with the features and sound quality. These speakers are definitely aimed towards the younger demographic if you're into your music and you want a speaker to listen to on the go, which is built to last and also adds a bit of fun with the lights, you should definitely shortlist the XB33 speaker.