Sonos Beam - First Impressions
We were very lucky to get a hands-on look and first listen of the new Sonos Beam soundbar. Here's what we thought.
The new Beam smart soundbar is Sonos' latest model to expand its home cinema portfolio. It seemed like a natural move for Sonos as it aims to capture more of the smart speaker market. The Sonos One released back in 2017 was a great success, taking on the likes of Amazon and Google but for people who were seeking better sound quality. There wasn't yet a smart soundbar option on the market so the Beam seems unique in this regard. The legendary Playbar and newer Playbase had been made to appeal to an audience in pursuit of exceptional sound quality. The Beam positions itself in a lower price bracket but does not compromise too much on sound quality! Due to its very smart design, it can pump out a far-reaching soundstage to enhance your audio content that just never gets old and full of surprises.

Appearance
On the first impression, it reminded me of a Playbase that had been cut in half and some more. However, on closer inspection, I noticed the cloth grille that wrapped around the Beam, similar to the Playbar and also the more prominent Sonos logo. At only 651mm wide, it's 28% shorter than the Playbar, and because it's not as deep as the Playbase, it is not designed for the TV to sit on top, rather sit in front, while keeping everything neat and aesthetically pleasing. There is no doubt that this is a premium product with a premium finish that past Sonos owners will relate to. Wall mounting is also possible if you want to mount underneath your TV. This enables Beam to be suitable for almost any TV set up due to its positioning options, compact nature while remaining sleek and aesthetic, a distinguishable feature compared to other soundbars.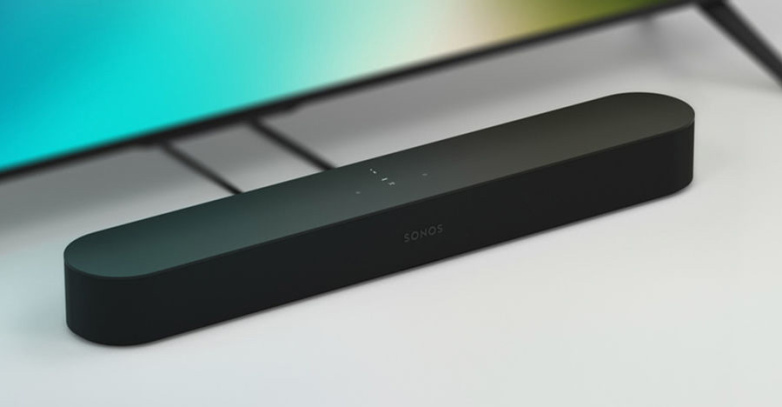 Features
The Beam is not short on features by any means and is Sonos' most feature-packed smart speaker to date. With Alexa voice control built in, you can use your voice to turn the TV on and off, launch your favourite TV show (Amazon Fire Stick required) and raise volume quickly. Good news for Apple users too as Airplay 2 is coming to the Beam too so you can cast any audio straight to the Beam. As the Beam uses an HDMI-ARC connection as opposed to optical, it also means you can be sure you will always be getting Dolby Digital as and when the content supports it. Some other useful features that have been taken from the Playbar and Playbase is the ability to pair your existing remote control with it, TruePlay the speaker, enable Speech Enhancement or Night Mode. You can also add a Sub and rear speakers if desired to achieve full 5.1 Dolby Digital sound.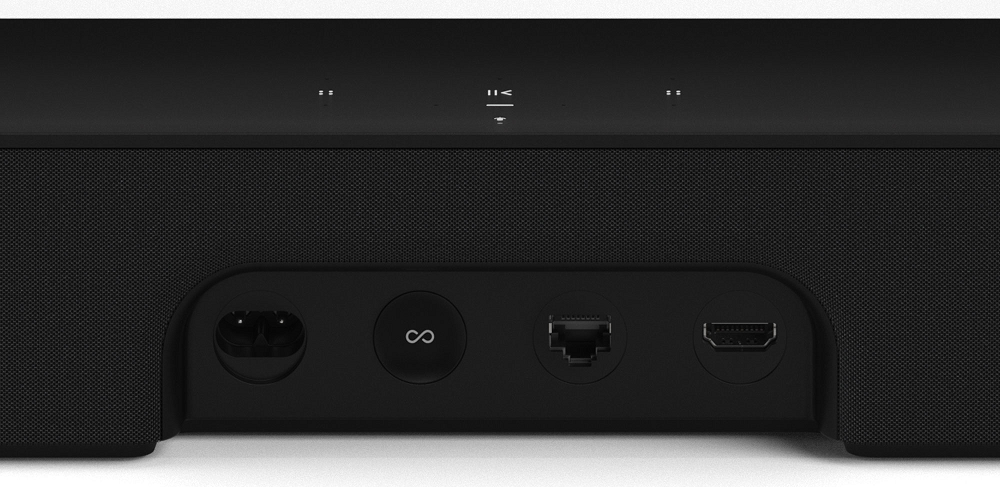 Sound Quality
This is where the Beam comes into its own. On first listen, we watched a David Attenborough Planet Earth trailer, and the clarity of the speech was striking. Every sound, however intricate was correctly represented and clear. It was immersive and every person watching was utterly absorbed in the content. It was surprising to think that this sound was coming from just the little Beam. You would have expected this kind of sound to come from something at a much higher price point. The lower frequencies were perhaps not as deep as the Playbar or Playbase but were still very impressive. The most surprising aspect of the Beam was its soundstage. It filled the room with minimal effort thanks to its outward facing speakers at the edge of the unit.
Price
At only £399, we thought this was a modest price for the quality and number of features you get from this speaker. It's important to remember, that this is not just a soundbar for your TV audio; you can stream music, games, radio, audiobooks and more using the Sonos app, so every member of your household will benefit. You can also add a pair of rear speakers such as Play:1s to total £697, the same price as a Playbar on its own.
Conclusion

At Smart Home Sounds we genuinely believe the price is well worth the package on the Beam from first listen. A soundbar that has voice control built in, Airplay 2, exceptional sound quality and smart design is something that would typically come from a higher price bracket. Whether it will feature as your first Sonos speaker or one that will be added to your existing network of Sonos, it is sure to feature in many living rooms. Beam is available to pre-order now and will be shipping for launch day on 17th July 2018.