Claim £135 worth of Philips Hue Smart Lighting with Sonos
Get a Philips Hue starter kit when you buy a Sonos Beam or 2 x Sonos Ones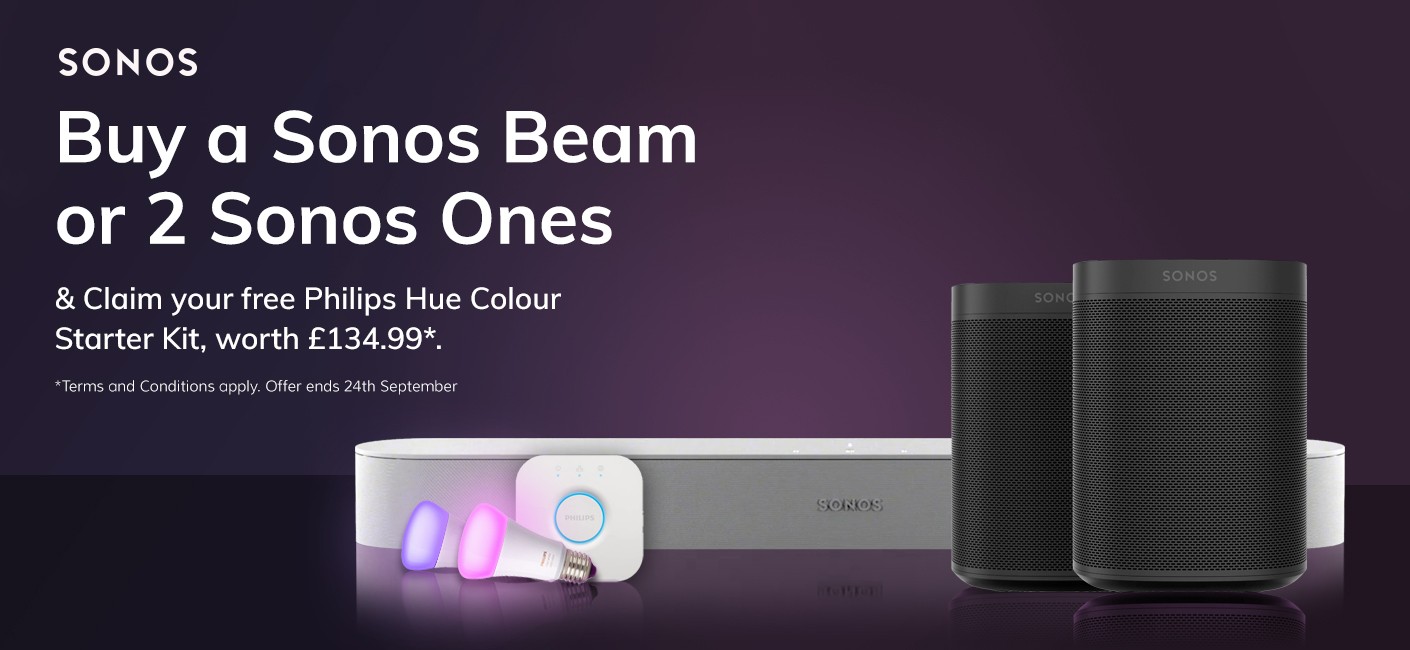 Combine music and lighting with this incredible Sonos & Philips Hue Offer
We're delighted to be able to announce that you could be the happy recipient of a Philips Hue Starter Kit worth £135 when you purchase either 2x Sonos Ones or a Sonos Beam. 
Offer Valid 28/8/19 - 24/9/19
For those who aren't familiar, Philips Hue is a renowned range of Smart Bulbs that allows you to control ambience, colour and lighting schedules without having to move from your Sofa.
This will enable you to manage lighting as another smart home device around the home, integrating your Sonos Speakers more cohesively with your home. Philips Hue smart bulbs can be used in your existing light fixtures, meaning all you need is the Philips Hue starter kit to get going.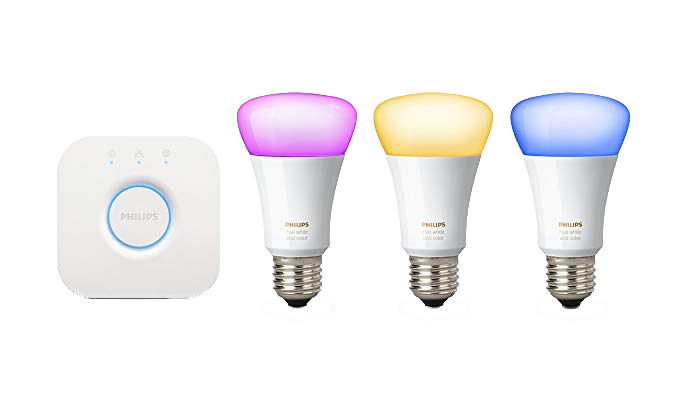 Fancy watching a movie on your new Sonos Beam? Use Sonos Beam's inbuilt Amazon Alexa or Google Assistant voice assistant or the Philips Hue App on your Android Phone or iPhone to set the mood and ensure prime viewing experience. Change the lighting colour to a different shade of white or even a different colour entirely without needing to reach for the light switch. 
Alternatively, set a sleep routine using your pair of Sonos Ones; allowing you to wake up to the sweet sound of your favourite playlist and soft lighting to make mornings a little bit easier.
To read more about Philips Hue Smart Lighting, take a look at our handy blog below to find out how to use Philips Hue and integrate it with your Sonos System. 
Read Sonos & Philips Hue Smart Lights: The Ultimate Guide>>
Smart Audio giants Sonos have confirmed they will be running an exceptional deal starting 28th August 2019 and running through until 24th September 2019, giving customers the chance to add lighting to their burgeoning smart home system.
Follow the simple steps below to claim your Philips Hue Starter Kit after purchase.
Please note, the offer is only valid on purchases of a Sonos Beam or 2x Sonos One Bundle between the 28th August and 24th September 2019.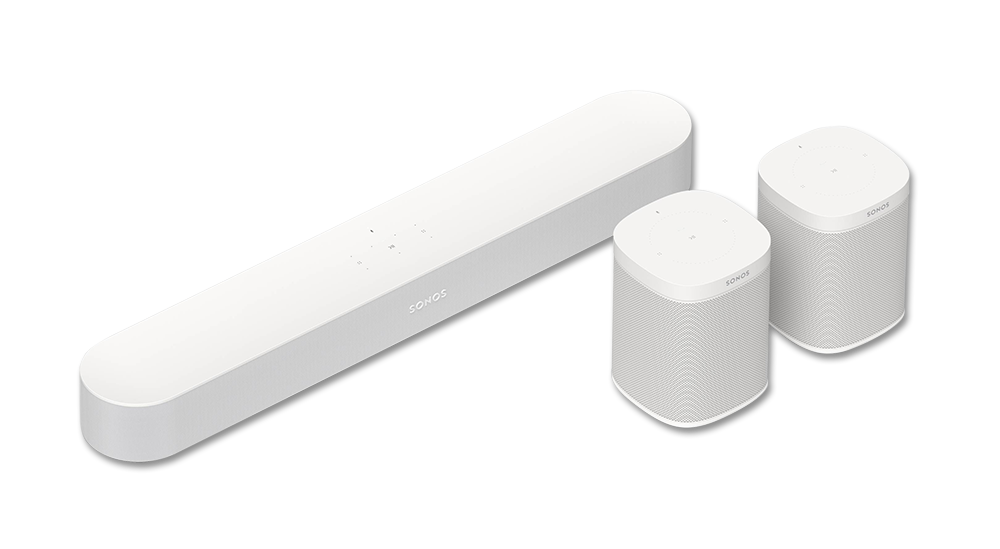 5 easy steps to claim your free Philips Hue starter kit
Follow the simple steps below to request your free Philips Hue products. 
Make your purchase of a Sonos Beam or 2x Sonos One Bundle with Smart Home Sounds to make use of our free next day delivery and extended 6 year Sonos warranty.

Email Smart Home Sounds at info@smarthomesounds.co.uk quoting your order number to request we send across a Purchase Invoice.

Email across the Purchase Invoice to

Sonos.Hue@luzernsolutions.com

for validation and the Philips Hue light bulb starter kit will be sent to your delivery address.

You will be emailed across a code which you can then upload to the Philips Hue site at www.store.meethue.com/gb/sonos . Simply follow the steps to redeem your free Philips Hue Starter Kit.
Use our step-by-step guide to integrate Sonos with Philips Hue from start to finish.
Full Terms and Conditions of this offer here.
 Why Smart Home Sounds
6 Year extended warranty on all Sonos speakers
Free next-day delivery (Including Saturday)
Up to 12-months interest-free credit on purchases over £399
UK's Leading Sonos Specialists
Learn More
Sonos & Philips Hue Smart Lights: The Ultimate Guide>>
Sonos & Philips Hue - Setup, Features & Hands-on Video>>