Top 10 Sonos App Tips and Tricks
Must-know Sonos App hints and tips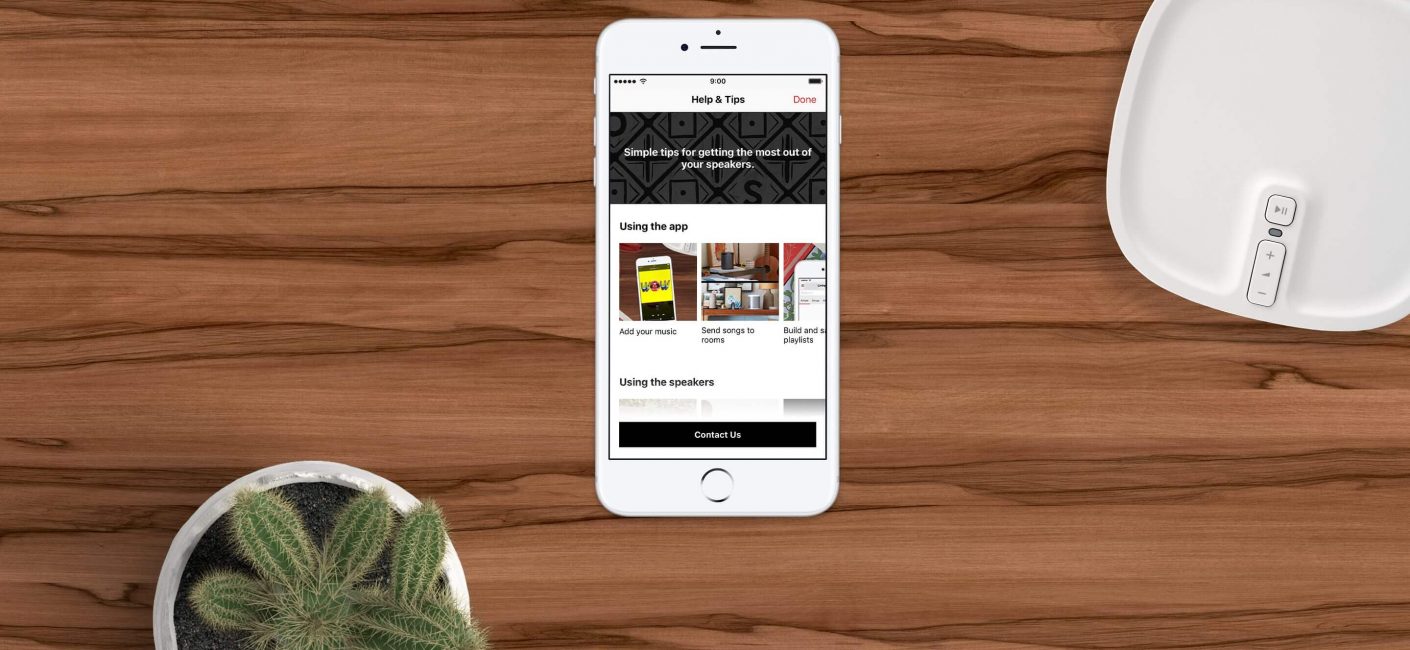 How to get the most out of your Sonos App
The brains at Sonos have worked hard to make the Sonos System suitable for everyone. It's easy to tailor your listening experience to the needs of you and your family.
Take a look at some of our favourite Sonos tips and tricks below to find out how you can get the most out of your Sonos system:
For Sonos Beam, Playbar or Playbase only
1. listen late at night without waking people up
Looking to watch a movie late at night or after the kids have gone to sleep? Sonos has the solution for you.
Night Sound is a feature that can be utilised on any Sonos sound bar to suppress loud noises from TV or film, whilst heightening the vocals and quieter sounds so that the audience still gets a rich viewing experience.
This bass suppression will reduce sound leakage to neighbouring rooms by as much as 50%, allowing you to continue watching your favourite action movie or TV show guilt-free.
It's easy to turn Night Sound within the Sonos App. Simply select the room you want to activate this feature in and click on the toggle icon that looks like a crescent moon.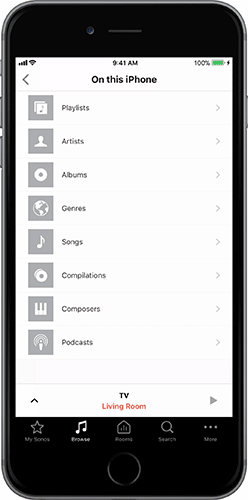 To turn Night Sound back off, just tap the toggle icon again.
2. enhance the vocals
Sonos Soundbars can be a great companion to those who struggle to hear certain voices or conversations on the TV.
Rather than turning on the subtitles, you can activate Speech Enhancement on your Sonos Soundbar. This will increase the sound coming out of the central speaker that is used to reproduce the vocal output from your TV.
You can activate Speech Enhancement in a similar way to the Night Sound feature. Select the room with your sound bar in and tap the toggle icon that looks like a speech bubble.
For all Sonos Speakers
3. custom tune your speakers to the room
Did you know you can acoustically optimise your Sonos speakers for the room they're in?
Get the most out of your Sonos and TruePlay your speakers using your iPhone or iPad.
TruePlay uses the microphone on your iOS device to scan the dimensions of your room, allowing your Sonos speaker to make small acoustic adjustments to the sound, to give you the purest sounding music and audio.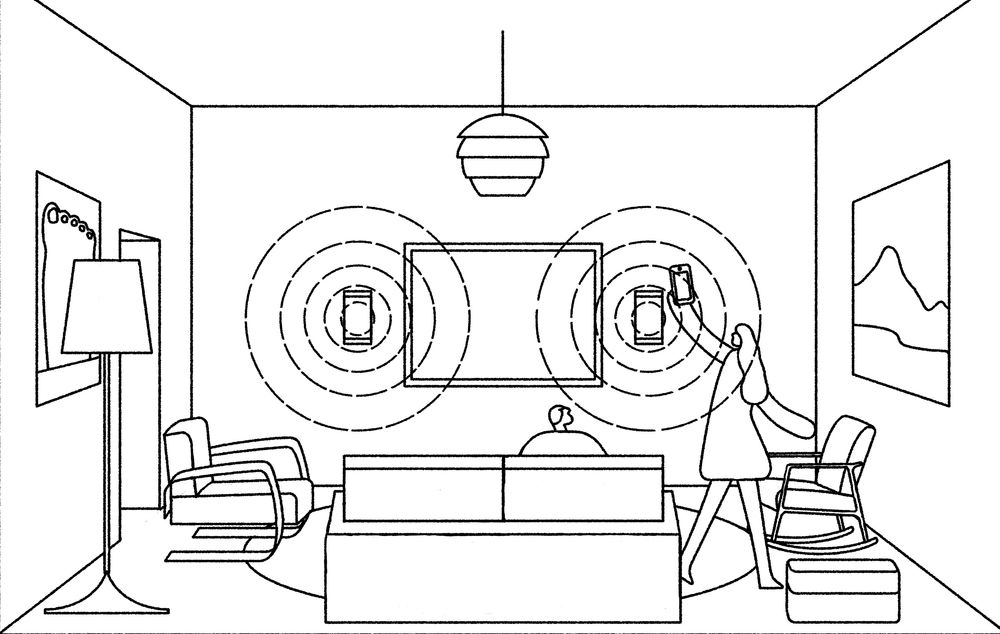 After setting up your Sonos speaker on your iOS device, you will be prompted to follow the Trueplay set-up instructions.
You will need to make sure your room is quiet, so turn off any noisy appliances and ensure children and pets are out of the room.
You will then be prompted to move your iPhone or iPad around the room in a sweeping motion to complete the Trueplay set-up.
Trueplay even works for custom install projects if you're using the Sonos Amp along with a pair of Sonos Architectural speakers.
This feature can really enhance the sound of your Sonos speakers by accounting for ceiling height, room shape and furniture positioning.
4. add another speaker for a stereo pair
Sonos speakers sound better together.
If you have two of the same Sonos speaker you can create a dedicated left and right Stereo Pair which will allow you to achieve stereo separation.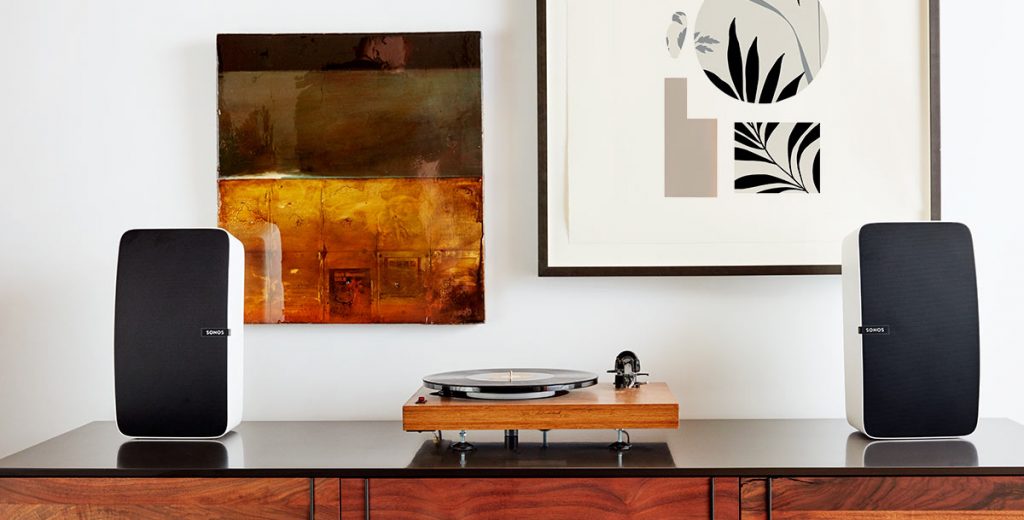 This will link the speakers together as a single room and you'll notice that certain instruments or parts of the audio will be directed to the left or the right, creating a wider soundstage.
To Stereo Pair your speakers, follow these simple steps:
More > Settings > Room Settings > Select one of the speakers you want to make part of a stereo pair > Create Stereo Pair > Follow the steps within the Sonos App to set this up.
Bear in mind that both speakers must be the same model in order to create a Stereo Pair.
5. create a sonos 5.1 Surround Sound System
Customers come to Sonos time and time again due to their interest in creating a 5.1 home cinema system.
An easy set up and the ability to create one cohesive surround sound system is a massive pull factor.
To start, set up all your Sonos speakers and Sonos Sub individually on your Wifi network.
To set up surround rears: Go to 'More' and then select 'Settings' then 'Room Settings'. From here select the Sonos soundbar that you wish to add surround rears to. Choose the option 'Add Surrounds' and follow the detailed in app steps to set up both your left and right surround rears.
To add a Sub: Go to 'More', 'Settings', 'Room Settings', Select the room you'd like to add the Sub to and then click 'Add Sub. Follow the in-app instructions to add the Sub to the surround sound system. Once the surround rears and Sub have been added, you will have a full 5.1 Dolby Digital Surround Sound system.
Blog: Create your own Sonos Home Cinema
6. adjust bass and treble to your desired taste
Sonos have endeavoured to create the best possible listening experience right out of the box, but you can customise the level of bass and treble to match your taste. 
To change your EQ settings,
More>Settings>Room>Select the Room you want to change EQ settings in>EQ
This will bring you to a slider allowing you to change your Bass and Treble settings. These can be tweaked individually for each Sonos speaker you own.
7. cast any audio from your iphone or ipad to your sonos speaker
If you use an iPhone, iPad or Mac, you can make use of AirPlay 2 to cast audio across to the speakers without using the Sonos App.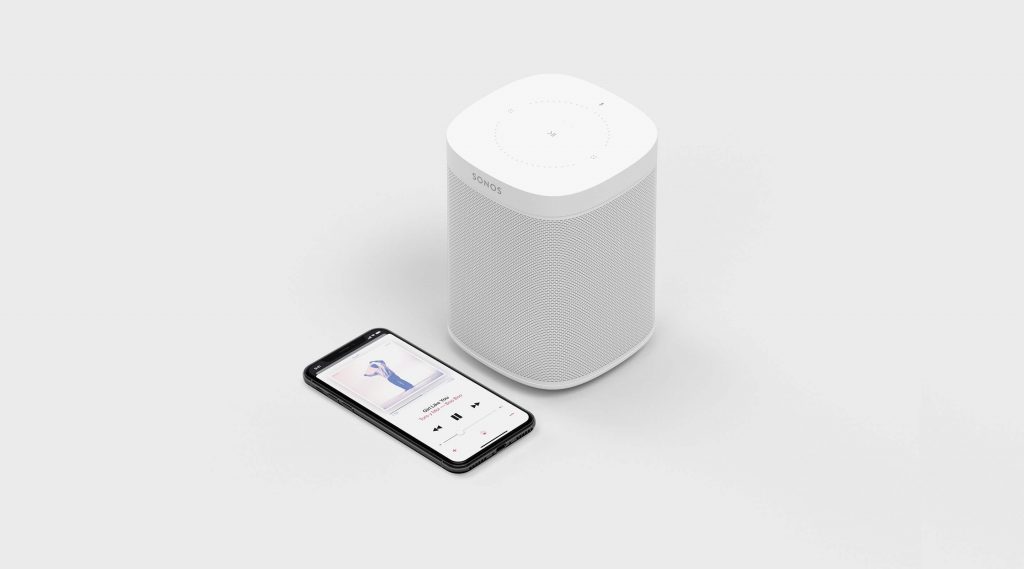 This is great for those who want to cast audio from Netflix or YouTube on your phone/ tablet, for example, as the Sonos App doesn't currently support this function.
AirPlay 2 is currently available on the Sonos One, Beam, Playbase, Play:5 and Sonos Amp.
Find out more about all things AirPlay 2
8. cast music to sonos directly from spotify or google play apps 
Spotify Connect and Google Play Music Cast allow you to stream music to your Sonos speakers straight from these respective music apps.
This is great if you're hosting a party or social gathering as any of your guests who have access to your WiFi can get involved with the music without needing to download the Sonos App.
To use Spotify Connect: Open the Spotify app and select the song or playlist you'd like to play. Swipe up on the song so that it takes up the whole screen then click on the small icon in the bottom left hand corner showing a speaker.
This will bring up a list of the Sonos speakers in your house, simply select the speaker you'd like to cast to and this will start up the music on your chosen Sonos device.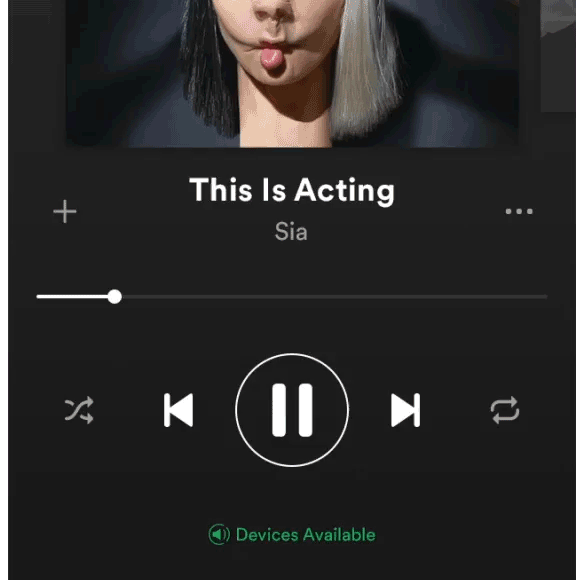 9. Set a maximum Volume Limit
With Sonos, it's possible to create a maximum volume limit for each of the speakers in your home.
This limit can be unique to each speaker and can help busy parents avoid being woken up by their children playing loud music early in the morning or late at night!
How to set a Sonos volume limit
More>Settings>Room Settings> Select the speaker you intend to set a limit on> Volume Limit> Use the slider to set the maximum volume you require.
10. wake up to your favourite music by setting an alarm
You can use your Sonos Speakers to help plan your sleep schedule.
Get the music to start playing when you want to wake up and fade out at a time when you want to fall asleep.
Choose from digital radio or music on any of your streaming services to customise your Alarm or Sleep Timer to fit your mood.
How to set a Sonos Alarm:
More> Alarms> Set time, volume, choose the music or radio and select a duration for the alarm.
For example, you can set the alarm to turn on when you're getting up and ready in the morning and turn off around the time you leave the house.
How to set a Sonos Sleep Timer
Swipe up in the Sonos app to open the Now Playing Screen> Click on the three dots next to the name of the song you are playing > Click on Sleep Timer at the bottom of the menu> Select the amount of time you want your music to last
---
Want to learn more?
What devices can you use with the Sonos App?
The Complete Beginners Guide to Sonos
---
Looking to purchase your first Sonos speakers?
We're so glad you've found us. Our free next day delivery and an extended 6-year warranty is available on all Sonos purchases. We always aim to look after our own and offer discounted loyalty prices to all previous customers to show our appreciation for their continued business.
Our tech team are on hand Monday-Friday to help you out if you ever need any assistance regarding any of the Sonos products you've bought with us.