First Look at Bowers & Wilkins PI7 and PI5 In-Ear Headphones
We take a look into Bowers & Wilkins PI5 and PI7 True Wireless headphones.
First Look at Bowers & Wilkins PI7 and PI5 In-Ear Headphones
Bowers & Wilkins have just announced the release of their first-ever wireless in-ear headphones, the Bowers & Wilkins PI5 and Bowers & Wilkins PI7, priced at £199 and £349 respectively. These headphones build on B&W's market-leading True Wireless Sound technology and aim to deliver premium sound with the ease of use that wireless technology offers all combined in a sleek, comfortable form. 
The PI7 and PI5 headphones have a lot of similarities as both use a lot of the same technology however, with a £150 difference in price point, there are some key differences to highlight. We have taken a closer look into these features and what makes these headphones stand out in a competitive market.
What You Need To Know About The Bowers & Wilkins PI7: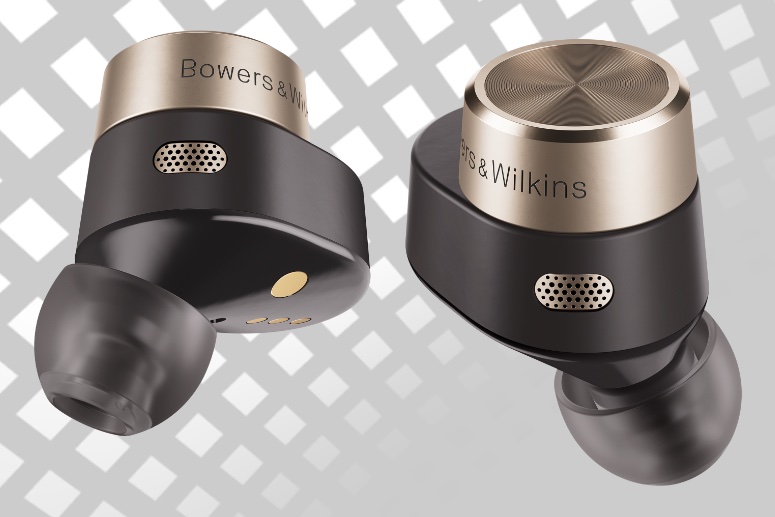 B&W's premium, flagship model supports Bluetooth 5.0 Qualcomm aptX Adaptive True Wireless transmission to facilitate high-quality audio transmission from your favourite streaming platforms. They also have a high-resolution capacity with 24-bit/48kHz wireless transmission between each earbud, helping you get the most out of your audio experience and benefit from Hi-Res listening throughout the day.
Renowned for their speaker expertise, Bowers & Wilkins has managed to shrink down the main components of a standard loudspeaker to fit in each earbud, offering supreme audio quality for a product of this size. The PI7s boast bespoke Bowers & Wilkins 9.2mm drive units, complete with a high frequency balanced armature driver; and house two drive units in each earbud driven by their own individual amplifiers. Adaptive Noise Cancellation technology enables the headphones to automatically adapt to your environment and block out any unwanted distractions. The ANC system makes use of six internal microphones, further utilised to offer cVc2 quality phone calls. Though voice assistant isn't inbuilt, the PI7s can be used with your phone's native voice assistant software such as Siri or Google Assistant. 
Perhaps the most exciting thing about the new PI7s is their innovative inbuilt Auto-Retransmission technology, a market first for a headphone of this type. The PI7's smart charging case will connect via USB-C to a compatible 3.5mm jack or USB-C audio component allowing you to tune into an analogue or USB audio source. Frequent flyers will be happy with this news, as the PI7's charging case can connect to in-flight entertainment systems and wirelessly transmit audio from that source to the earbuds.
The earbuds offer four hours of operating time before they need recharging but the supplied charging case can offer a further 4 charges taking your total battery life up to approximately 20 hours. A quick charge feature enables you to gain an additional 2 hours of battery life from just 15 minutes of charge time, great news for those in a rush to boost charge before the work commute.
The PI7 headphones and accompanying charge case offer a premium and minimal design that is not only aesthetically pleasing but practical and easy to carry around. IP54 weather rating is an added bonus for those planning to use the PI7s in dusty environments or to provide a soundtrack to sweaty runs.  Automatic wear detection will play and pause the music based on whether the earphones are in use or not. The silicone ear tips provided are designed for comfortable wear over longer periods and you are also provided with 3 different earbud sizes to ensure maximum comfort for all ear shapes and sizes.
The PI7 True Wireless Headphones can be bought for £349.00 and are available in White and Charcoal. 
Our Favourite Features in The New B&W PI5: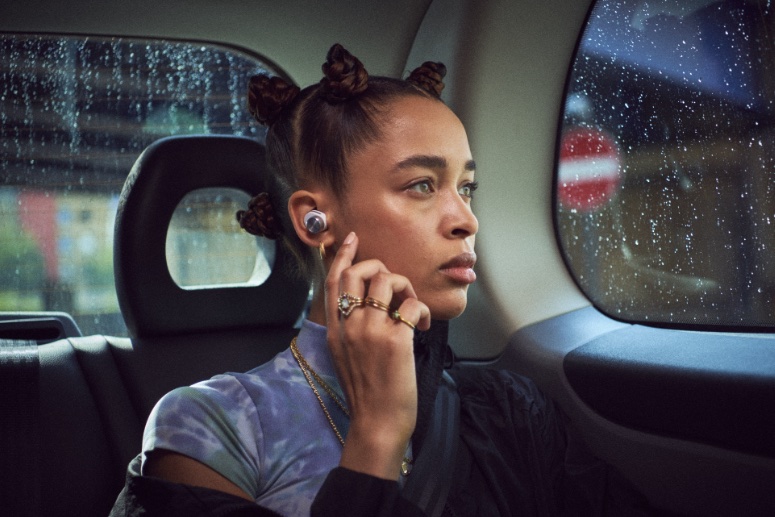 Operating True Wireless Sound + technology for smart and seamless earbud coordination, the new B&W PI5's may come in at a lower price point than their big brothers the PI7s but still pack a punch in all the ways that count. Housing a single 9.2mm Bowers & Wilkins drive unit per earbud, you'll benefit from CD Quality 16-bit audio compatible with the Hi-Res audio solutions offered by most major streaming services. 
The PI5's Bluetooth 5.0 connectivity is powered by aptX wireless transmission technology to facilitate uninterrupted, long-range audio playback.  
Active Noise Cancellation offers user-controlled noise-cancelling plus ambient pass-through mode, which though not quite as intuitive as Adaptive Noise Cancellation, will offer a break from outside distractions. The PI5's two in-built microphones (one per earbud) unite for high-quality cVc phone calls and like the PI7s can be used with your phone's native voice assistant technology. 
The PI5 earbuds have a battery life of approximately four and half hours before needing to be charged. The charging case also offers a further 4 charges taking the total battery life up to approximately 24 hours. B&W's innovative Quick Charge feature has been built into the PI5s, giving you an impressive 2 hours of additional battery life from just 15 minutes of charge time.
Like the PI7, the PI5 design is very sleek, professional, and designed for lasting comfort. Small touches like automatic wear detection make the PI5s feel premium, playing and pausing based on whether the earbuds are in your ear or back in the case. Again rated at IP54, this will give the sportier or more adventurous amongst you peace of mind when taking the PI5s out and about. 
The PI5s retail at £199.00 and are available in White and Charcoal. 
Similarities Between The PI7 and PI5: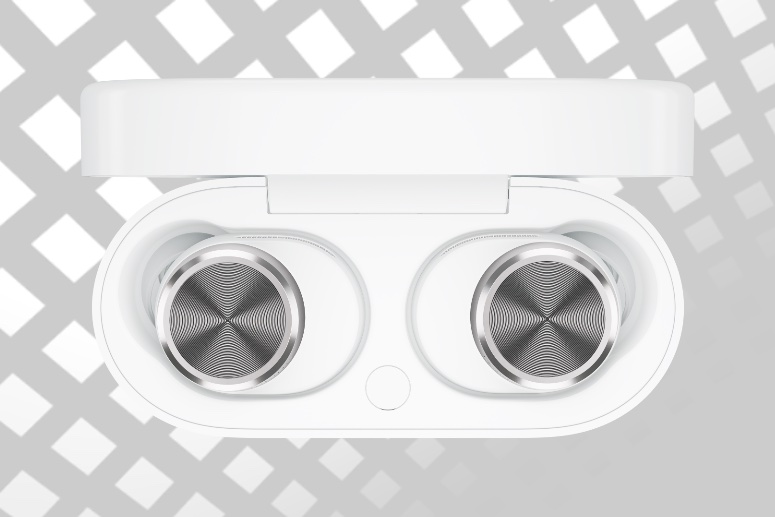 Both sets can be configured with the Bowers & Wilkins companion app and have a one-button user interface that can be used for multiple actions, both Siri and Google Assistant's native in-phone services can be connected. Multiple sources can be connected, so you can easily reconnect and swap to different sources when necessary such as going from your phone to your laptop. 
Both the PI7 and PI5 cases offer four full recharges for their respective earbuds before requiring recharging themselves, with wireless recharging being compatible with a range of accessories.
Suitable For:
If you are looking for headphones you can use in multiple different settings, such as commuting to work as well as in a more professional setting, like a conference call, then the PI7 may be a more appropriate choice for you due to its 6 in-built microphones and automatic ANC system and premium high-resolution sound quality. 
However, if you are looking for a somewhat more affordable option that still offers high-quality sound and seamless wireless transmission with a slightly longer listening time, then the PI5 might be a more suitable option for you.  
3 Main Things To Remember:
Both Adaptive Noise Cancellation (PI7s) and Active Noise Cancellation (PI5s) will help block out your surroundings and deliver greater sound.

4+ hours of listening time and 4 case charges before you need to recharge either product. 

Market-leading True Sound technology, with industry-first Auto-Retransmission built into the PI7s
We hope you've enjoyed our rundown on the new Bowers & Wilkins True Wireless Headphones. If you have any questions about these or any of the other products we sell, please feel free to get in touch and our team will be happy to help. We can be reached via Live Chat on the website, at info@smarthomesounds.co.uk, or over the phone on 0800 677 1100 between 9 am-5 pm Mon-Sat.