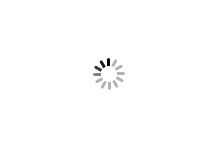 Sonos PLAYBAR + SUB + 2 x PLAY:1
Experience the ultimate wireless 5.1 Sonos bundle, amazing for movies & music
More Details
0% Finance: From only £36.13 per month!
---
Lowest price promise. Seen it cheaper?
Sonos PLAYBAR + SUB + 2 x PLAY:1
Experience the ultimate wireless 5.1 Sonos bundle
Epic sound for all your films, games and TV shows. And it streams music, too. For those times when all you need is a good tune.
PLAYBAR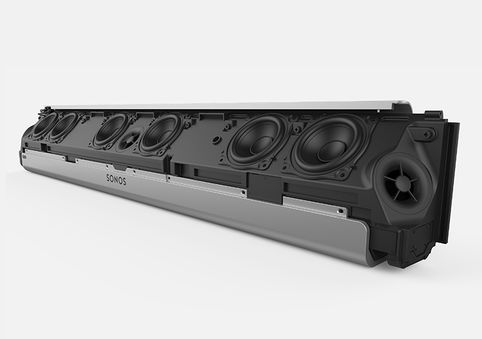 Unleash epic sound for your TV with PLAYBAR.

With nine speakers under the hood, PLAYBAR is designed to create a wide soundstage, that produces a fantastic sound field. It's perfect for movies, TV shows, games and your entire music collection.
SUB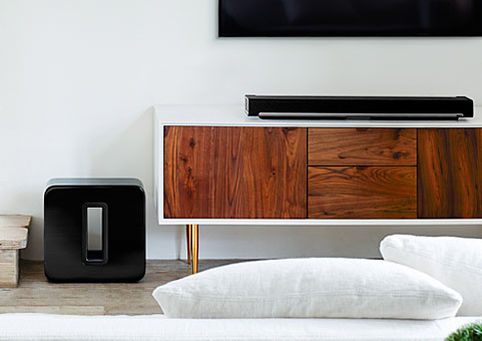 Add SUB for soul-shaking sound.

Because of SUB's force-cancelling drivers, nothing gets lost in cabinet buzz or rattle. You'll feel the crush of every action sequence and the shred of every power chord.
2 x PLAY:1 - Add full immersive sound
Finish your home theatre with a pair of PLAY:1 wireless speakers. They'll deliver deep, richly detailed sound. Your movies and music will thank you for it.
For more information on Sonos cinema please read here
Easy, wire free set-up
No need to run speaker wires all around the room. Just turn everything on, connect PLAYBAR to your TV with a single optical cable, and relax... Your SUB and rear speakers will sync up wirelessly via the Sonos app.
Trueplay, custom speaker-tuning for your PLAYBAR
Trueplay balances and fine-tunes any Sonos home cinema setup – from a PLAYBASE or PLAYBAR, with or without SUB, to full surround sound with Sonos rear channels. Set up your home cinema system however you want, in any room, and it will sound amazing.
Connect your Sonos to any Amazon Echo device
With an Amazon Echo or Dot, you can use your voice to play and control songs, playlists, radio stations, podcasts and more.
PRICE BEAT - WE WILL BEAT ANY PLAYBAR SURROUND SOUND PACKAGE PRICE. PLEASE EMAIL OR CALL
More Information

| | |
| --- | --- |
| Weight (Kg) | 24.0000 |
| Brand | Sonos |
| Manufacturer | Sonos |
| Warranty | 6 |
At Smart Home Sounds we pride ourselves on customer satisfaction and want our customers to be 100% happy with their purchase.
We offer 30-day hassle-free returns and personalised service from real live people. If an item doesn't meet your expectations, simply return your item to us in its original condition and packaging within 30 days for a full refund or exchange.
Want to return a faulty or damaged product? Don't worry Smart Home sounds will arrange a collection or exchange should this be necessary.
I struggle with hearing voices on the TV usually and by upgrading my Yamaha sound bar to Sonos I am able to keep up with the plot these days
Excallent product 7star quality.
So easy to setup, with excellent sound that has brought movies and music to life! I'll be filling the house with these!
The best sound I have heard in ages. I have used Bose up until I switched to sonos and it's the best decision I have made. I would highly recommend this product to anyone that loves listening to music or watching moves, exceptional sound and great looking product.
Love the rich sound and the design. Shame playbar does not have Aux-in as the Sonos does not support airplay, an Aux would allow the use of Apple airport.
Sound quality is super. Great solid base from the sub. Good clean sound from the play 1s no distortion. Playbar sounds good on its own with great sound definition. When you add them all together they fill the room with sound. Whether listening to music from my laptop, phone or network streaming it sounds great.
A brilliant system that gives clear crisp sound and excellent surround sound. Although expensive it is a very versatile system for use with a flat screen TV and access to multiple sources of music either from your own devices or from the Internet.
The speakers arrived on time and were very easy to set up. The system does sound good, however it's a shame theres no Dolby DTS or that the Trueplay does not work on other phone OS's other IOS. We don't all have iPhones, and can Dolby DTS be added as an software update in the future?
Setting up was a bit tedius but only because I made a mistake and had to set it up twice. Once set up, its a doddle to use and has the sound quality i expected. All links together very well.
Sonos playbar, sub and 2x play 1 speakers easy to set up and add to other speakers . Great sound.
I purchased a soundbar, sub-woofer, and two Play 1 speakers. The main reason for this purchase is that I'm getting on in age and becoming a little hard of hearing and sometimes I have difficulty understanding certain words and phrases when watching TV. So I wanted to get a TV soundbar to enhance and clarify the dialogue, and I also wanted to replace my current sub-woofer and speakers because I don't like the clutter of all the wires. Set-up could not have been more straight-forward and simple. You basically just download the software, plug everything in, and follow the on-screen instructions. I'm certainly not a sound expert but I think the system sounds great. The TV dialogue is now very crisp and clear, and the simulated surround sound makes watching TV a whole new experience (I didn't use my old speakers for surround sound because I didn't want to tear the living room walls apart to wire and position the speakers around the room). I'm also very pleased with the sound quality when just playing music, whether from the radio or my iTunes library. Finally, I just love the technological aspect of the system where you have no wires and you manage everything from the Sonos software program on your PC, laptop or cell phone (I have it on all three). In summary, if you want to combine excellent sound quality with the convenience and tidiness of state-of-the-art wireless technology, I would recommend you go with Sonos.
Brilliant. Enough said, I can't add much more.
Amazing sound - it looks brilliant too.
A great purchase! The sound and build quality is excellent and I think I am unlikely to ever replace this kit. I may well add a couple of Play 2s or 3s to other rooms to fill the house at a later date. It may sound obvious if you have a techy head, but if not be aware that no sound system can be completely wireless unless each speaker it is powered by batteries. A friend of mine didn't realise that each speaker will require it's own power supply so if that bothers you then Sonos is not right for you. Also be aware that if you buy the surround sound system as I did the TruePlay setup does not apply, that is for non-surround setup only. I looked for ages when configuring the sound bar and had to call the help desk to find this out. By the way the help desk are very prompt and have all the answers.
Express delivery, goods in impeccable condition, no complaints!
Superb sound quality and, while not cheap, definitely worth the money for the lack of wires, integration with TV and general quality - it all looks very smart as well as sounding excellent.
Amazing set-up. Easy to use. Great features. Fantastic price. Super fast delvery.
Got a lot of Bose products and this is every bit as good but without huge wires!