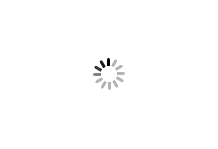 Sonos PLAY:5 & Rega Planar 1 Plus Turntable Bundle
The Sonos Play:5 and Rega Planar 1 PLUS turntable combines the best of analogue and digital to bring you the joy of vinyl all around your home!
More details
From only £36.13 per month interest free!
Smart Home Sounds Promise
Lowest price promise. Seen a better price?
Sonos Play:5 + Rega Planar 1 PLUS Turntable Bundle
The Ultimate Starter Bundle for Vinyl Lovers
Restore your vinyl collection with the award-winning Rega Planar 1 PLUS and Sonos Play:5 wireless speaker.
This bundle includes everything you need to start listening to your favourite vinyl around your home within minutes - in prestige Sonos sound quality.
Playing vinyl has never been simpler!
Simply plug in the Play:5 to mains power then set it up using the easy-to-use Sonos app and connect it to your home WiFi. Then use the supplied cable to connect the Play:5 directly to the turntable.
As the Planar 1 PLUS contains Rega's handcrafted phono stage built in, there is no need for an external pre-amp.
Select line-in on the Sonos app then spin those vinyls! It couldn't be simpler.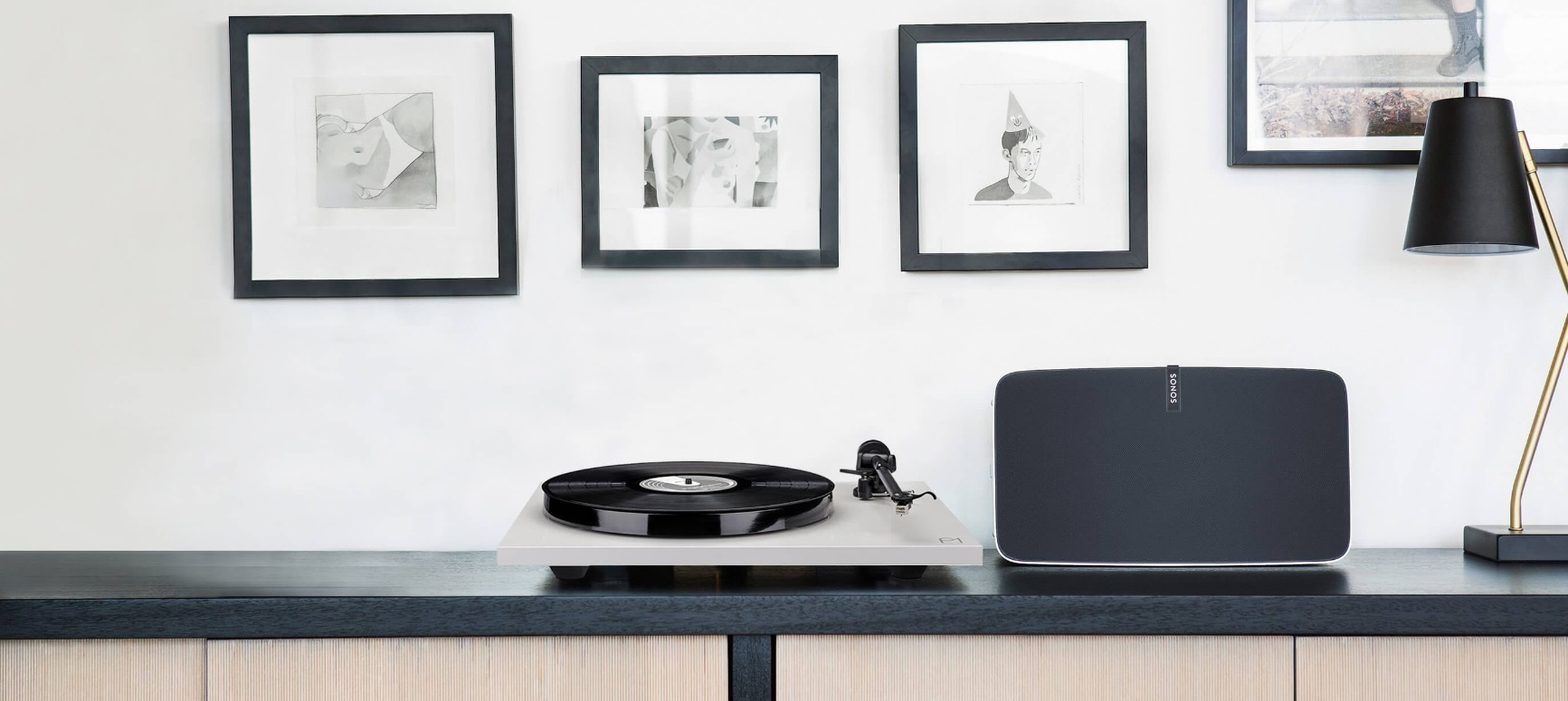 Why Rega Turntables?
The Rega Planar 1 is an award-winning turntable. The Planar 1 PLUS is built on the same turntable but benefits from all of the advantages of its sibling, the Planar 1, such as a low noise 24v motor, precision hub bearing assembly and hand made RB110 tonearm with a factory fitted Rega Carbon cartridge.
Set-up remains possible in under 30 seconds making this the easiest to use, and most flexible Rega turntable to date.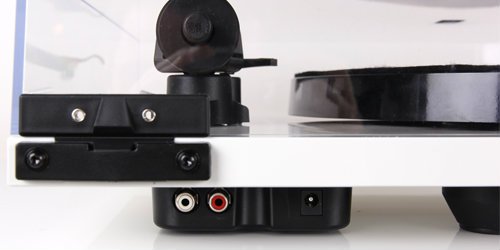 Choose Sonos Play:5 for ultimate flexibility
The beauty of Sonos' line in the connection means you can listen to your vinyl audio on multiple Sonos speakers at once, wirelessly. Walk throughout your home to the joy of your favourite vinyl playing in synchronicity.
Play:5 also gives you full access to the Sonos app, letting you stream from over 100 different music streaming services including Spotify, Apple Music, Amazon Music, TuneIn Radio and Audiobooks.
Use Apple AirPlay 2 to listen to any audio from your iPhone, iPad or Mac.
With auto-sensing, Play:5 can detect the moment the cartridge hits the vinyl and automatically switches to the line-in source. This means you don't have to touch a thing on the Sonos app.
Six custom-designed drivers with dedicated amplifiers give crystal-clear stereo sound that will bring the richness and clarity your vinyl deserve.
Sound is subjective. With TruePlay tuning, exclusive to Sonos, your Play:5 becomes spatially aware of your room's layout, so you get the best sound possible.
A match made in heaven
Put the emotion back into your music!
Sonos Play:5 and Rega Planar 1 PLUS work in perfect harmony to give you a sound that is crisp, precise and even gives you that little crackle that analogue is best for!
It combines the increased immersion of analogue vinyl while also giving you the choice to go digital and choose from over 100 music streaming services.
What's included in the bundle?
1 x Rega Planar 1 PLUS turntable including dust cover (available in gloss black or white)
1 x Sonos Play:5 speaker (available in black or white)
1 x RCA Y-cable (RCA to 3.5mm jack) to connect turntable to Play:5
More Information

| | |
| --- | --- |
| Weight (Kg) | 10.0000 |
| Brand | Sonos |
| Warranty | 6 Years Sonos - 1 year Rega |
The combi Rega Planar 1 Plus and Sonos Play 5 is a match made in music heaven. (Feels like Bob Dylan and his band are in my front room right now!)
Hi Sue, Thank you so much for taking the time to leave a review and sending through a picture of your finished set up. Looks great! I'm so glad you're happy with the quality too and enjoying your vinyls. Nothing sounds better than vinyl! Let me know if I can help with anything else in the future and I'd be happy to help. Kind regards, Jonathan @ Smart Home Sounds