Single PLAY:3 Vs a Stereo Pair of PLAY:1s
In this short blog, we make it easier for you to decide which Sonos speaker is best for you
OK, so maybe you're new to Sonos or just deciding what speaker to purchase next. Play:3 or two Play:1s you ask? Well here's what we think is best for you.
PLAY:3 VS TWO PLAY:1s
Play:3 - Sonos' middle of the range speaker - intense, immersive sound. Serious room-filling power. Slightly bigger than the PLAY:1, this smart speaker is able to offer deep bass and crisp sounds.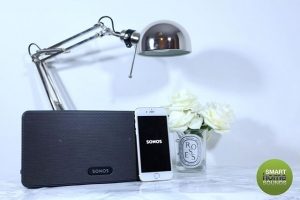 Play:1 - Sonos' smallest speaker to date but don't let that fool you. The PLAY:1 is an awesome little speaker that packs a punch, creates a pleasurable listening experience and is a great start for Sonos newbies!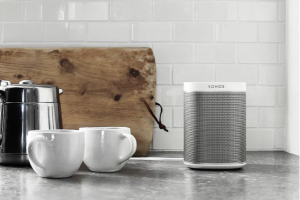 WHich SONOS SPEAKER DO I NEED FOR MY ROOM?
The size of your room plays a big part in what speaker is best for you. We find a Play:1 is very suitable for a small / medium sized room by itself, but when adding another Play:1 this creates an immersive wide sound stage that provides a balanced sound level throughout your space.
The Play:3 is also well suited to small / medium sized rooms. It all depends on how loud you want your speaker to go. Both options fit really nicely into kitchens, bedrooms and lounges. But if you're looking for a speaker for your bathroom, then go for the PLAY:1. The PLAY:1s have a built in humidity resistance, which allows for them to function when you're singing your favourite tunes in the steaming hot shower!
SOUND QUALITY / FUNCTIONALITY 
Both Sonos speakers do an amazing job at producing clear, well-balanced and vibrant sounds throughout your home. In our opinion, Sonos did a great job on the engineering as the sound clarity is pretty much up to the audiophile standard.
Although, if you're looking for pure volume, then the PLAY:3 takes the crown all day long. Because of its size and form, the PLAY:3 has a better sound "projection" throughout a room and when you add in that thumping bass, you've got yourself a little powerhouse. 
The PLAY:3 can also be positioned horizontally or vertically and the EQ will automatically adjust accordingly. There are rubber feet on the sides to protect your speaker from whatever you choose to put it on from scratches to scrapes.
If stereo separation & audio clarity is a key factor with your purchase, then you might be tempted by a pair of PLAY:1s and pair them in stereo mode via the Sonos app. A pair of (Stereo) PLAY:1 smart speakers offers a much wider sound stage allowing every vocal and instrument to be heard more discretely. Also the Play:1 speakers are cleverly angled outwards, providing an incredible, clear and well-balanced sound straight out of the box. 
Play:1 Flexibility 
As well as being used as a stereo pair, the PLAY:1s can be used as rear speakers when added to a Playbar and Sub creating a surround sound system. This can also be used with two PLAY:3s and two Play:5s.
SONOS BASS
If deep bass is what you're after, then the PLAY:3 is definitely the speaker for you. It produces really clean, deep, rich bass which fills a room excellently. The PLAY:1 Stereo pair, on the other hand, don't quite have the same thumping effect. However, for such a tiny speaker, the PLAY:1 still produces an amazing amount of bass and stays clear and punchy. It's not a room shaker like the PLAY:3 is, but it has enough to not let your ears miss a thing.
SMART HOME OPINION
Which would we go for you ask? Well, we love how loud and punchy the PLAY:3 is, and currently priced at £269 (£299 RRP), it's an affordable way to start or even add to your Sonos journey. 
However, the wide sound and clarity produced from having two PLAY:1s is really impressive and immersive. You also have the ability to separate the speakers (which is great for party occasions) and put them in different rooms of the house. You can even add them to your PLAYBAR and SUB as rears and have them safely in your bathroom! 
Priced at £370, if you can afford that little bit extra, then we'd definitely recommend taking that plunge. The only real advantages of the PLAY:3 are the slightly deeper bass and its pure volume. However, if volume and bass is something you're looking for, you could be a little adventurous and go ahead and try the fantastic new Play:5..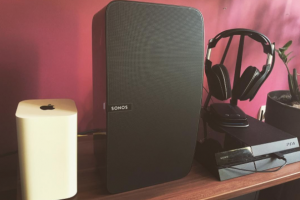 ABOUT SMART HOME SOUNDS
Smart Home Sounds is a UK Sonos specialist. We provide expert advice on the full Sonos range, from a single PLAY:1 to a full Sonos surround system with PLAYBAR, SUB, and PLAY 1s.
All our blogs are written in conjuction with our sister site Play Audio.