Do I need a Sonos Bridge or Boost?
We are aware that many of our customers are still not sure if they need a Sonos Bridge or Boost to start their Sonos system. Please read our blog for full info.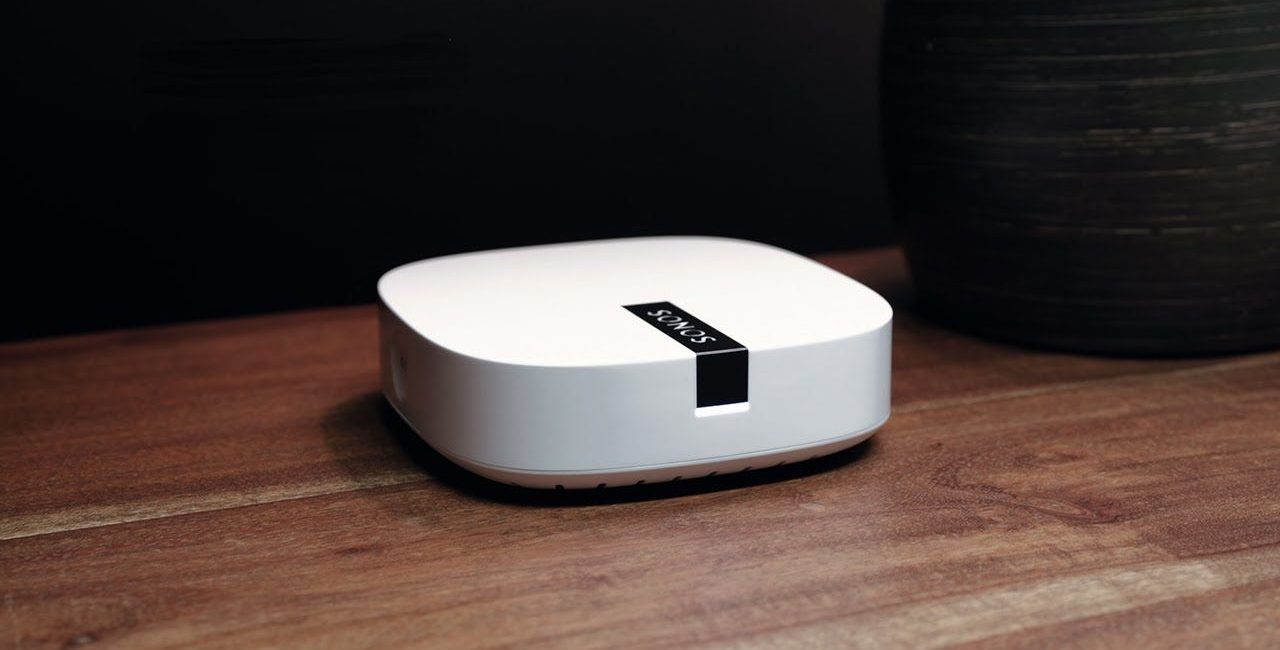 Is the Sonos Boost or Bridge worth it?
Update: as of September 2014, the Sonos Bridge has been discontinued and replaced by the more powerful Boost.
As a general rule, you will now not need a Sonos Bridge or Boost to start your Sonos system. Sonos zone players can now connect within your existing WiFi network.
However, there are a few scenarios where a Sonos Bridge / Boost may be needed.
Sometimes WiFi just isn't enough. Some people have problems streaming movies or surfing the web at home because their network is crowded with too many wireless devices, and others have rooms too far away from the router that don't get a WiFi signal at all.
If this sounds familiar - you can always plug any Sonos product into the router via ethernet or buy a Boost to create a dedicated wireless network just for your Sonos speakers.
What will using a Sonos Bridge / Boost do?
Plugging in a product launches a reliable mesh network on a separate wireless channel.
This means that your speakers don't have to talk to the WiFi router directly, and can connect reliably through any nearby Sonos player.
This increases the range of your Sonos system and ensures that you've got great connectivity no matter how large your home or how many WiFi devices you use.
Is a Sonos Bridge / Boost required for expanding home theater?
As of July 2015, a Sonos Bridge or Boost is not needed for setting up the Sonos Home theater system or any Sonos speaker.
Prior to 2015, the dedicated Sonos network was required to ensure a lower latency between PLAYBAR and SUB or rear speakers, so you didn't experience any lip-sync delays when you were watching your favourite TV shows or movies.
Any Sonos zone player used as a standalone zone player - NO Bridge / Boost needed.
PLAYBAR used as a standalone player - NO Bridge / Boost needed.
PLAY:1 / 3 / 5 used with a Sonos SUB - NO Bridge / Boost needed.
PLAYBAR & SUB - (update 20/7/15) New software update. NO Bridge / Boost needed.
PLAYBAR & PLAY:1 / 3 / 5 used as rear surround speakers  - (update 20/7/15) New software update. NO Bridge / Boost needed.
What's the difference between the sonos Bridge & Boost?
You will gain no extra features choosing a Boost over a Bridge, however the Boost may be needed in some situations.
Boost Advantages
RANGE: 50% greater wireless range than BRIDGE.
COVERAGE: Three antennas for flawless 360 degree wireless coverage through walls and ceilings.
POWER: Advanced wireless interference rejection.
Conclusion: do you need a Sonos Bridge or Boost?
Boost is ideal for any home where wireless connectivity is a serious problem.
Connecting a Sonos unit to your router with an Ethernet cable automatically creates a dedicated Sonos wireless network. Any player or a BRIDGE can make this hard-wired connection. A dedicated Sonos network is ideal when your WiFi isn't reliable in your home.
If you know your WiFi suffers from frequent drop outs or has a speed of 5mb or less, you may wish to consider adding a Sonos Boost to start with.
Otherwise, if you maintain good WiFi speeds generally throughout your home, we normally recommend to see how you go without a Boost, and if you experience any drop-outs, you can add a Boost at a later date.
About smart home sounds
Smart Home Sounds is a UK Sonos specialist dedicated to filling homes with the joy of music, one room at a time!
We provide expert advice on the full Sonos range, from the voice controlled Sonos One to a Sonos wireless home cinema system with PLAYBAR, SUB, and 2 x PLAY:1s all with free next day delivery and a 6 year extended warranty.