Sony A80J Review: 2021 OLED
We give an in-depth video & blog review for Sony's A80J as well as a comparison with other popular TV's.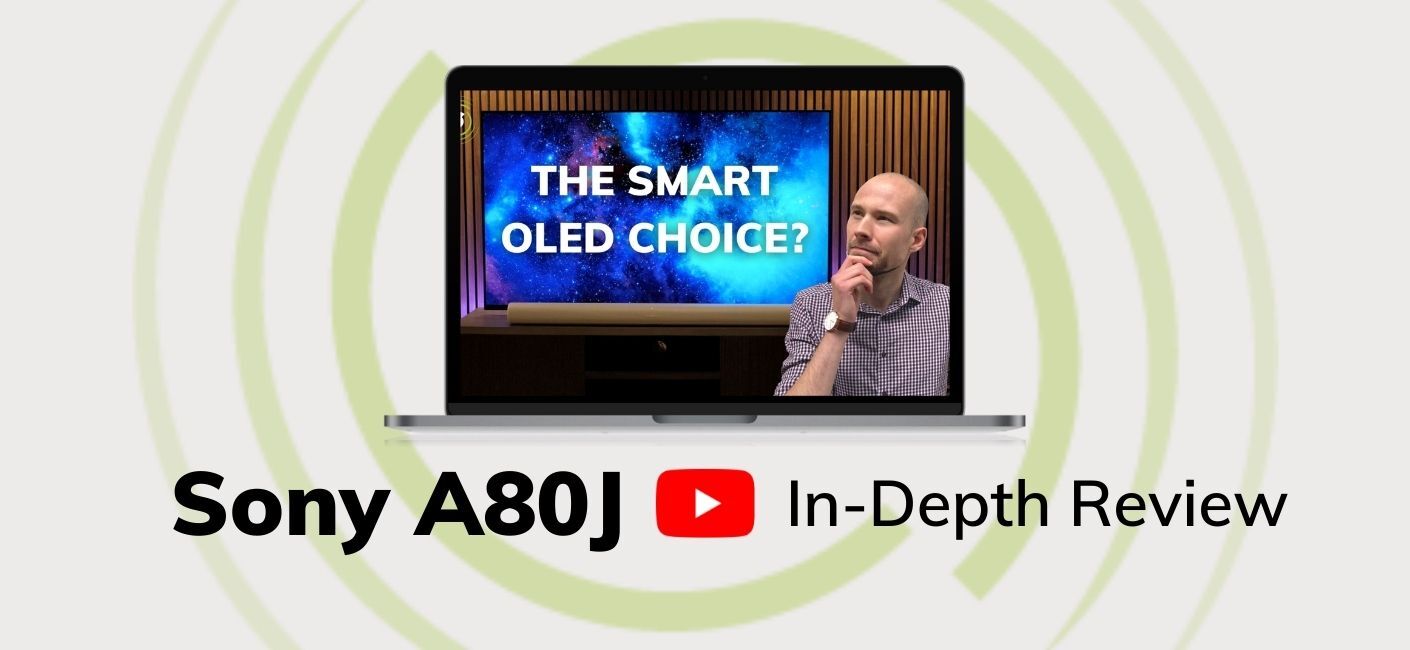 Sony A80J - is it worth the money?
In the video below, we review the Sony A80J to answer the much-asked question: Is this the smartest OLED choice of 2021?
We compare and review a number of different aspects like; design, gaming, picture/sound quality and much more. We also pit the Sony A80J against other models on the market including the Sony A8, Sony A90J and even the LGC1. 
If Youtube's more you're thing, please check out our Sony A80J Review video below, and make sure to like and subscribe!:
Jump To...
Sony A80J: Key Specs 
| | |
| --- | --- |
| | Sony A80J Specifications |
| Processor | Cognitive Processor XR |
| Operating system | Google TV |
| Resolution | 4K OLED |
| Refresh rate | 120Hz |
| Inputs | HDMI 2.1 x 2 (eARC x 1), HDMI 2.0b x 2 (eARC), Composite input x 1, USB 3.0 x 1, USB 2.0 x 2 |
| Sound processing | Dolby Atmos, Dolby Audio, DTS Digital Surround |
| Voice control | Voice Remote Control (Google Assistant) |
| Available sizes | 55", 65", 77" |
| RRP for 55" | £1899.00 |
Sony A80J: Design
✓ Premium one-slate design means the bezel is almost non-existent, so no distractions.
✓ Offers a metal bezel which is a step up from the full-array plastic bezel.
✓ Multi-positional stand to accommodate a soundbar beneath.
​✓ Cable management on the back of the TV means fewer clutters and tangles.
✘ Standard remote which isn't backlight.
| | |
| --- | --- |
| | |
Sony A80J: Set-Up
The set-up is nice and straightforward to follow, though it is recommended to have 2 people unboxing the TV to avoid any accidents. Once unboxed, you can choose your stand mode easily to get the desired effect.
The new interface for Sony TV's in 2021 is Google TV - which we think is a big step up.
​✓ The menus are more intuitively laid out allowing you to search for content quicker
​✓ There's a choice of 5000 apps including Disney+, Netflix, Apple TV, Prime Video, Now TV 
​✓ For You section gives you a more personalised experience which gets better over time
✓ Microphones built into the TV - so there's no need to look for the remote for truly hands-free voice search.
Bravia Core is new to Sony 2021 and is essentially Sony's own streaming service for recent box office movies on demand - where you can stream them in up to 4K HDR.
A lot of this content is also IMAX enhanced meaning it's another step closer to how the director intended the viewer to watch the content. 
They've thrown in some extra features such as exclusive interviews, deleted scenes and backstage footage. If you're purchasing this TV, Sony will give you 5 credits to spend in Bravia Core within 12 months and you'll get over 100 classic Sony titles for 2 years.
| | |
| --- | --- |
| | |
Sony A80J: Picture Quality
The biggest update to this year's models is the addition of the new Cognitive Intelligence Processor which is designed to recognise how we see, hear and perceive things in the real world and then translate that into the picture and sound for a more realistic experience. This processor has allowed for a lot of really great upgrades listed below;
​✓  Triluminous Display Pro allows a larger array of colour hues as well as more natural shades and detailing.
​✓ XR Smoothing - smooths out the picture for a more true to life look without banding that sometimes appears
​✓  XR OLED Contrast gives an almost 3D appearance and improves brightness
​✓ Great motion clarity means blur-free images.
​✓ Ambient mode will automatically adjust the brightness and colour to match the room's environment.
| | |
| --- | --- |
| | |
Is the Sony A80J suitable for Gaming?
The A80J has been a popular TV for gamers too, as it supports impressive technology and some of the latest gaming features too.
​✓ HDMI 2.1 ports at 4K 120FPS
✓ Auto Low Latency Mode (ALLM)
✓ Game Mode brings input lag down to less than 8.5MS
✘ No support for Variable Refresh Rate (this should be coming in a new update in 2021)
✘ Only 2x HDMI 2.1
Sony A80J: Sound
The A80J comes equipped with Acoustic Surface Audio+ where the sound comes from actuators behind the screen and they vibrate to create sound that replicates the placement of the sound on the screen for an immersive listening experience. A good example to use is if a plane flies from one side to the other, the sound would move with it and is quite smart technology. 
​✓ Supports Dolby Atmos through the HDMI eARC connection
✓ 3D Surround Upscaling - gives a more immersive experience
| | |
| --- | --- |
| | |
Sony A80J: Comparisons
We've decided to compare against a few different models so you can decide if it's worth the upgrade or not! 
What will I get if I upgrade from the A8 to the A80J?
✓ The addition of 2 HDMI 2.1 ports on the A80J is brilliant for gaming
✓ Google TV on the A80J gives a more seamless experience than the Android TV
✓ Bravia XR processor offers an enhanced experience in terms of the details in the picture
✓ A80J is also available in a larger screen size too with that 77-inch option 
Verdict - Not enough has changed in our opinion to warrant upgrading from the A8 as it's still a fantastic TV.
What will I get if I upgrade to the A90J
✓ A90J is slightly slimmer so it will look great wall mounted.
✓ Sony's premium backlit remote.
✓OLED XR contrast pro in the A90J provides slightly better brightness and colour richness.
✓83" size available on the A90J
Verdict - If you're undecided on what to go for, the A80J or A90J, go for the A90J if you have the budget - the extra attention to detail with the brightness and colour richness is worth it!
What will I get if I upgrade from a (full-array) X95J to the A80J 
✓Will upgrade from a Flagship Full-Array LED TV to an OLED for true blacks.
✓More contrast ratio and better hues
✓Acoustic Surface audio technology, allows the screen to become the speaker
✘ Will loose X-Wide angle and X-anti reflection
Verdict: If you're going to be doing a lot of viewing off-angle, it's definitely worth considering the X95J so you know the image won't be compromised.
What are the main differences between the C1 and A80J?
Both TV's are up there with the best OLED's on the market at this time, so they're very comparable, however, the main differences are listed below.
C1
A80J
✓ More sizes available

✓ More HDMI 2.1 port and options for gaming

✓ Partnered with NVIDIA and AMD

✓ More intuitive

✓ More realistic images and experience with the Cognitive Processor

✓Slightly more engaging image

✓ More personalised experience with the interface

✓ Bravia Core

✓ iMax enhanced
Verdict - The C1 would be our choice when it comes to gaming as it's more tailored to suit gaming needs. The smaller size means it can be used as a gaming monitor too. The A80J would be our choice for Movie lovers, as its features enhance what you're watching for a more immersive experience.
Verdict
Sony's A80J offers fantastic performance-per-pound and we think anyone looking for a new TV will be really impressed by the technology. Having said this, it is on the pricier side, but if it's within your budget, it's definitely worth the extra cash!
Overall we think movie lovers will appreciate the attention to detail the cognitive processor brings, which really makes seeing believing.
As ever, if you're still unsure about your decision and feel you need further help or advice, please feel free to get in touch with one of our friendly customer service team on 08006771100, live chat or info@smarthomesounds.co.uk