Sony A80J vs LG C1: Battle of the OLEDs
We compare and review the differences between two of the most popular OLEDs in 2021, so you can decide which one is right for you.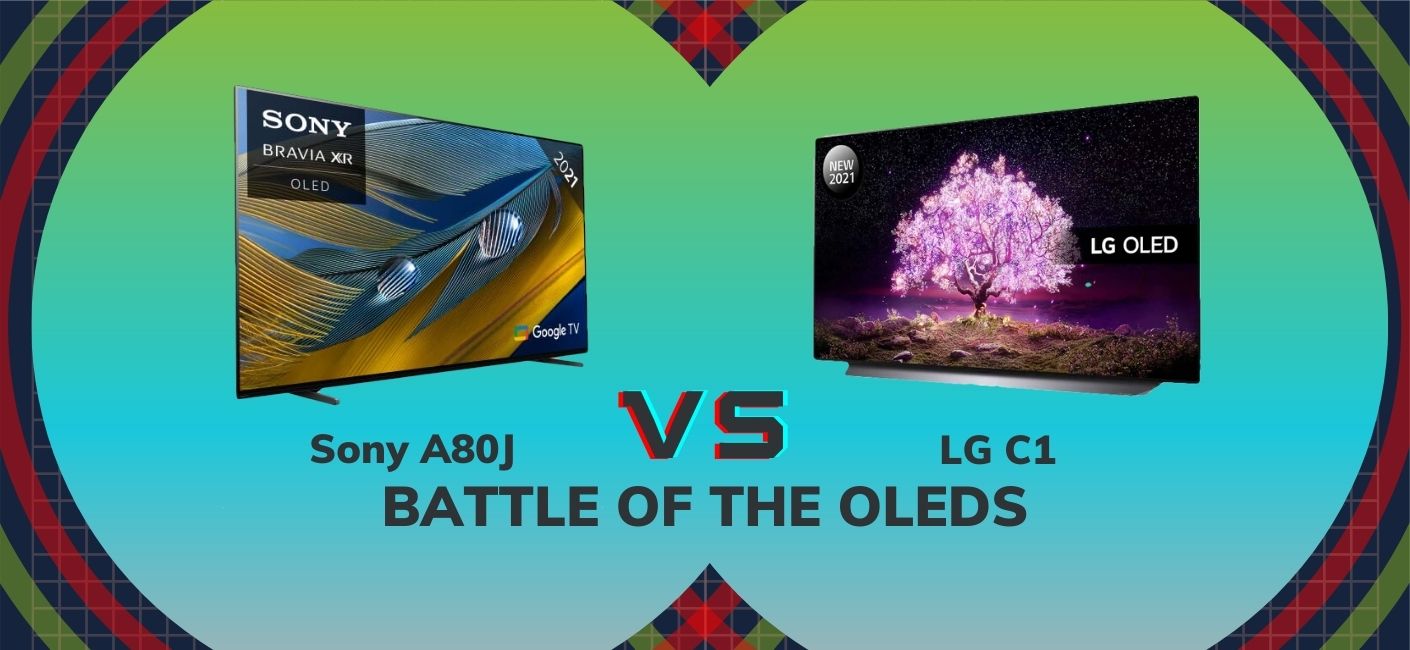 Comparing and reviewing the Sony A80J and LG C1
2021 has been a great year for new technology, especially when we look at the TV lineup. That being said, there has been a lot of hype around two TV's in particular, Sony's A80J and LG's C1 so we're here to determine what sets both epic OLED's apart.
Key Comparisons
| | | |
| --- | --- | --- |
| | Sony A80J | LG C1 |
| Processor | Cognitive Processor XR | AI Picture Pro |
| Operating system | Google TV | webOS 6.0 Smart TV |
| Resolution | 4K OLED | 4K OLED |
| Refresh rate | 120Hz | 120Hz |
| Inputs | HDMI 2.1 x 2 (eARC x 1), HDMI 2.0b x 2 (eARC), Composite input x 1, USB 3.0 x 1, USB 2.0 x 2 | HDMI 2.1 x 4, USB 2.0 (Type A) x 3, Ethernet |
| Sound processing | Dolby Atmos, Dolby Audio, DTS Digital Surround | Dolby Digital, Dolby Atmos |
| Voice control | Voice Remote Control (google assistant) | Voice Remote Control (google assistant & Alexa) |
| Available sizes | 55, 65, 77" | 48, 55, 65, 77, 83" |
| RRP for 55" | £1899.00 | £1,699.98 |
A80J vs. LG C1 - What's Best For You?
There's no denying that both TV's are beautifully crafted and feature expert technology, but which one is right for you?
Sony A80J
LG C1

 Best Movie TV

 Displaying stunning HDR content, with superb attention to detail in both bright and shadowy scenes, the Sony A80J is a perfect TV for movie lovers. Acoustic Surface Audio+ gives an immersive cinematic experience for everyone to enjoy. For general TV viewing, the addition of Google TV provides a user-friendly and personalised experience too.

Best Gaming TV

 This TV offers phenomenal game optimising settings and response rates making it the perfect TV for gaming. You can also toggle NVIDIA G-SYNC and AMD FreeSync to ensure you're playing to the best of your ability with less lag and a smoother image. The C1 supports 4x 2.1 HDMI Ports as well as 4K at 120Hz, VRR, and a 1ms response time. It's fast, vivid and responsive, making it this year's favourite TV for gaming.
OLED Panel
It's a well-known fact that Sony use LG Display panels for their OLED TV, however, it's the technology within that separates them. 
Sony A80J
LG C1
Sony use the new cognitive processor to power their features within the A80J - using technology like the XR Contrast & Colour, which works on enhancing the picture colour and contrast to give the viewers a more true to life experience. The XR cognitive technology improves the overall viewing experience with XR motion clarity and XR smoothing for a more realistic image. This is what makes this TV an incredible choice for movie lovers or even sports fans, as you know you'll never miss a thing.

For more on the rest of the Sony OLED range for 2021, please check out our Which Sony OLED TV is Right for Me? 2021 blog.

LG makes use of the α9 Gen 4 AI Processor 4K which analyzes algorithms to optimize the content you're watching. LG also make use of 100% Colour Volume technology so colour's remain more vivid and life-like, making it a serious contender for the A80J. There are a couple of things that set the C1 in a different stance, however, with their Pixel Refresher technology ensuring you don't need to worry about screen burn for peace of mind when gaming. The C1 also features an eye comfort display, which provides a safer and more comfortable viewing experience.
| | |
| --- | --- |
| | |
Sizes and Price
When it comes to comparing the RRP on both standard 55-inch models, the Sony A80J does come in at a slightly higher price of £1899 compared to the C1 at £1699.98. Having said that, at the time I'm writing this blog, Sony have dropped their prices across the sizes, with their A80J 55" now matching the C1 at £1699.
Sizes with Sony vary from 55" 65" and 77" - LG do however offer a wider range of sizes, with the addition of 48" and 83", with the smaller size coming in handy for bedrooms and secondary areas where you don't want anything too overwhelming. We've also seen a big demand for the C1 being used as a gaming monitor thanks to the availability of smaller screen sizes. With the 83" being on the other end of the spectrum, we can see this being a fantastic addition to a home cinema where you really want to wow the room.
User Experience
Both OLED's offer a completely different interface - with Sony now using Google TV on this year's models and LG using WebOS 6.0 on their C1. We recognise usability is a crucial factor with smart TV's and both have proved intuitive in their design. 
| | |
| --- | --- |
| Google TV | WebOS 6.0 |
| Works with Alexa | Works with Alexa |
| Works with Google Assistant (works with OK Google) | Works with Google Assistant (works with OK Google) |
| Apple Airplay 2 (& Home Kit) | Apple Airplay 2 (& Home Kit) |
| Chromecast built-in | Magic Remote (point and click functionality) |
| Netflix Calibrated | Magic Tap works with any phone with NFC to easily link the phone with the TV |
| Smart Remote | Freeview Play |
| Large number of Apps through Google Play | Filmmaker Mode |
| Youview | Sports Alerts |
✗  We did find a certain lack of customizability on the LG's homepage when compared to Sony's For You page which offered a more personalized experience.
✗  As well as this, exiting an App on LG will then send you back to the last app opened instead of the homepage, so not as user friendly as we would have liked in that sense.
| | |
| --- | --- |
| | |
Will I need a Soundbar with the A80J?

Will I need a Soundbar with the C1?

A80J gives an immersive sound both on and off the wall thanks to the Acoustic Surface Audio+. This audio technology means the sound is emitted from specific parts of the TV to reflect what's going on, on the screen, for a more engaging experience. If you want to take the sound to the next level, a soundbar will comfortably fit as the A80J features a 3-way multi-position stand.

✓ Versatile enough to use the TV with or without a soundbar, no matter the positioning.

The C1's design means the bottom of the TV panel sits very close to the stand, meaning a larger soundbar will encroach on the bottom of the TV.

 If you decide to wall-mount the C1 without the use of the soundbar, you'll also find a certain lack of detail, due to the audio no longer deflecting off of the surface of the sound.  

✓ Wall mount - Use a soundbar

✗ TV stand - No soundbar recommended due to the design, AI Sound Pro replicates a surround sound feel
| | |
| --- | --- |
| | |
Verdict
It's important to point out in this battle of the OLED's that both are outstanding TVs with industry-leading technology. Though depending on how you're looking to use the TV, one will suit you better than the other. For general viewing, movies and some gaming, the Sony A80J will be the best fit for you, with a generally more user-friendly interface as well as a slightly more detailed and brighter screen for a more engaging experience.
If you're mainly going to be gaming, with a lesser emphasis on movies and general viewing - you will find the C1 supports not only a stunning display but also the latest gaming spec for 2021 to ensure you're playing at the highest standards for every chance of winning no matter the game. If you're looking for a TV specifically for gaming, feel free to check out our Top 5 best OLED TVs for Gaming 2021 here.
If you'd like any more information about anything that's been discussed, please reach out to info@smarthomesounds.co.uk, via Live Chat on our website or on 0800 677 1100 where one of our friendly advisors will be happy to help.