Our Top Picks for Nintendo Switch Multiplayer Games (Family Friendly)
We review some of the best multi-player Nintendo switch games, so you know which will be the best to buy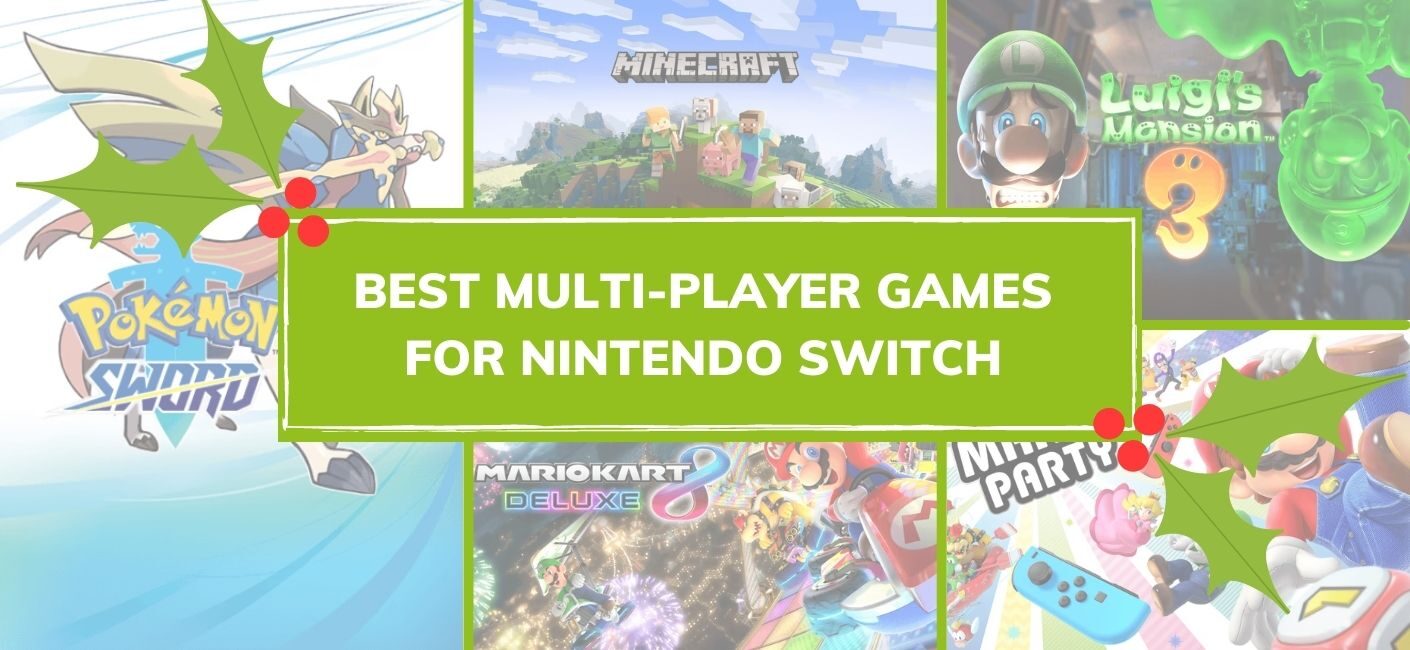 best multiplayer games for Nintendo switch
'Nothing better than playing together'
There's nothing that can bring family and friends together like a bit of fun and games - and no, we're not speaking about relationship-destroying Monopoly. We've been loving the Nintendo Switch Multi-Player games especially now we're coming towards the holiday season, as it's a great way to bring everyone in the family together!
There has been some trial and error when finding the best multi-player Switch games, but we've compiled a list so there's something for everyone, whether you're playing on the same console or online with other Switch users. We've spent the time researching so you don't have to!
JUMP TO...
MARIO KART 8 DELUXE -
For Racing Fans 
Coming up to its 30th birthday, Mario Kart Deluxe 8 is just as thrillingly exciting as it was almost 3 decades ago. With enhanced colours, new maps and characters, it continues to be one of the best multiplayer games of all time. Race against family and friends, use boxes to add extra strategy and learn all the sneaky shortcuts to gain an edge!
Players: Up to 12 players

Genre: Other, Racing, Multiplayer

Age: Everyone! (PEGI 3+)

 Up to 4 players on the same switch

 48 great courses and 42 diverse characters

 Revamped battle mode 

 Intense & Thrilling gameplay & Online play
If you're looking to jump into the world of Nintendo Switch gaming or are looking for the perfect present, check out our Nintendo Switch, Joy-Con and Mario Kart 8 bundle. This gives you everything you need to let the gaming begin, with the option to play multiplayer with up to 4 people. The perfect way to treat the family this Christmas!
Updates from Mario Kart 8: 

Updated battle modes

More characters

Updated graphics and colours
Verdict: Mario Kart will always be a classic game that brings everyone together. With 4 different difficulty settings, as well as a multiplayer split-screen, it's something the whole family can enjoy.
SUPER MARIO PARTY - A Game Of Strategy
Competitive, strategic and a lot of fun, Super Mario Party is a virtual board game with competitive mini-games too. There are 4 main boards to play and unique dice blocks meaning different characters will give you different odds, making every element a game of strategy. Partner Party means you can team up with a friend and get into the competitive spirit!
Players: Up to 4 players

Genre: Party, Multiplayer

Age: Everyone! (PEGI 3+)

 80 mini-games 

  Co-op

 Partner Party

Unique dice blocks (extra strategy)
Verdict: A large variety of maps and modes along with a board game like set-up means this game is perfect for parties and gatherings. The element of strategy and gathering allies make it competitive enough to be enjoyed at all ages.
MINECRAFT BEDROCK EDITION - Explore Together
Minecraft has taken the last decade by storm, though the switch brings a whole new world of possibilities with a split-screen co-op mode that lets 2 players join at the same game so they can build and play together. Play in creative mode or explore randomly generated worlds, crafting weapons and building your own world in this new Minecraft Bedrock Edition.  
Players: Up to 8 players

Genre: Adventure, Simulation, Action, Strategy

Age: 10+

Cross-platform play

Can chat with friends

 Free if you own the game already

 Xbox live integration
Verdict: Although you can happily play split-screen with a friend or family member, we also love that it's easy to connect across platforms if you're looking for a multi-player experience with others outside of your home!
ANIMAL CROSSING: NEW HORIZONS
New Horizons is a massive leap forward for Animal Crossing lovers and gives a fresh new look on each player type. There are endless amounts of new objects to gather and features to customise giving you a whole world well beyond the walls of your virtual home. 
There's a couple of different multiplayer modes including local play on a single switch where your friend just needs to use one of the joysticks, as well as visiting other people's islands.
Players: Up to 8 players

Genre: Simulation

Age: Everyone! (PEGI 3+)

Endless elements to customise

 Peaceful creativity & colourful characters

Freedom to explore

Build your own community
Verdict: We're massive fans of animal crossing and it's a game we've definitely gotten ourselves lost in, however, the local play mode is a little chaotic and it's more of a game we'd prefer to play solo.
LUIGI'S MANSION 3 - For  spooky season lovers
Co-op mode provides an exciting 'spooky' puzzle-solving mystery with Luigi's alter-ego 'Gooigi' being a crucial character in completing the puzzles with teamwork.
There's also an online multiplayer mode in which you can play with friends via local wireless or online and where teams can work together through the randomly generated levels in Luigi's Mansion 3.
Players: Up to 8 players

Genre: Adventure, Action

Age: Everyone! (PEGI 3+)

Solve puzzles and catch ghosts

Mini-game battle

Luigi can call upon and control Gooigi for multiplayer fun!

Spooky fun for everyone
Verdict: We think this is a great game to play over the holiday season and as the full campaign can be played in co-op, we can see it is a perfect way to keep the kids entertained. Though don't get me wrong, I think this will be a popular game with the adults too!
POKEMON SWORD/SHIELD
Pokemon has been widely adored across the world by all ages since its creation in 1996. Pokemon Sword and Shield both include the same spectacular adventure in an open-world game that can take us all back to our nostalgic childhood. There is 4 player co-op mode where you can have big Pokemon battles and battle or trade with each other online or via a local wireless connection. (Each player needs a copy of Pokémon Sword or Shield and a Nintendo Switch console.)
Players: Up to 4 players

Genre: Role-Playing

Age: Everyone! (PEGI 3+)

 Open world game

 Nostalgic adventure

Options to battle and trade with friends
Verdict: If you and your friend are looking to get Pokemon Sword/Shield, it's worth you both opting for the opposite one, this way you'll both be able to gain different Pokemon you can trade. Sadly, there's no split-screen mode, so this is a multi-player game we'd recommend if you have a community of avid switch users. 
SUPER SMASH BROS. ULTIMATE
Enjoy the ultimate brawl as iconic characters battle it out in outrageous fighting rings. Customisable preferred rules can add to the excitement of over 100 different stages to always keep things interesting! You can choose between Smash, tournament, squad strike and many other modes.
Players: Up to 8 players

Genre: Action, Fighting, Multiplayer

Age: 10+

 More than 100 stages

 74 fights plus DLC

Dynamic stages add to the challenge

 Create your own stage
Verdict: We've been having a blast playing this game and launching each other off the stage, we really think it's the ultimate action multiplayer game!
Nintendo have really opened up a world of fun when it comes to multiplayer modes and no matter what the occasion, there's a game here for everyone! Whether you're looking to play with your family and friends on one console or you're looking to play online with other Nintendo users, there's really something for everyone.
| | |
| --- | --- |
| | info@smarthomesounds.co.uk |
| |  Live Chat on our Website |
| | 0800 677 1100 |