Introducing the new Audio-Technica AT-LP120XBTUSB Bluetooth Turntable
With Bluetooth added to the mix, we take the new AT-LP120XBT-USB for a spin.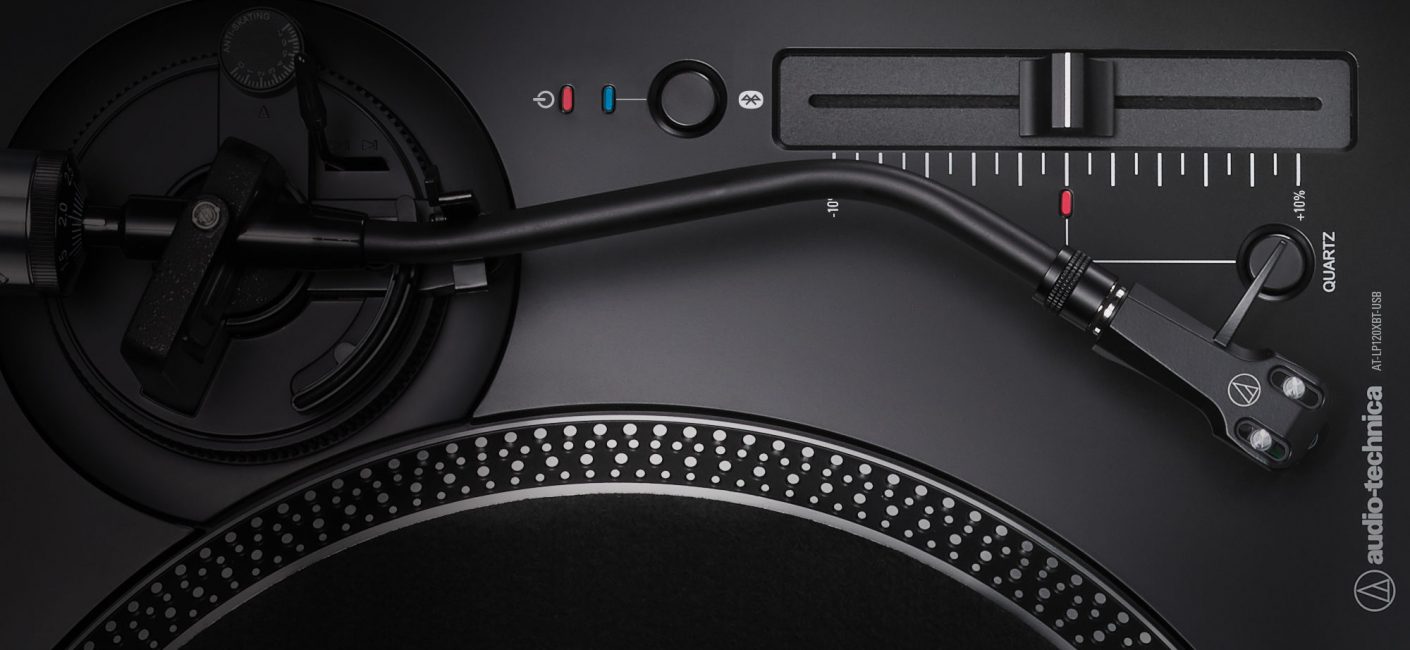 Introducing the NEw Audio-Technica AT-LP120XBTUSB Bluetooth Turntable
With Bluetooth added to the mix, we take the new AT-LP120XBTUSB for a spin.
Say hello to the all-new Audio-Technica LP120XBTUSB Bluetooth enabled turntable, the latest version of the much-loved AT-LP120.
Sometimes it's hard to imagine how to make something great even better than it already is. But when you look at the Audio-Technica AT-LP120, it's clear to see how this excellent turntable has continually improved since its market debut in 2009. 
Representing excellent value for money, laden with useful features and promising excellent performance in its class, the AT-LP120 proved a successful all-rounder, perhaps aided further by its distinctive styling cues borrowed from the iconic Technics SL1200 MKII of the 1970s. 
Realising that Audio-Technica had a sound basis in their mid-range turntable, designers saw room for even further improvements. While retaining notable features like its die-cast stroboscopic platter, playback pitch control and USB connectivity, Audio-Technica upgraded their turntable with a list of new features: a quieter DC servo drive motor, an uprated phono pre-amp and a fully-revised anti-skate control mechanism are to name only but a few enhancements.
But that's not all…
Just to put into perspective Audio-Technica's vast improvements of the AT-LP120XUSB in comparison to the original AT-LP120 from 2009, feel free to check out our further blog article: 7 Reasons Why the Audio-Technica AT-LP120XUSB is Better than the AT-LP120. 
Although things seem to be perfect with the AT-LP120XUSB, Audio-Technica has gone one step further, and now possibly has the ultimate Bluetooth turntable for your consideration. 
Introducing the AT-LP120XBT-USB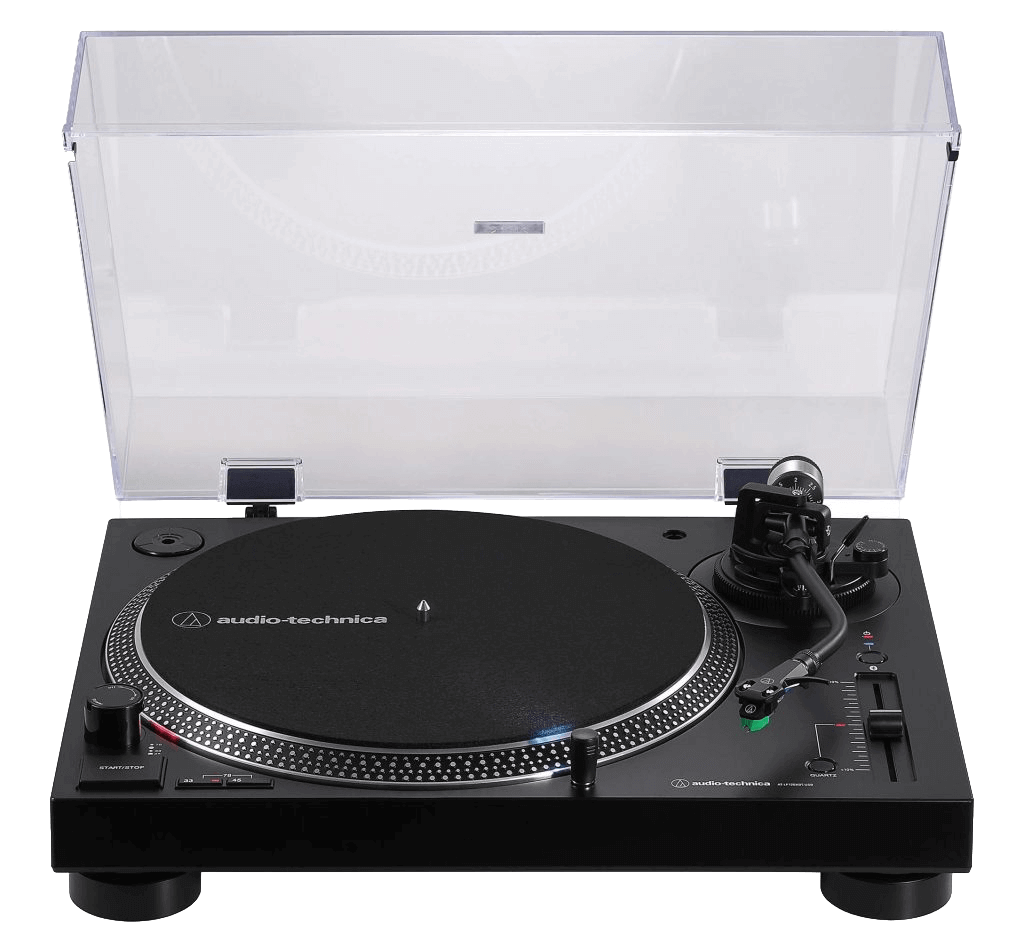 Up until recently, the only turntable featuring Bluetooth in Audio-Technica's line-up is the AT-LP60XBT. Although this entry-level turntable offers a superb array of features at its price point, ultimately the higher-class LP120 series delivers greater performance overall.
But following recent customer demand for a high-spec turntable coupled with Bluetooth support, it only seems right for Audio-Technica to update their award-winning turntable with a Bluetooth chipset. 
An while the original AT-LP120XUSB is priced at a hugely competitive price of £239, customers can opt for the new Bluetooth-equipped version for just £50 more at £289. Compared to the standard LP120, this new model is known as (take a deep breath) the AT-LP120XBTUSB. 
Why the Need for Bluetooth?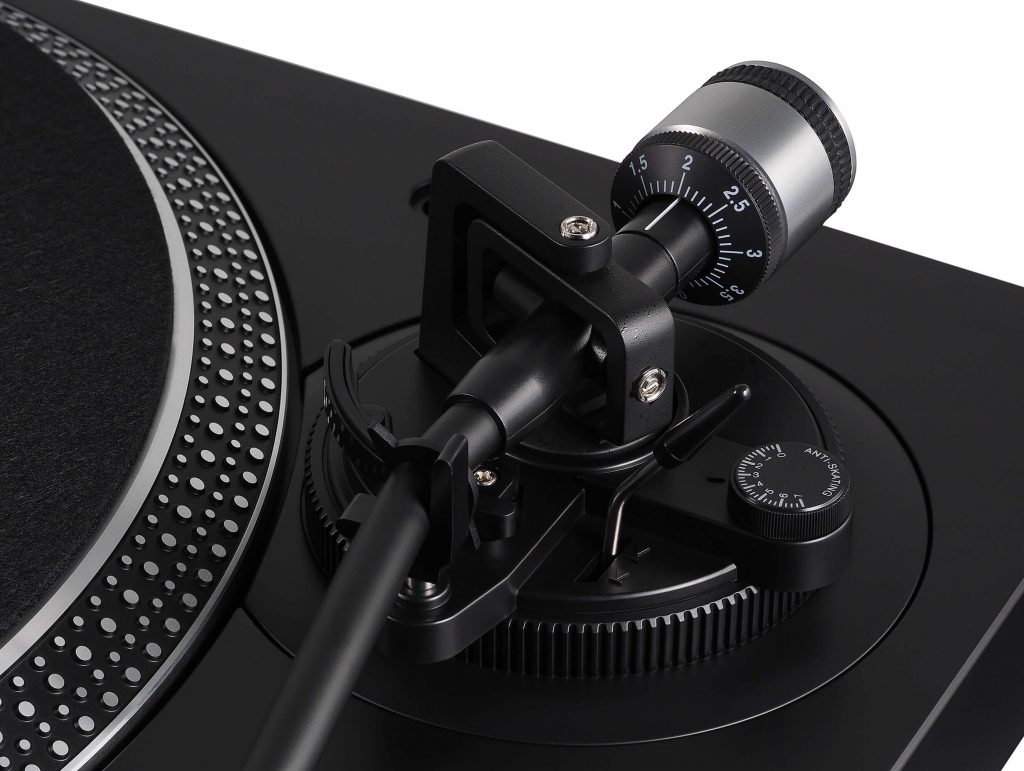 Just like the wheel, why modify something which already serves its purpose so well? 
And in the case of the AT-LP120XBTUSB, you are right for questioning why an already accomplished turntable package requires additional Bluetooth connectivity.  
Listeners often enjoy their record players as part of a conventional stereo system; usually by pairing it with an amplifier and a pair of wired speakers. But advances in wireless audio technology means that music lovers can stream their music to a wireless speaker for even greater freedom.  
While we have seen the advantages of connecting a turntable to a 'wireless' music system - just like that of Sonos - this still ultimately involves a cable running from the turntable to the receiving Sonos speaker, such as the Sonos Five or the Sonos Port. 
However, Bluetooth is a form of technology which allows device users to send data to another device without the need for a mass of cumbersome cables. And in the case of Bluetooth on the AT-LP120XBTUSB, audio from this turntable transmits directly to the receiving Bluetooth device without the need for any audio cable whatsoever. 
What Are the Advantages of a Bluetooth Turntable?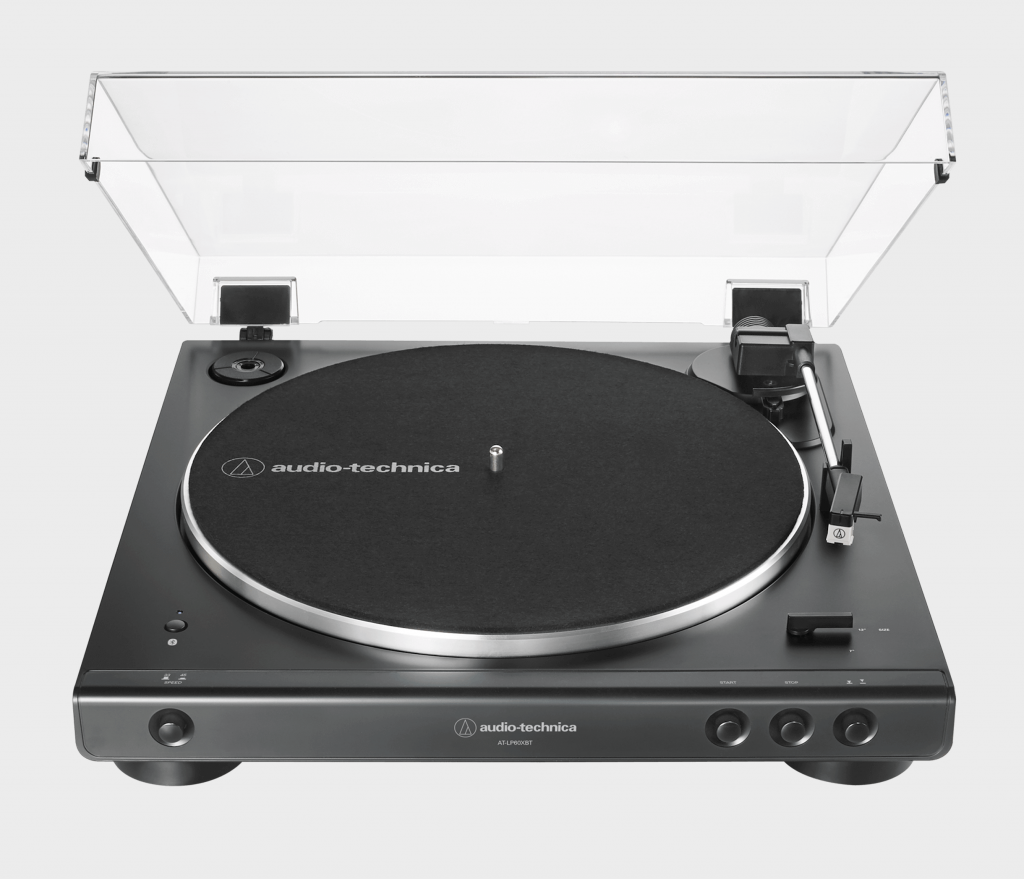 A turntable equipped with Bluetooth allows users to enjoy their favourite records by wirelessly streaming their output to any Bluetooth-ready audio device, such as a Bluetooth smart speaker, Bluetooth headphones or any audio playback device featuring a Bluetooth receiver. 
Reliable, simple to use and immensely convenient, it's no wonder that Audio-Technica now implements this technology into their successful AT-LP60XBT and AT-LP120XBTUSB turntables. And because a Bluetooth turntable wirelessly streams its output to a receiving Bluetooth-ready device, there is no need for any unsightly cables to get in the way. 
Cables running to and from audio components creates limits. But with a Bluetooth turntable like the AT-LP120XBTUSB, your vinyl experience becomes limitless.
AT-LP120XUSB Vs. AT-LP120XBT-USB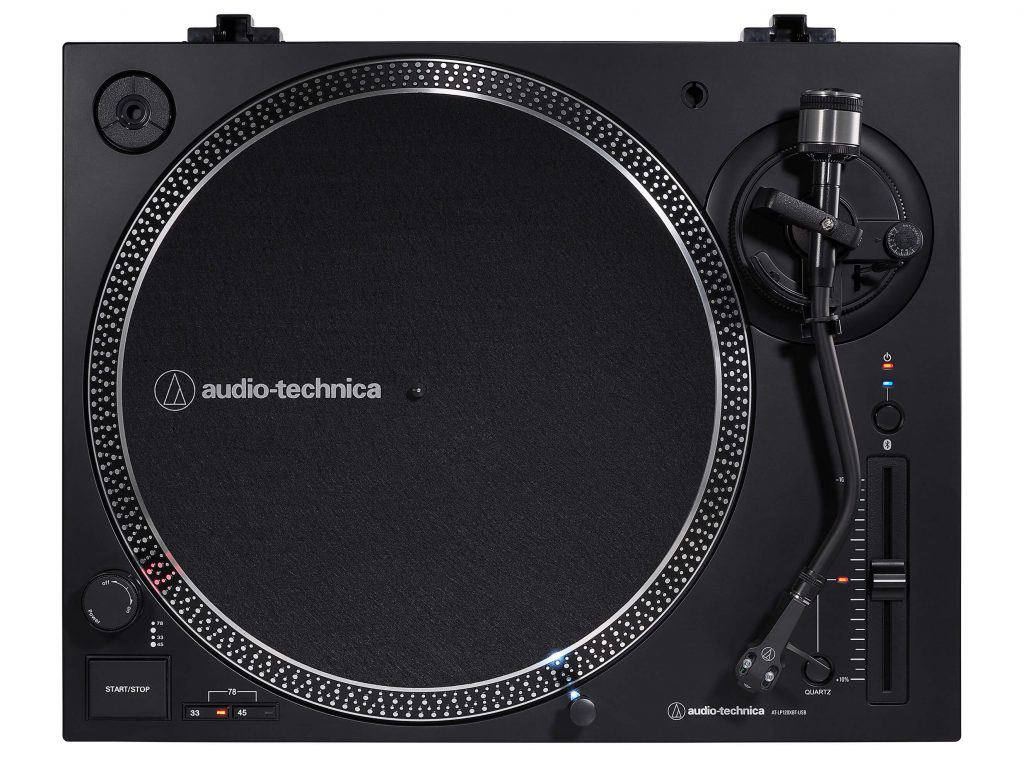 Looking at the AT-LP120XBTUSB and the AT-LP120XUSB side-by-side, there's very little to set them apart. They both feature the same uber-cool retro styling, that beautiful warm red glow of the stroboscopic speed indicator and the highly-distinctive S-shape tonearm. 
The only physical indication of this turntable featuring Bluetooth connectivity is revealed by the addition of a small Bluetooth button on the plinth, just beneath the tonearm assembly. Other than that, the LP120XBTUSB gives little away to suggest it has another string of audio connectivity added to its bow. 
But for doubting if this modified edition of the AT-LP120 forgoes its handy computer-friendly USB output connection or its RCA outputs for connecting to a conventional stereo system, then fear not! Bluetooth is offered alongside both its USB and RCA terminals, meaning you can still digitise your vinyl to a PC or Mac running Audacity software, or simply connect to a stereo or active speaker system of your choice. 
Other than Bluetooth, the AT-LP120XBTUSB still offers all of our favourite features found in the regular AT-LP120XUSB, including the superb AT-VM95E dual-magnet cartridge, which skilfully pulls every last detail from your prised records.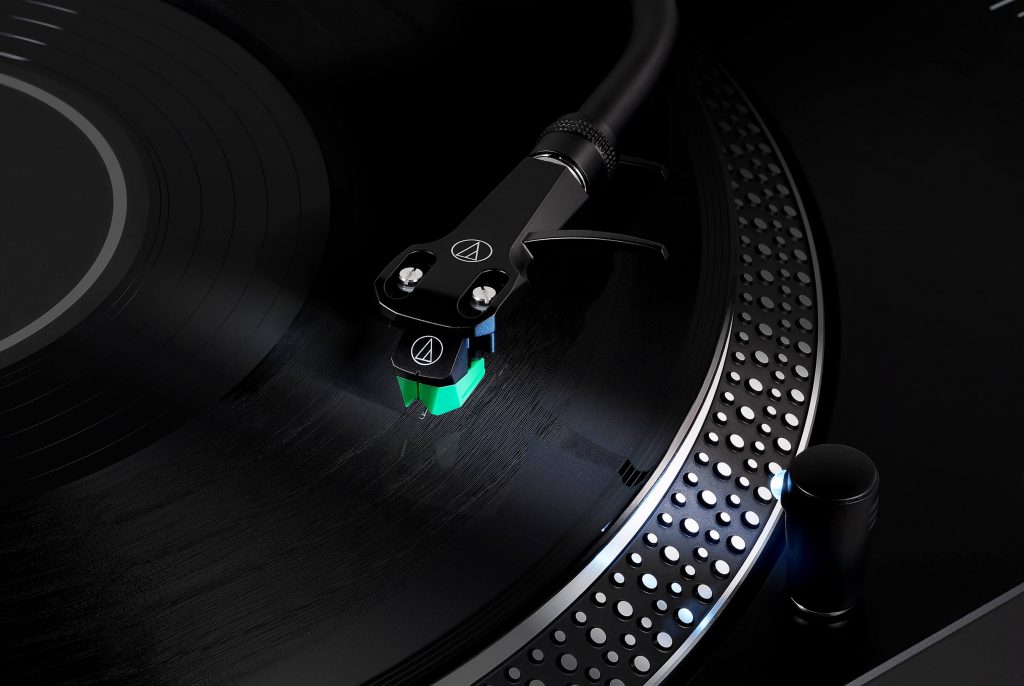 And yes, this version of the AT-LP120 still spins up to 78 RPM for those shellac disc collectors amongst you, although a suitable cartridge will need to be installed to achieve this. The same also applies if you're a budding DJ looking to use this turntable for mixing and scratching, as the AT-VM95E cartridge is designed only for playback purposes. 
From the slip mat to its dust cover, the stylus or its internal pre-amp, nothing is absent from the AT-LP120XBTUSB when compared to its non-Bluetooth sibling. 
We feel that Bluetooth is the last piece of the jigsaw for the AT-LP120XBTUSB, which completes the picture of such an attractive and practical turntable; especially where its price tag of £289 is concerned! Plus, not to mention, there are so many options for enjoying this turntable with Bluetooth-ready speakers and headphones. 
But don't just take our word for it! Here are some of our favourite Bluetooth devices for pairing with this great Bluetooth turntable.
Which Bluetooth Devices Can I Connect To?
If you're unsure as to how Bluetooth connectivity benefits you when compared to regular LP120 models, here are some ideas on Bluetooth devices that you can connect to.
Almost all Bluetooth speakers make for excellent partners to pair with a Bluetooth turntable given their convenient wireless audio support ease of use. 
There is a huge range of speakers to choose between from the like of the Bowers & Wilkins Formation Flex to the Marshall range of Bluetooth speakers such as the Acton II & Stanmore II.
If you're looking for a more personal vinyl listening experience why not opt for a pair of Bluetooth headphones so you can enjoy the sound of your vinyl records anywhere in your home. Again there is a huge choice of Bluetooth headphones to choose from. Audio-Technica do their own range of Bluetooth headphones such as the ATH-M50XBT or you could opt for the popular Bowers & Wilkins PX7 noise-cancelling headphones.
Of course, you can also take advantage of the Plug & Play functionality of the LP120XBTUSB to connect to any audio system with an AUX input.
If you'd like any more specific advice on why speaker or headphone pairings would be right for you then get in touch with our team who would be happy to help.
In Summary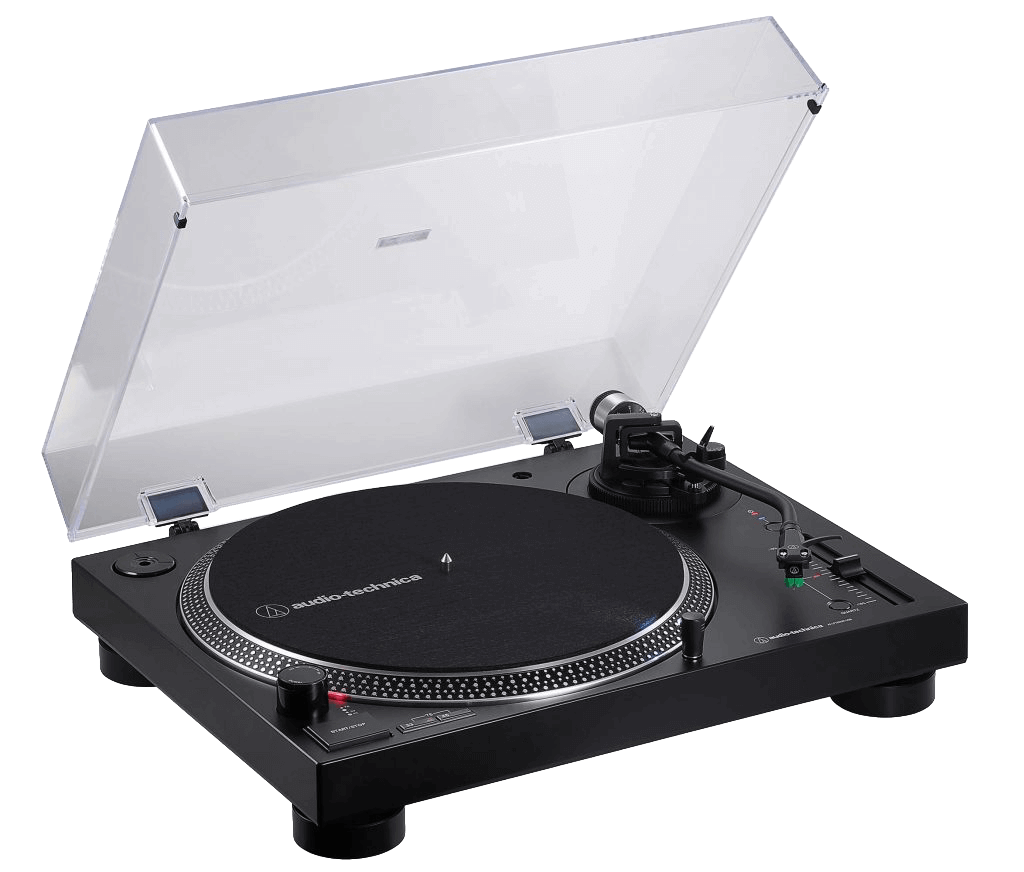 We are sure you'll agree that the Audio-Technica AT-LP120XBT-USB is already an excellent turntable in its class, with its cool retro charm, a mass of useful features and superb sound to match, albeit signified by very long-winded model number. 
At Smart Home Sounds, we honestly thought that there was no way of improving an award-winning turntable from this renowned manufacturer, but their addition of Bluetooth in the AT-LP120XBTUSB really ought to make it one of Audio-Technica's greatest hits to date.
And although the AT-LP120XBTUSB is ideal for bringing vinyl playback into the modern age, Audio-Technica still keeps vinyl purists happy with their turntable's ability to integrate with traditional HiFi systems too. 
If you would like to know more about the Audio-Technica range at Smart Home Sounds, please feel free to refer to our further blog articles below, or get in touch with us for further details. 
Until next time, we wonder what Audio-Technica will think of next? 
---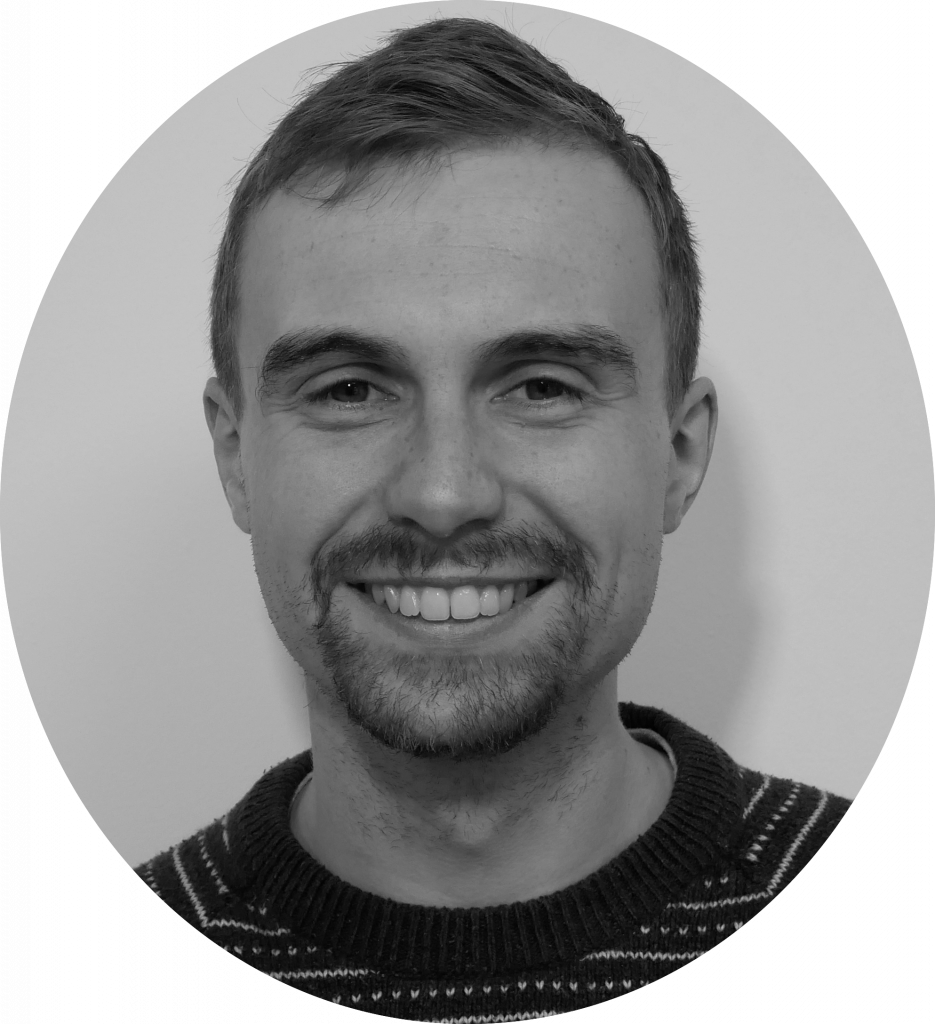 By Tom Parker, Customer Service Advisor
---
Learn More...