The Ultimate Wireless Sound Bar + Sub Sonos bundle. Get Sonos HiFi sound for your TV with PLAYBAR & soul shaking bass with SUB
More Details
0% Finance: From only £36.13 per month!
---
Lowest price promise. Seen it cheaper?
THE SONOS HOME CINEMA PLAYBAR & SUB BUNDLE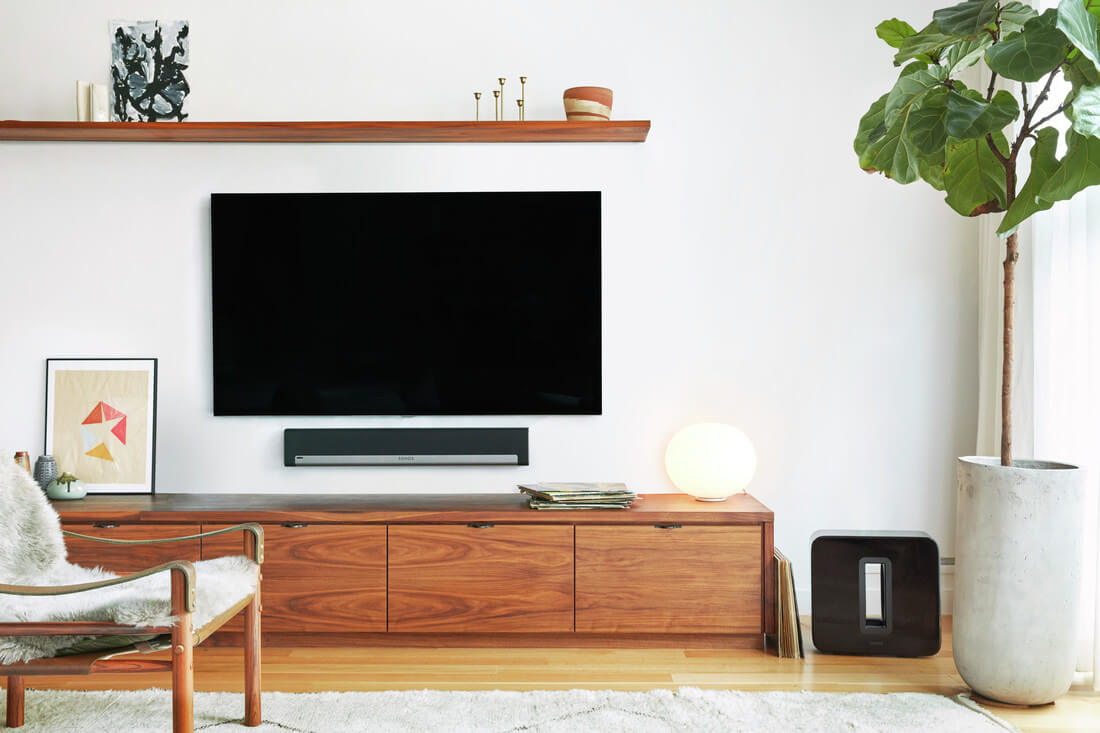 Complements HD television screens with highly detailed, richly textured sound
Requires just two cords: one power cord, one optical cord (both included).
Understands and speaks most IR remote's language and can be controlled by free apps too
Plays all sources plugged in to your HDTV: cable/SAT boxes, Blu-Ray players, and video game consoles. If it's connected to your HDTV, PLAYBAR will play it
SUB adds dramatically deeper bass to the Sonos PLAYBAR
Two force-canceling speakers positioned face-to-face in SUB offer deep sound with zero cabinet buzz or rattle
Versatile. Place sub anywhere. Standing up or lying flat.
SONOS HIFI SOUND FOR YOUR TV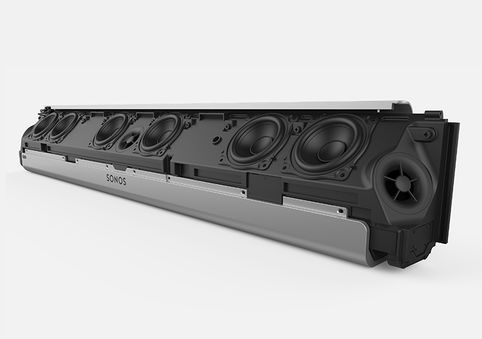 Flood any room with epic, full-theatre HiFi sound. The PLAYBAR adjusts automatically to the differences between shoot 'em up action flicks, Shakespearean dramas, and live concerts to deliver the sound as it was intended.
Wirelessly stream all the music on earth
Your iTunes library, music services like Spotify and Napster, and more than 100,000 free internet radio stations, podcasts and shows can be played on PLAYBAR. It also syncs with other Sonos speakers to form a complete home audio system.
EASY TO SETUP
PLAYBAR connects to your TV using a single optical cable and plays everything that's connected to the TV, including satellite boxes and game consoles.
Control your way with your existing remote control

PLAYBAR learns the volume and mute commands from your existing TV remote, eliminating multiple remotes.
DIALOG ENHANCEMENT
Having a hard time hearing what's being said? PLAYBAR uses custom drivers to deliver crisp, clear dialogue to the centre channel where your ears can distinguish it best. Need even more clarity? Turn on Speech Enhancement to keep the dialogue at a consistent level and reduce the volume of any loud sound effects.
NIGHT MODE
Watching late at night and don't want to disturb the rest of the house? Turn on Night Sound. At lower volumes, quiet sounds are enhanced and the intensity of loud sounds is reduced.
SOUL-SHAKING SUB SOUND
Fills an entire room with thick layers of deep, bottomless sound that lets you hear and feel every chord, kick, splash and roll. You won't just hear the difference our wireless subwoofer makes — you'll feel it in your bones.
ALL SOUND, ZERO VIBRATION from Sonos SUB

Two force-canceling speakers positioned face-to-face means all the sound and energy from the music comes through loud and clear, and none of it is lost in cabinet buzz or rattle.
TRUEPLAY, CUSTOM SPEAKER-TUNING FOR YOUR PLAYBAR & SUB

The size, shape, and setup of your room—as well as the location of your TV—all have a big effect on the sound you hear. Trueplay software works with the Sonos app to analyse your room, fine-tuning the sound to fit the space. To make sure whatever you're watching sounds as spectacular as possible.
More Information

| | |
| --- | --- |
| Weight (Kg) | 24.0000 |
| Brand | Sonos |
| Warranty | 6 |
Sonos is one of the best hifi system. I love the soundbar, sub, 2play ones it's like watching movie in the theatre. surround sound with big boomi bass the dialogues are very clear and crisp I love sonos sound then the bose.
It's amazing. Expensive, but amazing.
Wow amazing quailty and sound. A defiant must! You have to purchase the sub aswell. Worth every penny. Thankyou
Superior sound and deep base. High quality and performance. Easy to set up with Sonos app you can download on your phone and set up your TVs and sound system.
Excellent sound and quality
Top class - truly amazing. From the excitement of removing the equipment from the box, to the ease of set up, to the moment the sound fills your home, everyone should have Sonos.
The Playbar sounds great. Comes to life with the Sub. Replaced an older Bose Lifestyle v35 with this setup. Didn't want to run all the cables. Weighed up Bose Lifestyle 650. No Apple Music support - bye bye Bose.
Great service, speedy delivery and loved the fact I could track order so I didn't miss it.
TV had a good sound anyway, but the Playbar enhanced the sound quality at higher volumes, whilst retaining clarity at lower volumes. The addition of the Sub takes it to another level.
You get what you pay for, although this is on the expensive end, it is good quality and delivers superb sound.
Sonos just speaks for itself........... quality through and through. As for Smart Home Sounds a local company for us to use with great price and service. Would highly recommend for anyone to use.
At Smart Home Sounds we pride ourselves on customer satisfaction and want our customers to be 100% happy with their purchase.
We offer 30-day hassle-free returns and personalised service from real live people. If an item doesn't meet your expectations, simply return your item to us in its original condition and packaging within 30 days for a full refund or exchange.
Want to return a faulty or damaged product? Don't worry Smart Home sounds will arrange a collection or exchange should this be necessary.