Everything you need to know about the Sonos Arc in one article
The Sonos Arc soundbar is here - and yes, it's got Dolby Atmos. 
And yes - it's expensive but in this review, we'll tell you everything you need to know about it, so you can decide whether the Arc is going to be worth £799.
As a Sonos partner, we've had a bit of time now to test it and see what it sounds like so we'll relay all our findings to you in this blog.
Following the 8 year-long legacy of the Sonos Playbar, the Sonos Arc finally replaces this along with the Playbase model, and is the first-ever Sonos soundbar with Dolby Atmos, adding numerous other features too.
Design
The Arc is available in a choice of 2 colours, matte black or white to complement your room's aesthetics. If we compare it to the Playbar, it's undergone a complete overhaul.
It retains a really modern feel with the colour of the soundbar remaining consistent on the whole product. The 270-degree elliptical shape metal grill is designed to keep the soundbar slim under your TV, but also squeeze the best performance from the drivers inside.
The soundbar is one of the wider ones we've seen at 114cm which equates to about 45 inches so really, you wouldn't want to use the Arc with TVs any less than 49 inches in size.
On the top you've got the same touch control panel that we're used to seeing in Sonos' modern products which feature controls for volume, play/pause, skip/previous and a microphone privacy button for the voice control.
On the back, it's got the join button and ethernet port on the back panel but the HDMI-ARC connection and power cove are now located on the side due to the Playbar receiving feedback that it couldn't be positioned against a wall very easily. 
Internally, the Arc has a total of 11 high-performing drivers consisting of 8 supercharged elliptical woofers and 3 silk dome tweeters which is the most number of speakers there has ever been in a Sonos product.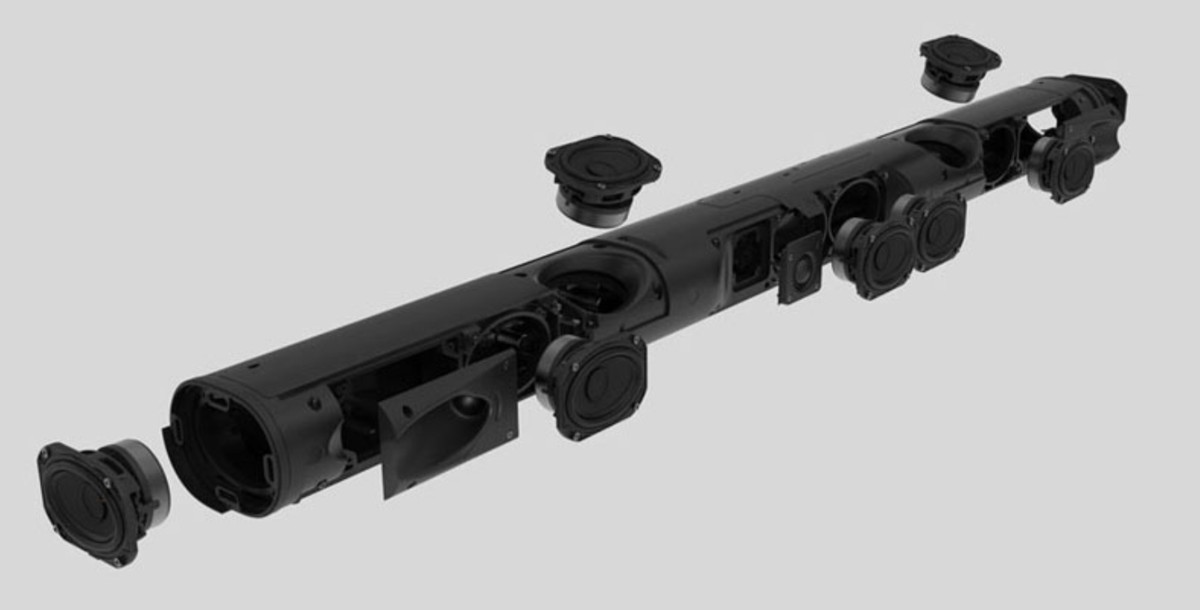 The way that the internals differs from the Playbar is that the Arc boasts fully sideways firing drivers as well as upward-firing ones to help project the sound at various angles.
Sonos calls this a phased array which enables Arc to create more realistic 3D audio as the sound is bounced off the walls back to your ears at just the right moment. 
Dolby Atmos - what it is and how to get it
Dolby Atmos has been one of the most demanded features on a Sonos soundbar, which can be seen in all the forums.
It expands on Dolby Digital by adding height channels, allowing sounds to be interpreted as three-dimensional objects. 
It supports up to 128 of these objects by using the up-firing speakers to reflect sound from the ceiling so is a much more advanced and complex method of sound distribution resulting in more immersive sound. 
For example, if a helicopter flew over your head, the upward-firing drivers would be activated to give the impression the helicopter was flying overhead. 
It's worth noting that Arc also supports Dolby True HD and MAT which are the uncompressed versions for distribution of multichannel audio and also supports Atmos.
Atmos content is still few and far between but it's certainly up and coming and it's great that Sonos has been able to add this new content to future proof customers as much as possible.
So how do you actually get Dolby Atmos from the Sonos Arc? First of all, you'll need to make sure that your TV has an eARC or standard HDMI-ARC connection.
HDMI eARC is an enhanced version of HDMI-ARC and has a much higher bandwidth which enables Dolby Atmos to be passed through. So, if your TV has an eARC connection you'll automatically be able to enjoy Dolby Atmos content in its true glory as well as other codecs such as Dolby Digital Plus, TrueHD and MAT. Pretty much all TrueHD content is found in blu-rays.
If your TV doesn't have an eARC, some, but not all, TVs are able to pass through Dolby Atmos through their standard HDMI-ARC connection. You will need to refer to your TVs spec to check this on your TV as they are all different. 
Atmos is not possible through an optical connection unfortunately as they simply do not let enough information through but you can still benefit from great-sounding Dolby Digital audio.
A great feature added by Sonos is the ability to check whether you are getting Dolby Atmos at any one time in the Sonos app in the Now Playing screen.
My TV doesn't support Atmos - what now?
If you own a TV which doesn't support Atmos at all and do not want to upgrade the TV, maybe because you've only had it for a few years, the maximum you'll be able to achieve with the Sonos Arc is 5.1 Dolby Digital by adding a Sub and rear speakers. 
Even when not watching Atmos content, Arc which will still immerse you using its height and side channels and when the time comes to upgrade the TV to one with eARC, you'll get a nice upgrade with your soundbar too.
Is adding a Sub and surrounds worth it?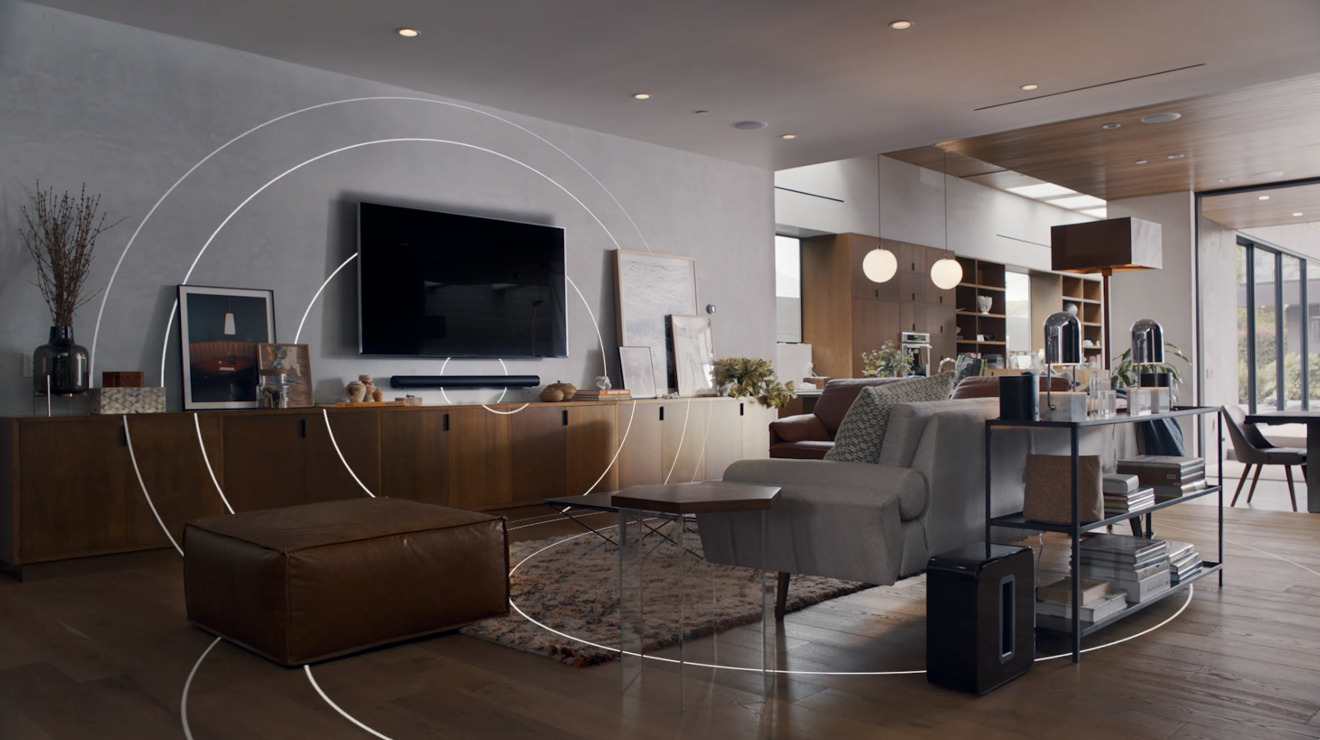 For those of you who are looking for a simple one-speaker system which offers a fully fledged cinema quality experience, you're pretty much there with the Arc on its own, however you do also have the option of adding a Sonos Sub and 2 rear speakers to create a 5.1.2 system. 
You can add these components entirely at your pace over time and they are hugely worthwhile.
If you are looking for even more bass, you can add any generation of the Sonos Sub or if you would like to have dedicated surround channels for even more immersion, you can add a pair of Ones, One SLs or Play:1s. Our pick are One SLs as these offer the latest hardware whilst still benefiting from voice control as the Arc deals with your voice commands.
You can also use the new Sonos Fives or Play:5s as rears to the Arc but I would advise against this unless you have them already as the sound that passes through the surround channels is fairly ambient anyway so you don't need large surround speakers.
Lastly, you can also use ceiling speakers as rears to the Arc but just be wary they can conflict with the height channels from the Sonos Arc. The only times we would recommend using ceiling speakers is purely for aesthetic value or where it wouldn't be possible in your room to install One SLs as rears.
Useful Features
1. Stream anything
As well as using the product as a soundbar for your TV, you're able to stream all kinds of content to your Sonos speaker, whether that's music, radio, podcasts, audiobooks and more.
Stream from the Sonos app or Spotify Connect to play your favourite music or if you have an Apple device, you can use AirPlay 2 to cast any audio from your iPhone, iPad or iMac to the Arc. 
2. Voice control on-board
You've also got 2 voice assistants on the Arc - Amazon Alexa and Google Assistant, the same as the Sonos Beam. We love using our voice to turn the TV on and off or playing our favourite playlists. You can always mute the microphone or skip the set up of voice control if you'd prefer not to use this feature.
3. Advanced TruePlay
New for the Arc, Sonos has enhanced TruePlay which, if you have an Apple device, you can acoustically optimise the sound for the room it's in. It uses test tones to measure the height of the room from the soundbar and from the walls opposite, taking into account your seating position, so the sound is directed back to you.
4. Pair your TV remote
Pair your existing TV remote automatically for volume control, with no extra TV remotes to worry about.
5. Speech Enhancement & Night Mode
As with all Sonos soundbars, you also get Speech Enhancement which makes the vocals easier to hear. This is a common issue with cheaper soundbars or TV internal speakers, so Speech Enhancement saves you needing to put subtitles on or is useful if you are hard of hearing.
Night mode dampens the very loud parts of the audio & bring up the quieter tones to give a more stable output level whilst making dialogue clearer without having to turn up the volume. Perfect when listening late at night or you've got neighbours close by.
How does it sound for TV and Movies?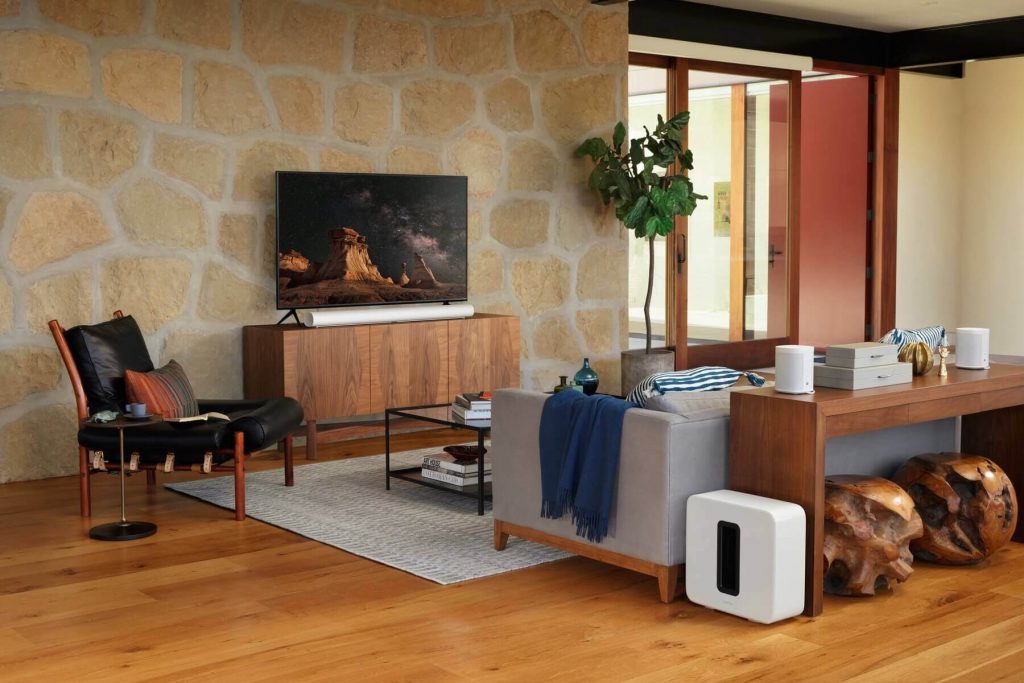 In terms of sound quality, even on its own, the standout characteristic of the Arc is its audio separation and detail. Midrange, higher frequencies & the vocal clarity are simply stunning. 
Every nuance whether watching films or listening to music is delivered flawlessly. Being over a meter long also really helped with creating a wide soundstage.
For our testing, we watched a lot of movies in both Dolby Digital and Atmos and were very impressed with both codecs. 
The experience of watching a film in Dolby Atmos wasn't an astounding difference over the Dolby digital version as the upward-firing drivers are still used for Dolby Digital content and do give a 3D effect. 
However, there was definitely an advantage in watching Dolby Atmos content which took the detail and immersion to another level. 
For example, when watching Le Mans 66 in Atmos, the voices from the tannoy correctly felt like they were coming from above thanks to the upward-firing drivers.
What's it like for music?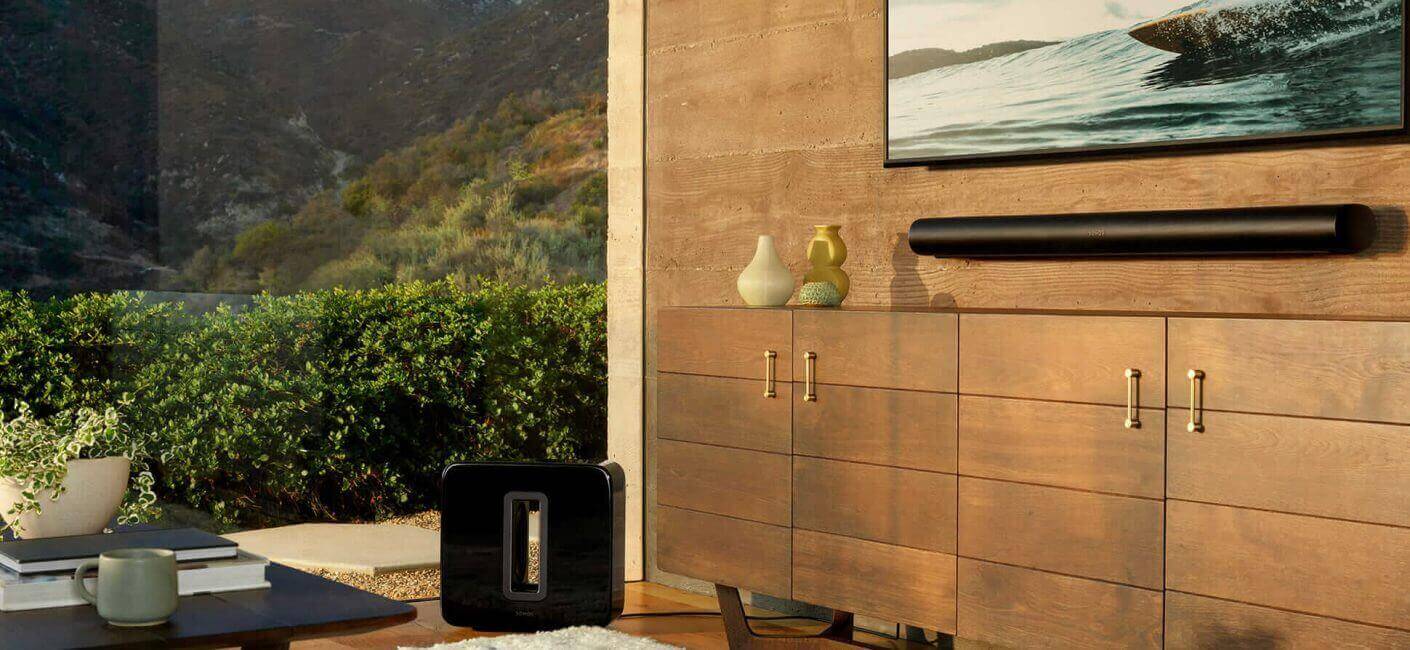 We also tested many audio tracks from many artists including Tom Misch, Lane 8, Pete Tong, Gregory Porter and many more and on the whole, they sounded full of life and presence with truly stunning vocals. Kick drums and hi-hats were so clear & detailed.
Gregory Porter's Take me to the Alley was a real standout and gave us probably the most enjoyable music listening experience we have had from any soundbar.
We do have one small gripe and that is the level of bass when listening to bass-heavy tracks such as R&B and Dance music. It's really tight and clean bass, but we would have liked a little more boom. We did need to turn the bass up a little on the EQ which did help.
This could be entirely overcome by getting the Sonos Sub but of course, we understand that is an extra £699. It must be said that when you add the Sub, this becomes an absolute monster of a setup. This would probably be too much for a small living room as it's so powerful.
Sonos Arc vs Playbar
Thinking of upgrading from the Playbar to the Arc?
The number 1 benefit you'll get with the Arc over the Playbar is an extra 2 speakers and support for Dolby Atmos.
The Arc's phased array with 5 different channels allows you to experience a much more precise and larger soundstage. 
With the upward-firing and sideways firing surrounds coupled with this elliptical shape, you'll get a truly immersive 3D experience with audio that is reflected off your walls and ceiling to fill the room with sound. 
You wouldn't get this with the Playbar because it's simply not designed the same. This works for both music and films.
Sonos does claim the Arc outputs more bass than the Playbar after learning some lessons when designing the Sonos Beam. In our testing we found the Arc and Playbar to have comparable levels of bass output but Arc excelling with tighter, less flappy bass.
The Arc also sounds clearer with no distortion at higher volumes too due to those extra drivers. The extra width allows more drivers to be packed closer together and that also has a positive effect on higher frequencies too.
As well as sound quality improvements, there are a number of added features such as AirPlay 2, voice control, a more advanced TruePlay, dynamic LED light and more which in our opinion when you put all of these benefits together make for a very enticing package and whether it's worth the extra £100 on the Playbar, we'll leave that down to you.
Sonos Arc vs Beam
The comparison between the Arc and Beam is quite a simple one for us. 
If you have a small to medium size room which I would estimate to be anything around the 4 x 4 metre mark, my advice would be to go for the Sonos Beam but if you have a room larger than this and your TV is larger than 49 inches, you can definitely consider the Arc and should weigh up whether the extra benefits in the Arc would be worth double the price of the Beam.
Strengths & Weaknesses
Weaknesses
Bass could be nudged up a little on bass-heavy tracks

A large product which requires planning for space

No support for DTS

Pricey
Strengths
Unrivalled immersion of movies, crystal clear vocals and superb detail

Dolby Atmos works wonderfully well

Available in 2 colour choices

Great aesthetics

Can be used as part of a multi-room system
Is the Sonos Arc worth £799?
Granted, you may be able to get a comparable system for cheaper using a wired separates system. However, that is missing the point of what the Sonos Arc is all about. Arc is a great looking, easy to install, premium, wireless soundbar packed with the latest features. 
It also can form part of a full wireless surround system that you can build at your own pace as well as fit it with other Sonos speakers in your home.
With the addition of Atmos, I can honestly say we have never been more immersed in a movie whilst using only a soundbar. If you previously owed the Playbar and thought it was worth £699 this is worth £799 without a shadow of a doubt. If you really appreciate your music and movies, we don't think you need to look any further than the Sonos Arc, providing you can stretch to £799. 
If you'd like to supercharge your TV audio, but have a smaller room or TV size and can't face paying the £799 price tag for the Arc, we would highly recommend the Sonos Beam as it shares many of the same features as the Arc but has a sound suitable for smaller rooms. 
So, if you've got one of the latest TVs with e-ARC, you're really good to go and I can't see there is a better option out there on the market at the moment at this price point.
If you are interested in purchasing a brand new Arc, we offer a 6 year extended warranty and free delivery as well as interest-free pay monthly options which you may find useful.