Address & Opening Hours of Cheltenham pod
Unit 3 The Studios, Royal Well Place, Cheltenham, Gloucestershire GL50 3DN
Opening Hours:
Mon-Wed - Appointment Only
Thurs-Sat - 9.30am - 5.00pm
Sunday - Closed
Sonos Powered POD
As one of the leading independent UK Sonos online retailers, we believe the Sonos product is one of the most complete audio solutions on the market today.
As online specialists, we are constantly striving to make our online shopping experience the best it can be with pre-sale advice to include unique product set-up & unboxing videos along with multiple set-up scenarios being answered by our content-rich blog.
We also offer a highly rated customer service throughout the complete shopping experience. All Sonos purchases from Smart Home Sounds include free next day timed delivery, a price match policy and of course our highly commended loyalty scheme. After all, Sonos can be addictive :-)
Why the Smart Home Sounds Listening POD?
Firstly, as a company of avid music fans, we believe music should be heard as the artist intended - and purchasing audio products should ultimately be about listening!
Historically, dedicated listening rooms have been reserved for the HiFi elite and in general, a Sonos demo is normally experienced in a noisy, large open showroom, which does not simulate most peoples Lounge, Kitchen or Bedroom accurately.
Our listening pod allows our customers to experience the complete family of Sonos speakers in great depth as well as experiencing the Sonos home theater surround sound set-up. We also encourage our visitors to dive into the Sonos app and select their favourite music when demoing the Sonos speakers.
Can I purchase in store?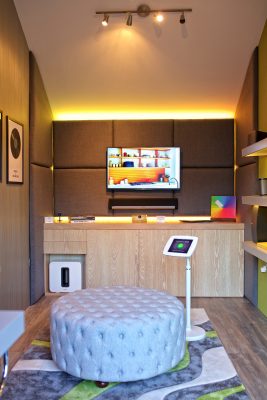 Yes, of course. We do hold stock in store but are equally happy for you to purchase in-store and send your items free of charge on a next day timed delivery.
ABOUT SMART HOME SOUNDS
Smart Home Sounds is a UK Sonos specialist. We provide expert advice on the full Sonos range, from a single PLAY:1 to a full Sonos surround system with PLAYBAR, SUB, and PLAY:1's.
All our blogs are written in conjuction with our sister site Play Audio.