Watch us unbox Sonos' latest voice assistant enabled compact speaker
Since its release in Autumn 2017, we've had a soft spot for the Sonos One here at Smart Home Sounds. Like the previous generation Play:1, the Sonos One boasts impressive audio clarity and performance for such a compact speaker. On par with the original Play:1 hosting two Class-D amplifiers, a subwoofer and a tweeter, the Sonos One certainly packs a punch. Going above and beyond all this, however, the Sonos One has all the latest tech a Smart Home set-up demands, with an inbuilt voice assistant platform and Airplay 2 capability.
Here are the handy features that make up just some of the reasons why we love the Sonos One:
The Sonos open Voice Assistant platform
The Sonos One contains a six-microphone array making it well equipped for voice assistant use. Amazon Alexa is currently an inbuilt feature. Whether it's "Alexa, continue reading my audiobook" or "Alexa, play Bohemian Rhapsody at full volume", your wish really is this speakers command. With Google voice assistant set to be released as a Sonos skill in the near future, the Sonos One can appeal to all customer bases.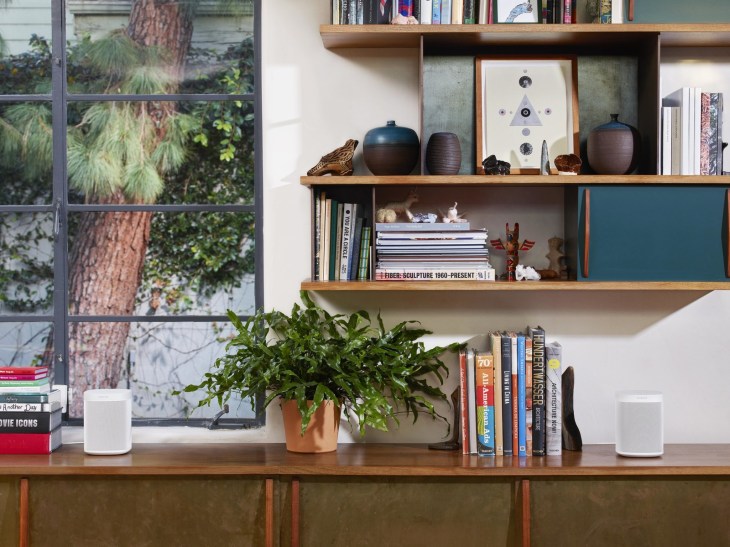 Airplay 2 enabled
iPhone and iPad owners can also make use of Airplay 2 on their Sonos One. Airplay 2 means you don't have to miss out on playing your favourite YouTube videos or other audio as you can easily cast it straight onto the Sonos One. This is also a great feature for parties and entertaining, as guests are able to join in with the Sonos fun without needing to have downloaded the Sonos App beforehand.
Sonos Trueplay
Owners of iOS devices have really lucked in with the Sonos One. Like other Sonos Speakers, you are able to use the unique "Trueplay" feature packed into your Sonos One in order to get the best sound for whatever room you're in.
As we're sure you'll agree, the Sonos One is beautifully sleek and would fit in perfectly with any modern decor. Style and Functionality mesh perfectly to create a great compact speaker for the family home. And at a price of £199 - what's not to love?
Other Sonos Unboxing video's