Sonos Voice Control with a difference
At Smart Home Sounds, we were privileged to get our hands on the long-anticipated Sonos One with Amazon Alexa built in. We were aware that a full voice control integration with Amazon Alexa was coming since February 2017 which meant if you owned an Amazon Echo Dot, you could control the rest of your Sonos speakers wirelessly. But we were even more excited to find out Sonos had been working on a speaker with Amazon's Alexa built into the speaker which comes with a number of benefits. With the likes of Amazon, Google and Apple all entering the voice assistant market, we knew that Sonos had their work cut out to fulfil the expectations of the market. We believe the Sonos One is the most versatile of them all with its unique platform that offers a complete range of options to suit you and your family. Let us tell you why.
The Sonos One contains a custom-made microphone array of 6 far-field microphones. When the speaker hears its wake word "Alexa", it will recognise where you are standing in the room, and the closest microphone will illuminate its corresponding LED light, similar to the Echo Dot as well as a chime to let you know the speaker is listening. We love this feature as with other competing smart speakers; you usually have to walk close to the speaker and then issue the voice command. During the listening process, if the music is already playing on the speaker, the volume will reduce to 50% periodically until the command has finished and reverted back. There are touch capacitors on the top of the speaker with the normal controls such as play/pause, next, previous and volume up/down as well as a microphone button which will turn the microphone on and off. More about this feature in the Privacy section later. 

Another stand-out feature about the Sonos One is that it uses an open voice platform allowing other voice assistants to be added in the future. Google Assistant has been confirmed for 2018. AirPlay 2 has also been confirmed for 2018 which will open up the ability to play anything from your Apple device including YouTube or a Netflix show. It's nice to see Sonos playing nicely with other companies and not pigeon-holing themselves with one voice assistant. This ultimately gives the ultimate user flexibility the same as they have when adding a streaming service to their Sonos smart speaker. Sonos have also created a "Works with Sonos" programme similar to Spotify Connect which means Sonos are future-proofing themselves by integrating with more and more smart devices in the future.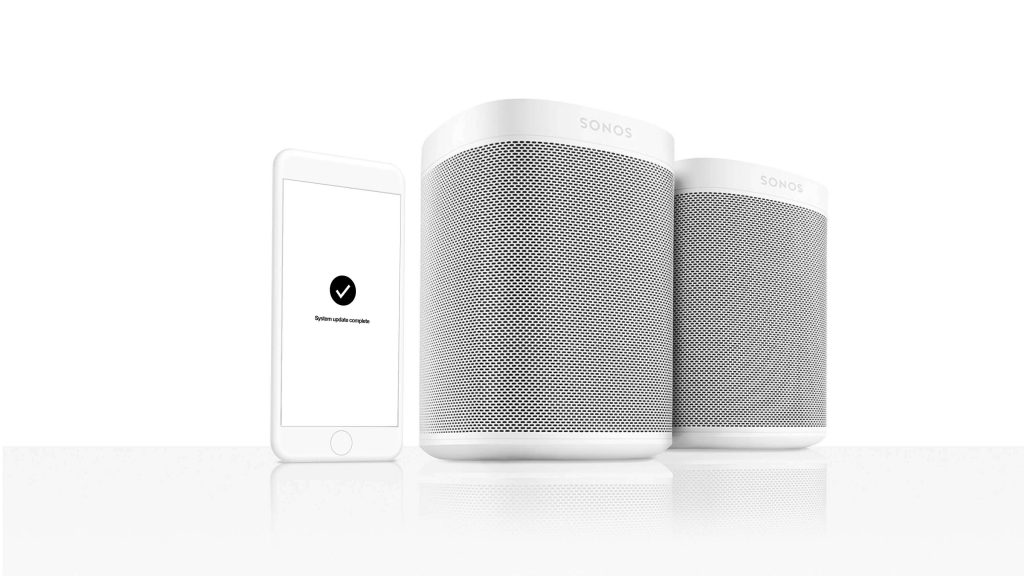 The speaker is set up in the normal way to other Sonos speakers. It connects directly to your WiFi router wirelessly and launches a Sonos mesh network, unique to Sonos and enables drop out free music playback. In addition to voice, music can be controlled directly through the Sonos app or by tapping the Play button on the top of the Sonos One if a playlist or radio station has been recently played. Within the Sonos app, you can add all of your music streaming service accounts including saved playlists, any iTunes library you have and anything you have stored on the device's memory. 
Unfortunately, as the software is different between the One and PLAY:1, currently they cannot be stereo paired together. To create a stereo pair, they must be 2 of the same model of Sonos speaker. A nice perk if you're using a pair of One's is when you issue a voice command, Sonos will determine which of the speakers you are closer to and just one speaker will listen to your command.
Sonos supports more than 30 music streaming services which can all be controlled in the Sonos app. On the One, currently, only a handful of music services allow you to start music playback with voice such as Spotify,Amazon Music, TuneIn radio, Pandora, iHeartRadio and SiriusXM, however, Sonos has promised other services are to follow. Of course, if you own any other music streaming services, features such as volume, skip track etc can be controlled with voice or all features are present using the Sonos app.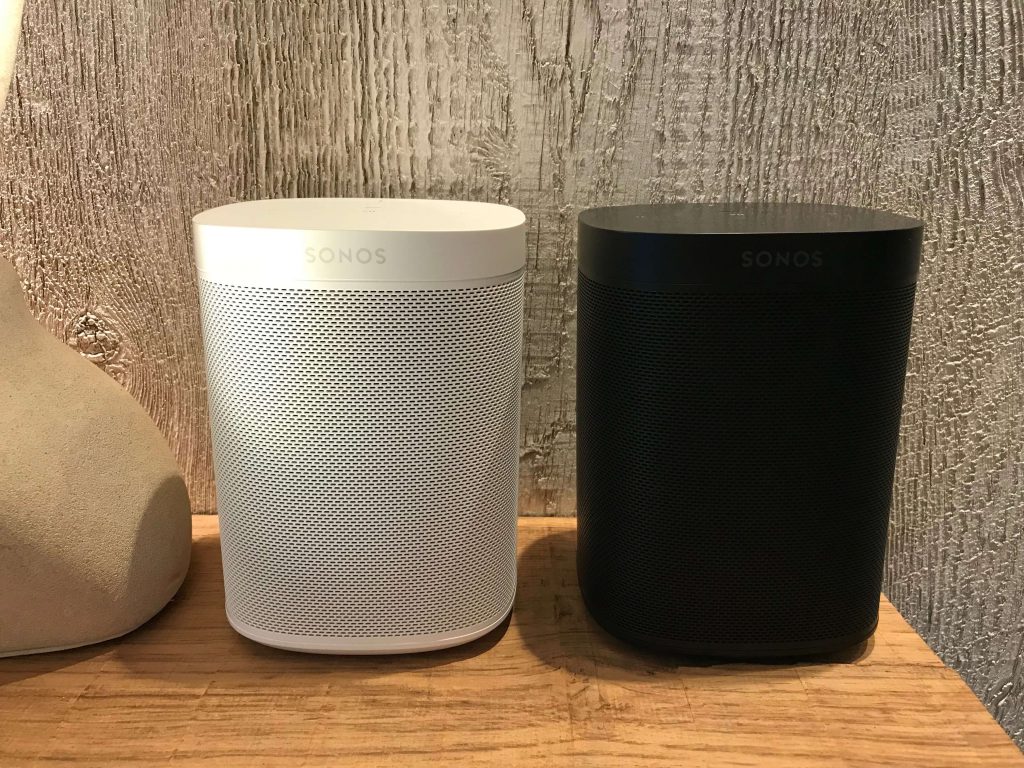 The One's smart design takes the form of a miniature cylindrical shape very similar to a PLAY:1 with the added touch of full matte colour and a new touch sensitive control and LED lights to indicate which microphone has been activated. We absolutely love the appearance of this speaker and feels very fresh and new for 2017. We strongly believe this speaker will retain its timeless look and won't look dated for years to come. 
The sound quality was identical to a PLAY:1 which is what you'd expect as the One was built on the same blueprints as the PLAY:1. It is still surprising to us just how much depth of sound you can achieve with a single One. Our small to medium sized room was easily filled, and even when you turn the volume slider up to 80%, there is zero distortion and remains punchy and bassy, all attributes that are hard to find in a speaker of this size and price. Under the hood, the One is exactly the same as the PLAY:1 featuring two class-D digital amplifiers. One tweeter and one mid-woofer work together to produce an acoustically refined sound with great bass output. You can increase or decrease treble and bass to your taste too in the Sonos app.
Privacy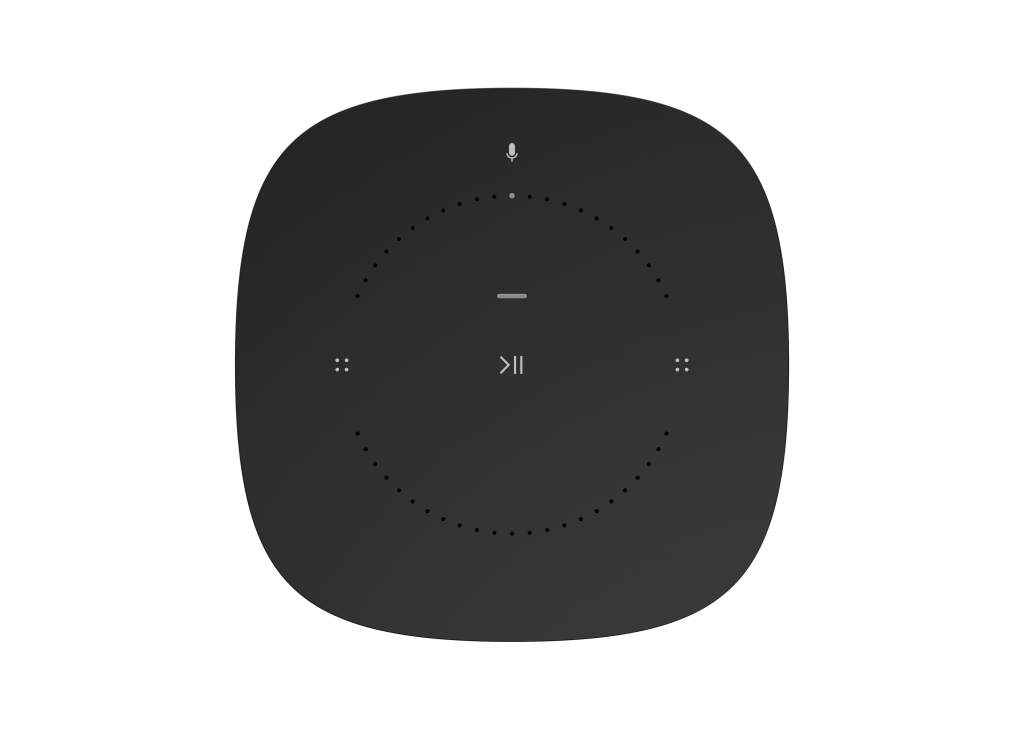 As mentioned above, the touch control panel on the top of the One contains a microphone button. Enabling the microphone means One will listen for its wake word "Alexa" at all times. Nothing is being stored in its memory at this point. When the wake word is activated, the speaker will listen to its command and then go back to its previous state. You always have the option of turning the microphone off in the speaker which will mean the microphones actually lose all power. This is important because you can be assured that no-one can "hack in" to your speaker and start playing whatever they want through your speaker without physically rewiring your speaker's circuitry. With other voice-enabled speakers, the voice assistant will constantly be listening, and it is impossible to turn the microphones off, something to consider if privacy is a major concern for you. For the full privacy statement, please log in to your Sonos app. 
The price is the same as the PLAY:1 RRP for £199 and it's great Sonos is not charging a premium for the upgrades that have come with the new One. 
The Sonos One is released on the 24th October 2017, and we are accepting pre-orders from the 11th October for launch day delivery.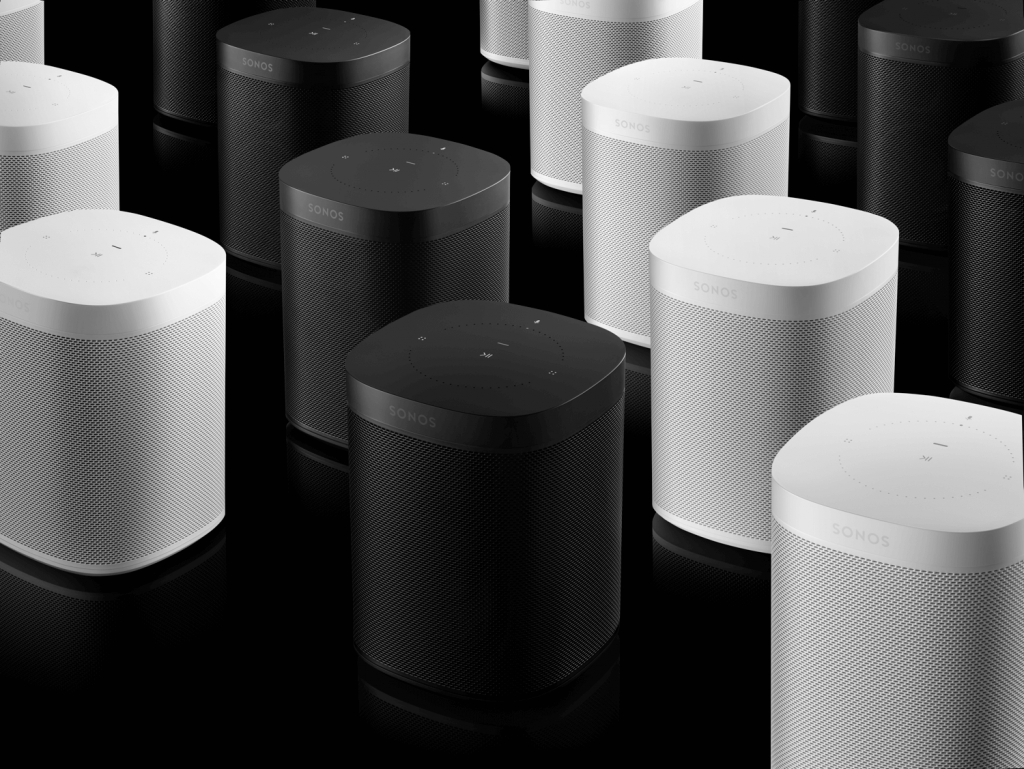 There are many things that make the Sonos One very different to other smart speakers available on the market. Firstly, Sonos are a forward-thinking company and don't alienate their existing customers by replacing the range every year so you can be sure your money is well-invested. Not only this, the Sonos One gives you the one thing that most companies choose not to give you - choice. With the Sonos One, eventually, the whole family will be able to add their favourite voice assistant. For example, your partner can add Alexa, the children could add Siri, and you may prefer Google assistant. We see voice platform choice being personal, the same as choosing a music streaming service, so choice is essential. And to top this all off, your smart speaker gets smarter every day whether that be a new feature or simply better sound quality. £199 is a small price to pay for a complete smart speaker that looks good, plays good with any third party service and sounds fantastic. With all this considered, Sonos are one of the extremely few companies that actually take the side of the customer.
ABOUT SMART HOME SOUNDS
Smart Home Sounds is a UK Sonos specialist. We provide expert advice on the full Sonos range, from the voice controlled Sonos One to a full Sonos cinema system with PLAYBAR, SUB, and 2 x PLAY:1's