The Modern TV Dilemma
When it comes to modern TVs, we now have access to the biggest size, finest detail picture and widest availability of TV applications ever made. Unfortunately, the only feature of today's TVs lagging behind is the internal speakers which just don't make the cut when you're watching movies or hearing music on the TV. This can have a dramatic effect on the immersion of TV content or a film and if you've heard what a 5.1 Dolby Digital surround system sounds like, you'll know what we mean!
Thankfully, Sonos offers a high-quality solution to this - PLAYBAR is the best selling soundbar on the market, adored by many. For wall mounting, PLAYBAR is still the best option for this application. However, at Smart Home Sounds, we still hear from customers who find it is not appropriate for them due to very limited space around their TV. So, as a direct response to this, we can't wait to tell you that Sonos have innovated a new sleek, ultra-thin soundbase with a thumping audio quality that will take any movie or music library to a new dimension - introducing PLAYBASE.
The PLAYBASE is certainly not just a pretty face!
In addition to its stunning visual appearance, PLAYBASE has some fantastic features:
Slim enough to slide directly underneath your TV or strong enough to withstand the TV on top of it thanks to its strengthened patented coating - both quick fixes if space is limited
Sound is emitted from 10 individually amplified integrated speakers. These are spread the width of the PLAYBASE to give the widest sound stage possible. Ultimately giving the listener the most immersive movie & music experience
Varied precision drilled speaker grille to allow for maximum airflow
Simple and logical set up - connect it to your WiFi, link to your TV via optical cable, pair your TV remote and start playing
TruePlay feature optimises the audio settings based on the layout and acoustics of your room, overcoming poor audio quality and vibration issues, a common criticism of other soundbases
Touch sensitive control
Choice of 2 colours - black and white
IR control from your existing remote control
Autoplay setting lets you choose whether or not TV audio will begin playback automatically. This eliminates the need to open the app for TV watching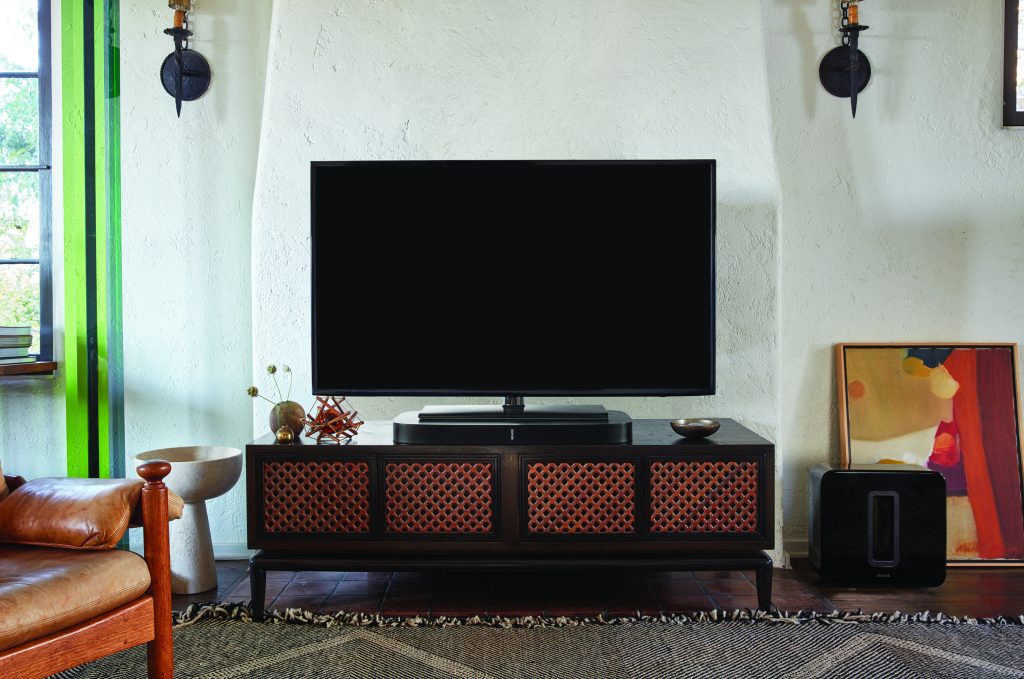 PLAYBASE OR PLAYBAR
PLAYBASE was definitely not designed to compete with PLAYBAR as one may be suitable in one living room and the other in a different living room. If you are looking for a wall-mounted option, PLAYBAR is the product for you which you can read more about here. If you have always wanted a home cinema system but nowhere to put a soundbar, PLAYBASE can go anywhere so if you have space for the TV, you have space for PLAYBASE.
After all, visual quality is one half of the movie experience but great quality audio completes it, and we believe the PLAYBASE is perfect for this need.
ABOUT SMART HOME SOUNDS
Smart Home Sounds is a UK Sonos specialist. We provide expert advice on the full Sonos range, from a single Play:1 to a full Sonos surround system with Playbar, Sub, and Play 1's